Welcome Back GRT Nation!  10 Questions with a GRT returns to you from summer vacation with our latest interview with GRT Nikki Jay.  And when you're done, if you'd like to get to know a few other GRTs a bit better, check out our previous 10Q interviews here .  Thanks for reading and ruck on!
Hi there Nikki – why don't you tell us a few things about yourself to get us started . . .
Hi I'm Nikki, I live north of Austin, Texas, but I'm a bit of a nomad from spending time in the Air Force and growing up in California.  I work in the Federal space for an IT company here in Texas and when I'm not hanging around computers I'm spending as much time outside as possible.
I love swimming, rucking, yoga, anything involving the outdoors, college football, beer crawls and family time. Growing up in Cali, I was fortunate to always be on the beach so I've been super stoked to partake in our first wave here in Austin . . . yes, you heard that right.
When I'm not bouldering or hiking around the Austin greenbelt with the kiddo, I am very active with the Steel Magnolias, sister group to the Green Beret Foundation as well as Team Red White and Blue.  These two organizations have greatly impacted my life and others around me and I could not be more proud to be a part of their foundations.  At the end of the day there's just something about volunteering/philanthropy and I am thankful that GORUCK has added this aspect into their events.  I genuinely enjoy it and hope my son appreciates the time we spend together helping others.  He literally is my favorite person to be around and I love being silly with him (see chicken wing pic).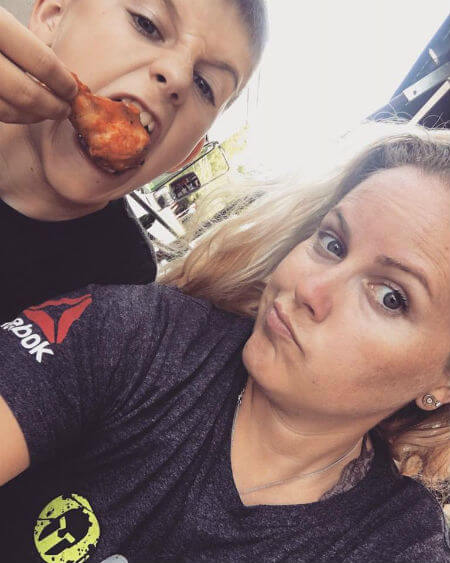 And with that, let's get into the 10 QUESTIONS:
 Where does your GORUCK journey start, and who was responsible for getting you to your first event?
A friend of mine wanted company for a St. Patrick's Day Light here in Austin.  I had already done a handful of Spartans and Tough Mudders, and figured what better to see Austin than to walk around with a backpack.  This is also where the nickname "gobackpack" started.  I didn't have a GORUCK bag because it was my first event, so naturally I went with the next best thing and of course the first ruck I used was an ALICE pack . . . NEVER AGAIN will I be that dumb.  And while everyone had their GORUCK bags, I was a bit bitter and kept calling them "gobackpack" out of complete frustration that mine was digging into my rib cage.  Fun times.
 What is your go-to ruck for training and events, and why?
My GR0.  Perfect size, and it keeps me from packing unnecessary items that weigh me down more throughout the event.  I'm a mild hoarder when it comes to trips or events; I suppose it's the mom in me and I would totally fit a mini fridge in there if I could . . . on the condition that I could eat the ice cream on a break.
 Other than the packing list items, what item(s) MUST you have with you for an event?
I have either had Skittles, Red Vines (don't give me a Twizzler and call it a Red Vine, there is a difference) or Gummy Bears at every event.  They have enough sugar to get me through the events and you can never go wrong with a Gummy Bear.  Also, you can never go wrong with an Uncrustable PB&J sandwich . . . they're already sealed and you can eat it even when it's super squished after all the ruck slams.
Also, not food related, but I've carried my grandfather's Ranger coin and my very close friend Lauren's Airman coin at every event.  They make me smile knowing they're with me.
 Outside of events, who are your favorite rucking partners?
I have been extremely fortunate to be involved with the Central Texas Rucking Club and some of my favorite people are in that group.  Tara Lewis is a former Airman, like myself, and when she's not being an amazing LEO here in Austin I love hanging out with her.  I can't forget my favorite grandmother GRTs (I say that because they've been around GORUCK far longer than I have) – Jeanie, Melissa, Samantha and AJ..  These ladies keep me on my toes and I wouldn't want any other females around me rucking in the midnight hours . . . they will fight someone if necessary!  Lastly, Charly Tracy – she's my sister no questions asked.  She is amazingly kind, strong and intelligent, and someone that I will always want under a log with me.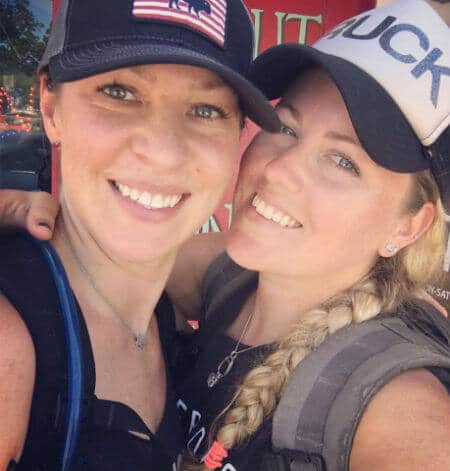 What is your proudest achievement as a GRT?
I have one personal achievement, and one for my son.
The inaugural all women's event by far has been my favorite event, not just because it was hosted in Miami on the beach but because of the friendships that came out of it.  I've never felt more exhausted moving a 1000 pound block of cement and more proud at the same time.  I met both Tara Lewis and Samantha Krueger Rymer there and like it or not, I will bug them forever because of that event.  As a woman, people tell you to be strong and surround yourself with strong women for motivation.  They are, and will always be, my motivation to be stronger.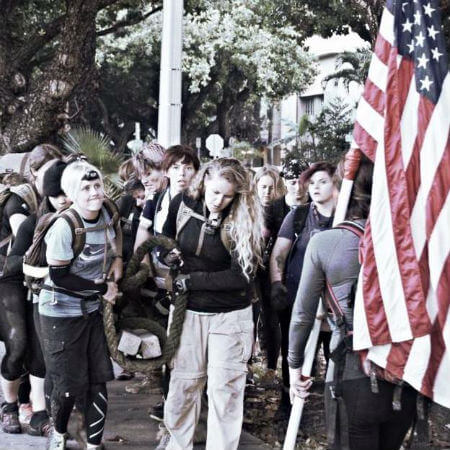 In regards to my kiddo, participating in his GORUCK Brat event in Austin was epic.  Watching him listen and lead in a team capacity was one of the most amazing experiences outside of him playing sports.  Being a compassionate leader and helping others throughout the event made being a parent completely worth it.  I can only do so much, and watching him be his own person was priceless.  I wish they would continue growing the Brat events.  We need more of them and our children are better because of them.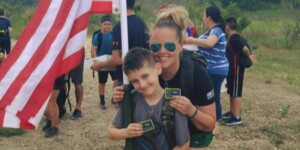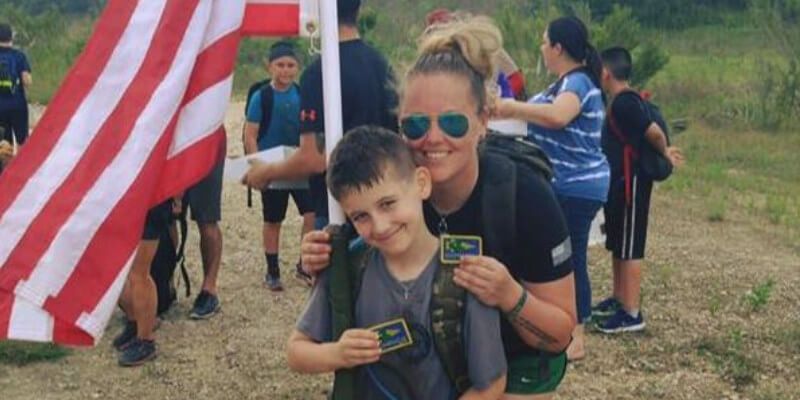 You're setting up a custom GORUCK event – what kind is it, where, and which cadre do you choose?
How about a ski resort/snowboarding GORUCK event?  What better than rucking around in the snow and then snowboarding/skiing all over the place.  For cadre, I would go with one I know, one I don't know, and a "Godfather" cadre, so in that order, Cadre CT (coolest beard ever and one of my faves), Cadre Josh (I'll be attending his event in Michigan . . . woot for Halloween events!), and Cadre BD (can never go wrong with BD).
 What is the worst beat down you've ever endured at a GORUCK event, and who gave it to you?
ABSOC class 1408, Cadre Michael, Cadre Chris, and Cadre Geoff . . . it was terrible and sandy.  This was also my first DNF (did not finish) and also my first MRI to accompany a Grade 3 torn groin muscle.  I still have bad dreams and I'm fairly sure I still have sand in my hair because of that event.  Hours of pain from the Welcome Party, lunges for blocks on end holding a filled fire hose and surprise mid-event Welcome Parties.  All three cadre were tough and made us work for it . . . it is for sure one that I need to do again and finish.  I need to earn that ABSOC patch, maybe in 2018.
 Shirtless hug from Bomber, or face lick from Monster?
Face lick, because puppy!!!!  Also, already had a shirtless hug J.
 You're pretty active on GORUCK-related social media – what keeps you so engaged?
I love the family that comes with this community.  I've never met such amazing people outside of the military and I am completely grateful for it.  We find time to keep active in our community and the best part about being here in Texas is that all of our clubs communicate and work well together.  Most recently we have engaged in an effort to help our GRTs that were affected by Hurricane Harvey and then assisted the Florida groups with the lessons learned from our efforts.
Another bonus of GORUCK events is watching teammates learn to lead, and lead well.  Watching your peers succeed is something we should all look forward to in any event.  As soon as they get fired (good thing) and a new Team Lead is assigned, giving them a fist pump is that little bit of inspiration that keeps you going at 0300 when all you want to do is close your eyes and sleepwalk.
 What is your next GORUCK event?
Sleepy Hollow, Lansing Michigan Heavy.  It will be my first northern event and I'll be honest, I'm already cold.  New place, new faces, and 2 cadre that I don't know . . . signed up.
BONUS:  What are your questions at this time?
When will there be the first female cadre?  Yes I just asked that LOL!
Is the "search" function still broken, or are we getting lazier on the Tough page?
Any plans on doing Australia or Antarctica events?  Just saying . . . that would be legit.