Welcome back to the latest installment of 10 Questions with a GRT, our chance to get to know YOU, the GRTs, one question at a time. Some serious, some not so serious, but hopefully all (almost) as fun as being under a log with a complete stranger!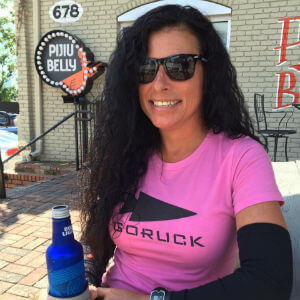 This time we welcome Babette Griffith, also known as BABS! A new resident of Jacksonville, FL (which she loves), Babs has 2 dogs and a 22-year old in college. She loves GORUCK, golf, running, diving the waves, Bud Light, and socializing with friends. She has been in advertising for 28 years, with most of that time being project management. She loves telling people what to do, and begins our interview by asking "what are YOUR questions at this time?"
(OK Babs, I'm asking the questions here, so away we go . . . )
1. Where does your GORUCK journey start, and who was responsible for getting you to your first event?
My GORUCK journey started MLK Weekend 2016 at the Light with Cadre Heath. My ex-husband, Christian Griffith, is responsible for getting me to that event. He asked while I was drinking beer on the Friday night before he took off to the Tough, of course. And I casually agreed. But I stick to my commitments, and I could not be more thankful for that moment.
2. What is your go-to ruck and loadout (beyond the packing list) for an event?
My go-to ruck is the Rucker, but the Echo is my everyday ruck for work. Beyond the packing list, I might bring Bud Light, depending on the event.
3. Describe your lowest moment during a GORUCK event – a time when you quit or were ready to quit.
My lowest point was definitely St. Augustine 2016, but I never thought about quitting. I just wanted to lay the same pain back on the Cadre.
4. Bricks or plates?
5. What is your proudest achievement as a GRT and why?
I have many but I would say that I finally found the right group of people to hang out with. Team Forged changed my world. I've also learned that I can go as far and hard as I want. So unless I'm being med-dropped, I'll never quit. Lastly, I have a whole new appreciation for our military and all that they sacrifice for our freedom.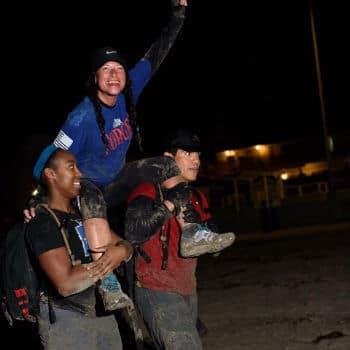 6. You're setting up a custom event – what kind is it, where, and who are your 3 Cadre?
If I could set up a custom event, it would be a CADRE event meaning a few select GRTs will be the Cadre, the Cadre will be the GRTs, and we'd make them "suffer in silence" and "embrace the suck". I would pick Jimmie Speck, John Scruggs and Justin Johnson, and of course, would expect every Cadre to sign up for this punishment. Including Jason. (Editor's Note: although this is only the second installment of 10 Questions, this may go down as the greatest answer in 10 Questions history).
7. What is your favorite patch that you own or have earned, and why?
My favorite patch is the very first Tough patch (which was my second event) just weeks after the MLK Light. It was in Greenville with Cadre Dan, Cadre Montreal, and Cadre Chuy. The amount of information I learned in that first Tough helped me get through and finish every other event I have done since.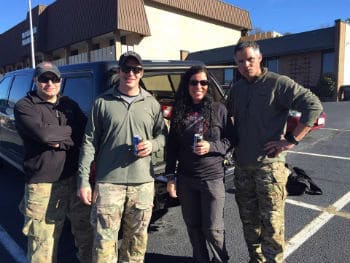 8. Name one GORUCK-related activity you'll never do again, and why.
NEVER EVER SAY NEVER. I have nothing else to say to this.
9. Describe the worst beat down you've ever endured at a GORUCK event, and who delivered it.
St. Augustine (Ponce de Leon). Cadre Surfhog, Cadre Mike, Cadre Cody, and Cadre Kevin.
10. Name the GORUCK event you've been dying to do, but haven't done yet.
Constellation, Navigator, FAD. Really any and all of them. 🙂
BONUS: What are your questions at this time?
Why aren't there more events in Jax when HQ is based here? Why aren't there women's Simple Pants? WTF happened to the Kid Rucks? Can Jedburgh come back, please? Last but not least, WHERE IS VAN RIGGINS?