The 9/11 Memorial GORUCK events are, hands down, some of the best events that GORUCK puts on. My first Heavy was a 9/11 event and it impacted me deeply. Below, Erin Turowski shares her experience at the GORUCK 9/11 NYC event. During the event, she earned her HTL bolts. Her AAR is below.
==
Event: GORUCK 9/11 HTL
Location: New York, New York, USA
Dates: Friday, September 6-Sunday, September 8, 2019
Cadre: Cleve, DS, Dustin, Mocha Mike
Written by Erin Turowski – @eturuckski on Instagram
Proud member of Beantown Ruck Club, Boston, MA
Photo(s) Credit: Tim Galloway (unless otherwise noted)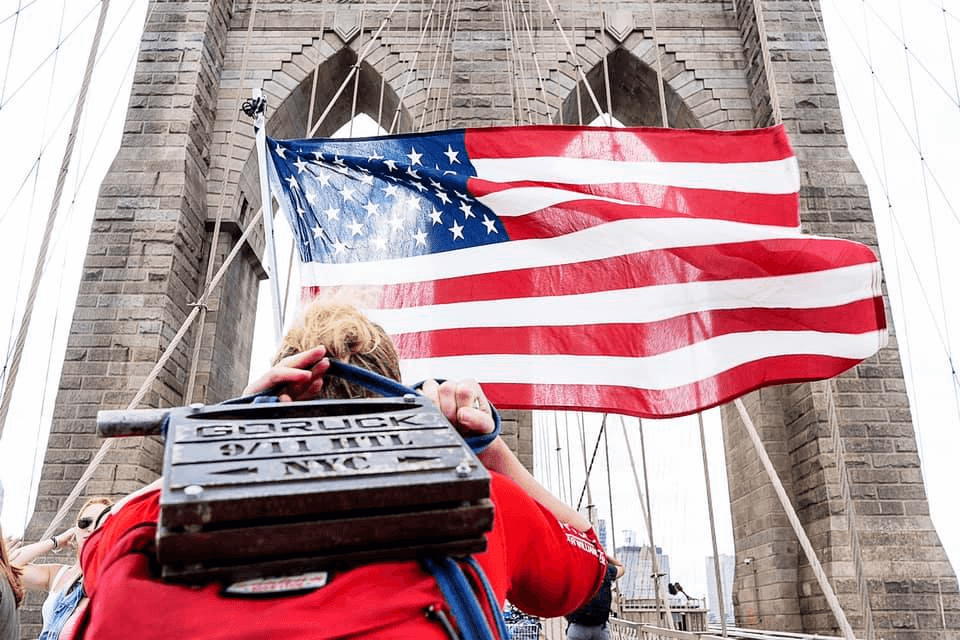 Table of Contents – full disclosure, some pre-event details are cut and pasted from my D-Day AAR
Prep
Packing
Day Of Event
Heavy
H-T Intermission
Tough
T-L Intermission
Light
Recovery
Summary
==
1. Prep
Training/Taper – My summer leading into the 9/11 HTL was somewhat less rigorous than the weeks leading to the D-Day HTL back in May. In May, I was logging 40-50 ruck miles/week in preparation for the HTL and for the 50-mile Star Course. After that, during the summer, I logged about 20-30 ruck miles/week, mostly in two- to four-mile increments, with a timed 12-miler for good measure. I also did the Independence Day Tough/Light with Cadre Shredder in Boston as a midsummer checkpoint, a Very Fair weekend indeed, and the Savage Race Tough with Cadre DS later in July. Cumulatively, from May to August, I finished PATHFINDER Advanced and PATHFINDER Horizon with about 470 miles total and 36 ruck workouts over the three months, plus one or two advanced yoga classes per week.
As the 9/11 HTL approached, the weekend prior to the 9/11 event was Labor Day Weekend. I really wanted to do a PATHFINDER challenge over the long weekend, so I did a 26.2-miler on Sunday with 30# because the weather was so nice. I felt pretty good coming off of that as a last-minute excursion, so I was comfortable going into the HTL at that level of training. For the rest of the week, I tapered as follows: Monday – walked a few miles without weight; Tuesday – rucked about 4.5 miles and did an hour of yoga; Wednesday – did an hour of yoga and a beginner's ruck workout; Thursday – total rest day.
Hydration – This should be a week-long effort leading up to your event. I aimed for a minimum 64 oz per day of plain tap water, in addition to whatever I wanted as far as diet sodas/coffee/sparkling waters. I limited my caffeine intake for about two or three days prior to my HTL so my intra-event supplements – Nuun tabs, Gu, Sport Beans, etc. – would be a little more effective. I generally limit my alcohol intake during the week prior to an event so my hydration balance is maintained because alcohol is a pretty potent diuretic. This week, however, I was celebrating a new job, and I had a lapse in discipline and hit the bar for a while on Thursday night. This was bad not so much because of the amount I drank (it was only four drinks over the course of the long evening, and no liquor), but because it kept me awake until 0100, and I had to be up at 0500 to get to the train by 0620. Fortunately, my packing list from my last AAR meant that packing only took me about 30 minutes, all-inclusive, but I still came into the event a bit sleep-deprived.
Nutrition – In general, I ignored macros. I ate when I was hungry and tried to avoid huge, greasy meals. I upped my carbs for two or three days prior – pasta, sandwiches/bread, some french fries. I made sure to take a multivitamin, a glucosamine supplement, and a probiotic daily as I usually do. I preloaded with 600 mg of ibuprofen the morning of the Heavy and took another 400 mg about two hours prior to the event; the maximum prescription dose of ibuprofen is 800 mg every eight hours. It is important in pain management to recognize the phenomenon of windup and prevent pain before it starts to develop, so I tend to be proactive rather than reactive with anti-inflammatory drugs. [Note: this is not medical advice, just my personal preference. I am a veterinarian, not a physician; please consult with your primary care provider regarding the use of higher doses of anti-inflammatory drugs.]
Feet – I made sure to remember to cut my toenails. It is imperative not to forget this! Make them short and smooth the corners/edges a bit. Leave your calluses alone at this point; they will only be beneficial. Last-minute foot care was the least important part of my prep – the vast majority of my foot prep occurred during training over the months leading up to the event as my feet toughened under hundreds of ruck miles. It's not something you can "cram" or fake at the last minute.
Packing – Packing was pretty darn easy this time around; I basically just did the same thing I did last time as far as "the list of everything to bring." I took three rucks on my trip – a GR1 with a waist belt and sternum strap for the Heavy and (initially) the Tough, a Bullet with sternum strap only for the Light, and a second Bullet for my non-event stuff: makeup, travel gear, etc. I traveled by train and took all of my weight and sundries with me, with hydration bladders emptied for travel. This was a bit easier for me because I only needed to bring 20# and 10# plates. If you need to bring 30# and 20# for your events, you may want to bring 20# + 10# for the Heavy and Tough instead of bringing a single 30# plate so you can ditch the 10# and just use the 20# for the Light, although this can make weight/balance issues during PT a little more challenging. In general, it is a personal preference and probably depends on how long you will be transporting your gear on foot versus being able to move it in a vehicle.
This time, though, I deviated a bit. For my last HTL, I used a GR1 for the Heavy and for the Tough, so my gear requirements for both events were basically the same. Due to the massive number of overhead exercises that we did during the 9/11 Heavy, I wanted to try to use my Bullet with my 20# plate for the Tough instead to facilitate PT, (correctly) anticipating similar exercises during the Tough. (Sidenote: my 20# plate is a traditional long GR1 plate, not a short Expert/Rucker plate, so it fits in my 10L Bullet.) I like this Bullet setup for ruck PT where you have to hold your ruck by either end because I don't have a bottom handle on my GR1, and with the thin backing on the Bullet and the long GR1 plate, you can basically grab the plate handles through the ruck fabric and get a very secure grip with all of the ruck contents balanced on top of the plate in the main compartment if you lift the ruck with the back panel facing downward. Being able to have a strong grip directly on the weight was invaluable during hundreds of reps of brickyard manmakers – or, as one impressed male GRT dubbed them afterwards, "womanmakers."
When I pack my Bullet for this, I put my water bladder in the plate pocket and my plate (with GORUCK ruck cradle foam handles) in the main compartment, then I put my other supplies in the front of the main compartment so the plate is between the bladder and the other supplies. This is the setup I use for ruck PT at home without a water bladder, although I find that putting more than 40# in my Bullet is very stressful on the upper shoulder strap seams, so I use a GR1 or a Rucker if I want to go heavy.
2. Packing
Without further delay, here are my loadouts and apparel choices:
Heavy –
GR1,
morale patch of choice,
sternum strap,
climbing carabiner (now on the required list for Heavy events),
green paracord (didn't use, your mileage may vary depending on coupons/team weights),
extra socks,
extra long-sleeved tech shirt,
buff/headband,
lightweight jacket (definitely appreciated it after water PT in the East River),
20# plate and foam cradle,
Nalgene,
sunscreen (it was needed by many!),
Band-Aids,
safety pins for popping blisters,
antibiotic ointment,
ibuprofen,
headlamp and extra batteries,
perforated first aid tape,
$20 cash,
ID,
debit card,
subway pass,
phone,
hydration bladder and hose,
giant bag of food (which I surprisingly ate most of – Rx bars, Sport Beans, Quest bars, beef jerky, Gu, and mustard/relish packets),
and tac hat with patch of choice.
I wore a Beantown Ruck Club short-sleeved tech shirt, cropped yoga pants, Nike Dri-FIT ankle socks, and Asics Noosa FF running shoes.
Tough –
morale patch of choice,
sternum strap,
climbing carabiner,
extra socks,
extra long-sleeved tech shirts,
buff/headband,
lightweight jacket,
20# plate and foam cradle,
Band-Aids,
safety pins,
antibiotic ointment,
ibuprofen,
headlamp and extra batteries,
$20 cash,
ID debit card,
subway pass,
hydration bladder and hose,
somewhat smaller bag of food (a few protein bars, some Gu, Sport Beans, and beef jerky),
and tac hat with patch of choice.
I wore a tank top, cropped yoga pants, merino blend Farm to Feet ankle socks, and Asics Noosa FF running shoes.
NB: The biggest differences between my Heavy and my Tough loadouts were that I left my Pelican case, phone, some of my first aid supplies and some food, and my Nalgene at home. Some Cadre are a little stricter with the Nalgene requirement, but in my experience, most Cadre don't bother asking if people bring a Nalgene (hopefully no Cadre are reading this, haha), and as long as you have a full hydration bladder, they don't ask for more. Also, and this may be a little Blue Falcon-y, I knew I was there with friends who, in an emergency, could probably help with anything I needed, but fortunately, I didn't really feel like I was lacking anything with this minimalist packing list. As a test run, streamlining my gear was a good lesson to learn for events, because it was SO MUCH better shuffling with a 10L Bullet than it is with a 26L GR1 on my 5'8" frame.
Light –
morale patch of choice,
sternum strap,
flip flops for after endex,
hydration bladder and hose,
sunscreen,
Band-Aids,
antibiotic ointment,
ibuprofen,
headlamp and extra batteries,
perforated first aid tape,
$20 cash,
ID,
debit card,
subway pass,
a protein bar and a Gu,
beef jerky,
and tac hat with patch of choice.
Had this been a regular Light, I would have left my Pelican case and phone out, but I wanted my phone for afterwards for taking photos at the endex ceremony and at the WTC museum.
I wore a tank top, running shorts, Nike Dri-FIT ankle socks, and Asics Noosa FF running shoes.
3. Day of Event
I live in Boston, so I took a morning Amtrak train down to NYC and arrived about four hours prior to the Heavy start. I used the train ride to nap a bit, hydrate, eat some yogurt and granola, and generally just calm my nerves prior to the event. I highly recommend not driving to/from an HTL if you can avoid it – mostly because driving immediately after the Light is not a great idea. If you have a low tolerance for risk, you might want to arrive the day before and get a hotel room if needed and/or get a hotel room after the Light. About three hours prior to the Heavy, I had a meatball sub from a deli. I wanted something substantial in my stomach during the welcome party, and I figured three hours would give it adequate time to digest. I suggest something lighter if you need to eat closer to the event start. Also, especially if it's hot and dehydration is a risk, don't drink a ton of alcohol, although I had a single light beer to calm my nerves prior to my first Heavy, and I felt fine.
A note about lodging: I only got a hotel room for the second night. I'm a Starwood (now Bonvoy/Marriott) gal, so I got a room at the Sheraton in Tribeca and upgraded it to the club level to have access to the lounge to refill on snacks and coffee quickly and cheaply between events. I nicely asked to check my Bullets at the concierge prior to the Heavy and stowed them there overnight and also used the hotel restroom and lounge prior to the Heavy to change clothes and relax a bit. I then checked my GR1 and my travel Bullet at the concierge prior to the Light and reclaimed them after. This worked well for me, especially because the hotel was only about a very walkable mile at most from all endexes and from the start points for the Tough and the Light.
4. Heavy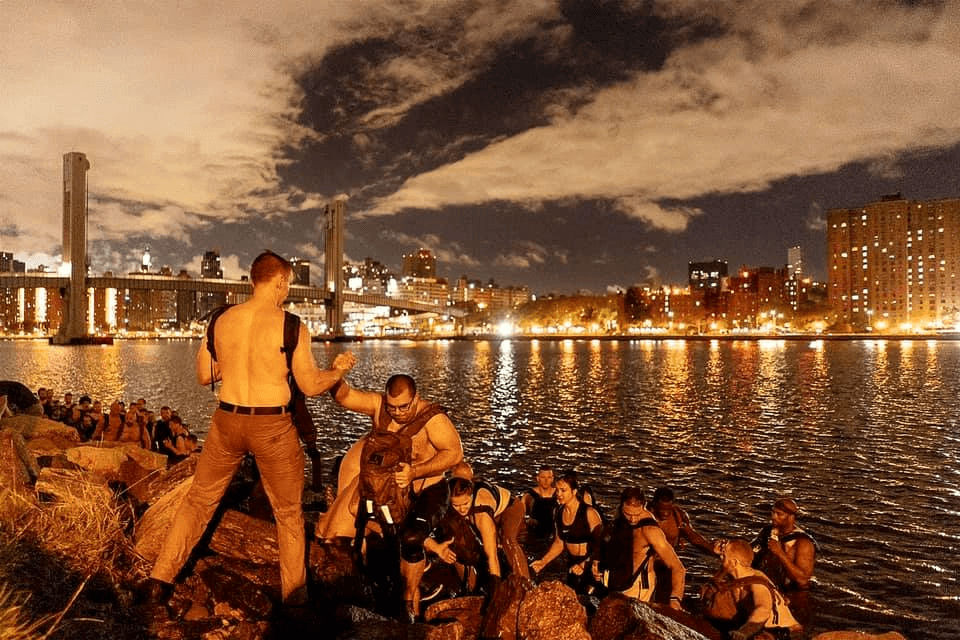 This Heavy HURT. This AAR is going to be a lot less detailed than the first one because I only have location data from half of the event, due to my watch battery dying at about the 12-hour mark. We had four Cadre, and there was no good cop/bad cop play this time, it was more like being rotated among inquisitors, each with their own special blend of bringing the pain. Our team weight was a 50# custom-machined steel piece engraved with the flight numbers of the four planes (11, 175, 77, 93), "NYC STRONG", and "GORUCK 9/11 HTL" suspended on two loops of nylon webbing for easier carriage. We started at Randall's Island with 77 brave souls at 1830 after Cadre were delayed in traffic. We had a Very Fair welcome party, where we were summarily punished for one GRT forgetting to bring a headlamp and were then introduced to many, many of Cleve's new exercise, the "brickyard manmaker": start with the ruck on ground, clean it to your shoulders, squat thrust it above your head, lunge left, lunge right, and return the ruck to the ground for one rep. It misted rain the entire time. After some group exercise for about two hours, we split into four smaller groups for a more intensive welcome party experience, rotating with each Cadre once during this portion of the welcome party. Our group started with relay races with DS, then went to lunges/jump lunges/squats/jump squats with Dustin, then went to some more relays with Cleve (I think?), then finished up with 9/11 number-themed reps with Mocha Mike. A recurring theme was that many of the rep numbers for the entire event were chosen to reflect statistics of victim numbers during the 9/11 attacks – 2,977 total casualties, 23 LEOs, 343 firefighters and paramedics, 37 Port Authority officers, 44 passengers and crew on Flight 93, etc. The welcome party took about four hours according to my Garmin, and there was one VW.
Immediately after the welcome party, we went into the timed 12-miler, and DS and Mocha Mike took off for their rest break. We had 3:30 to complete six two-ish mile laps of Randall's Island Park. I split off from most of the pack and settled into a rhythm of 200 paces walked, followed by 100 paces, plus whatever it took to get to the next lamp post, adjusting as needed to walk the uphill parts and jog the downhill parts. My Garmin watch tracked my pace from inside my ruck, and I was pleasantly surprised the next day to see that I'd kept a pretty consistent 12-14 min/mile pace (not bad for being after four hours of welcome party PT), for a total time of about 2:44. My PR for the timed 12-miler is 2:37 with a 30# plate, so this was definitely a pretty nice push for me. I credit PATHFINDER and my personal affection for the sub-3:00 12-miler as a frequent workout as the reason for my relative success with this performance test. I train how I fight. Others were not so prepared; we had five VWs during the 12-miler.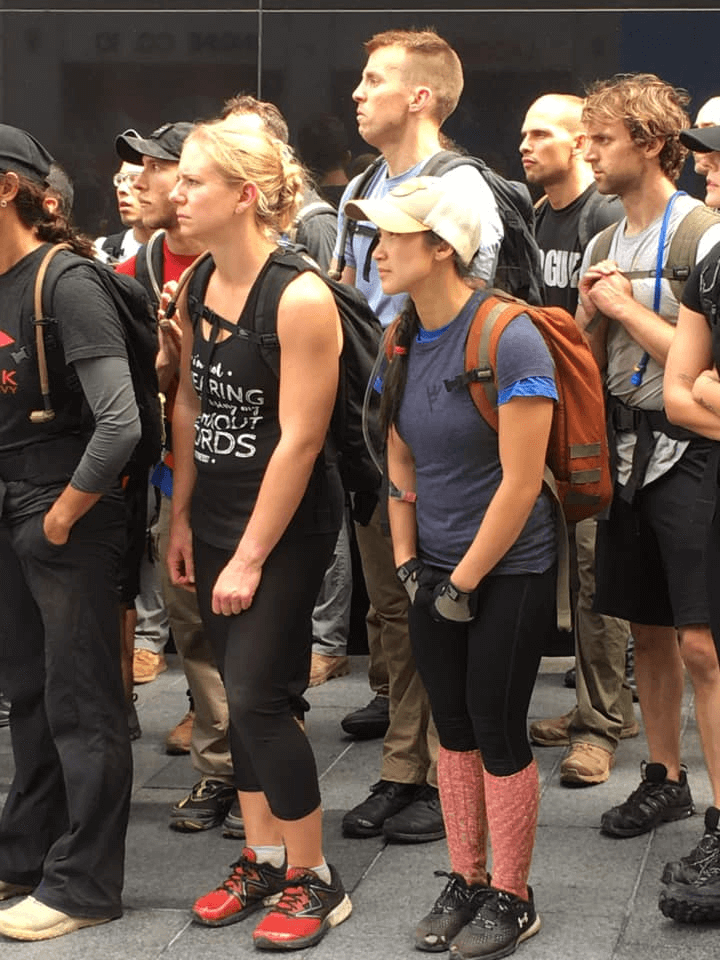 After everyone else finished, we filled up about 15 80-120# sandbags with pea gravel (so really, 100-150#-ish weight) from a construction site, a flag, and four five-gallon refillable bladders and set off across the Ward's Island Bridge, along FDR drive, down to Carl Schurz Park, and ended up somewhere at E. 85th St. and Third Ave. We got into the East River for about 10-15 minutes at one point (maybe 0200?) and dunked our heads underwater three times; otherwise, there wasn't any water exposure overnight other than what occasionally drizzled from the sky. My Garmin nav cut off at 0628 Saturday morning and said that at that point, we had covered 21 miles. There were some stops at parks along the way for PT drills and to review the biographies of some of the 9/11 victims, as each participant had been required to bring a remembrance story and picture of one of the 9/11 victims. Brief restroom breaks were freely given. I was in the zone for most of the overnight and dutifully carried my share of gravel sandbags and water bladders. I was happy to be able to carry most of the 80-100# bags by myself, but I definitely needed a buddy for the 120-150# bags.
I think sunrise was at about 0630, and that's always a significant morale boost for the group. We met DS and Mocha Mike at Sutton Place Park at maybe 0800. Cleve put us through half of a Deck of Cards WOD with eight-count bodybuilders for hearts, ruck swings for diamonds, four-count flutter kicks for clubs, and brickyard manmakers for spades, until 0846, the time when AA11 hit the North Tower, at which time we paused for a moment of silence. We did more cards until 0903, the time when UA175 hit the South Tower, when we paused again. We took a group photo, and then DS and Mocha took over, Cleve and Dustin took their rest break, and we departed. We rucked, PTed, and did other Very Fair things for a few hours and eventually navigated to and across the Manhattan Bridge. We ended up at the Ladder 118/Engine 205 fire station at maybe… 1300? Here, we listened to some of the firefighters tell their 9/11 stories, saw the station's memorial to the eight members they lost in the 9/11 attacks, and did some PT in the street while being showered by the fire hose, which was not terribly strong but nonetheless quite chilly. One of our GRTs was cheeky enough to challenge the chief to a chin-up contest, and was consequently defeated, but our man did pretty well considering he was 18 hours less than fresh. We rucked around a bit more, dropped off the sandbags at Cadre's hotel, and ended up at the World Trade Center monument at about 1800 for endex and patching. We covered 45 miles in 24 hours with over 2000 pounds of coupons. Our whole group only had six VWs, and we finished with 71 GRTs. [I'll be honest. My roster numbers in this AAR may not be not correct – my brain is a total fog. I'll fix them if someone else can give me the right numbers.]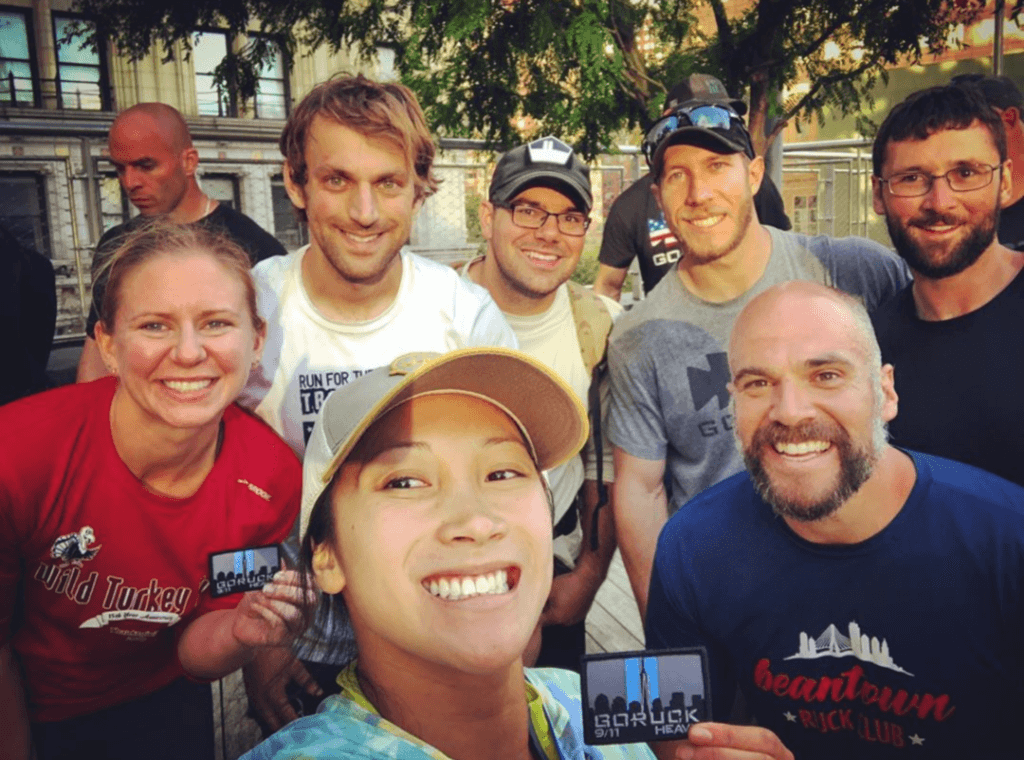 Overall, I found this harder than my first Heavy. It was pretty much 24 hours of continual PT and rucking with some massively heavy rockbags. The good things – we didn't do much water PT, there was no sand, and I had six battle buddies from the Beantown Ruck Club and many others from NYC and other areas. The bad things – not one of the Cadre mentioned foot care during the Heavy, which wasn't an issue for me, but with new ruckers among us and significantly wet conditions, it would have been a great learning opportunity for one of the Cadre to sit us down for ten minutes and explicitly say, "Take off your shoes and socks, and do this." Dustin eventually did during the Tough, but by that point, we were 36 hours in, and many people had already suffered (preventable) foot injuries.
5. H-T Intermission
I walked back to my hotel, got a Reuben, fries, and cheesecake from GrubHub, showered, changed clothes, and packed my Bullet for the Tough. I ate half of the sandwich and fries and saved the rest for the next morning. Then, I had a cup of coffee and two cans of Diet Pepsi. My feet were in decent shape – they were pretty white and wrinkly from being in wet shoes for basically 24 hours, and I had a small linear blister on my right foot along one of the creases and a tiny blister on my left fourth toe. I drained them both and applied a cushion blister bandage to each at the very last minute possible, allowing my feet to dry as much as I could. I did not nap – if I had been staying with people, I might have taken an hour or so, but I was alone and did not want to risk not waking up in time for the Tough. That may not have been the best decision given my lack of sleep Thursday night, but I didn't really have another choice. I took the subway to the start point and arrived about two minutes before the start of the welcome party. Phew.
6. Tough
We started promptly at 2200 at the lawn at Robert F. Wagner, Jr. Park, at the northern end of Battery Park. The welcome party/admin lasted until about 0030, and I know that for a fact because we could see the Colgate Clock across the water in Jersey City. We had something like 124 people show up, so it was an immense class. By the end of the welcome party, we were down to 119, so we split into two groups of 60 and 59 and went our separate ways with DS and Mocha Mike. Our group was a large portion of the Heavy finishers, so we were already pretty smoked.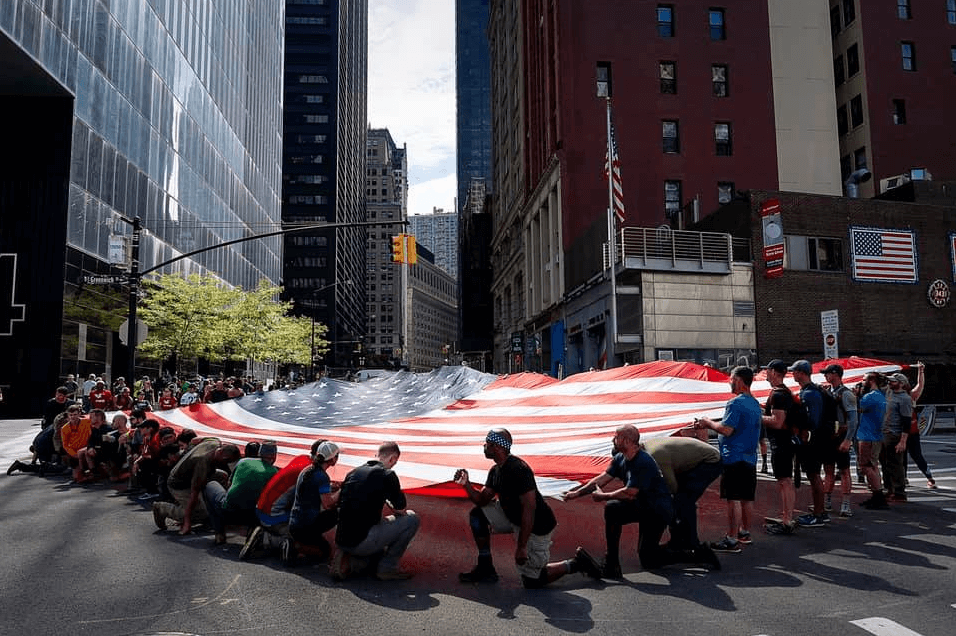 This was another "sleep ruck" type of event for me, no doubt compounded by not sleeping much on Thursday night prior to the event. I remember Mocha Mike telling me several times that I looked like I was seeing my spirit animal, which, if you know me, is obviously a friendly orange cat. I remember nodding off several times when walking and MANY more while we were not moving. Someone next to me was snoring during one of our park PT breaks. I'll fill in what few details I can remember, but for this one, I remember being REALLY reluctant to get under the sandbags because 1) my Bullet didn't really provide much of a resting place to sit the sandbags on, and I didn't have a waist belt, so I was pretty much relying on muscle and friction from my shoulders to support the sandbags, and 2) I was terribly afraid of nodding off under a 120# bag and falling and injuring whoever was carrying it with me, especially after a woman next to me took a nasty spill after being loaded with an unbalanced 120# bag. I carried on, but this was not my best performance at a Tough.
I do remember stopping at two parks to do some PT overnight. At the second one, we encircled a large fountain, feet suspended over the water, and did 60 flutter kicks without rest and all diligently held our feet elevated above the water during the entire set so as not to get our feet wet. At about 0800 (?), we met up with Dustin and Cleve near Central Park, where we learned that at one point overnight, the other Cadre had assigned all but five of their participants to be casualties, and the remaining five people had to transport everyone else plus all of the gear for an entire block. We switched out Cadre and trucked around with Cleve and Dustin for the rest of the event. We had some casualties and missed some time hacks along the way. I remember at one point, we stopped at a pier near the USS Intrepid and did relays and buddy carries. While I was picking up my partner for a fireman's carry, I felt a pretty sharp hot, needling pain in my left trap, likely a flare up of a shoulder injury from the Bataan Tough back in April after three miles of solo sandbag carries on sand, back before I really practiced them a lot. I tried to pick her up two more times, and the pain was intensifying. It wasn't preventing me from rucking or limiting my mobility, but I didn't want to risk further injury, so Cadre gave me permission to switch to piggyback carries instead. I think Cadre Dustin knew that I do not quit unless something is REALLY wrong, and he trusted my judgment. I did some light stretching exercises to work out my shoulder a bit and assess the damage and deemed myself fit to carry on, with caution. At this point, Dustin finally sat us down for a brief footcare break, and we carried onward. We rucked down the western side of Manhattan and Hudson River Park, and I remember seeing the Colgate Clock again at 1005 during our march and thinking, "Crap, we're going to run REALLY late."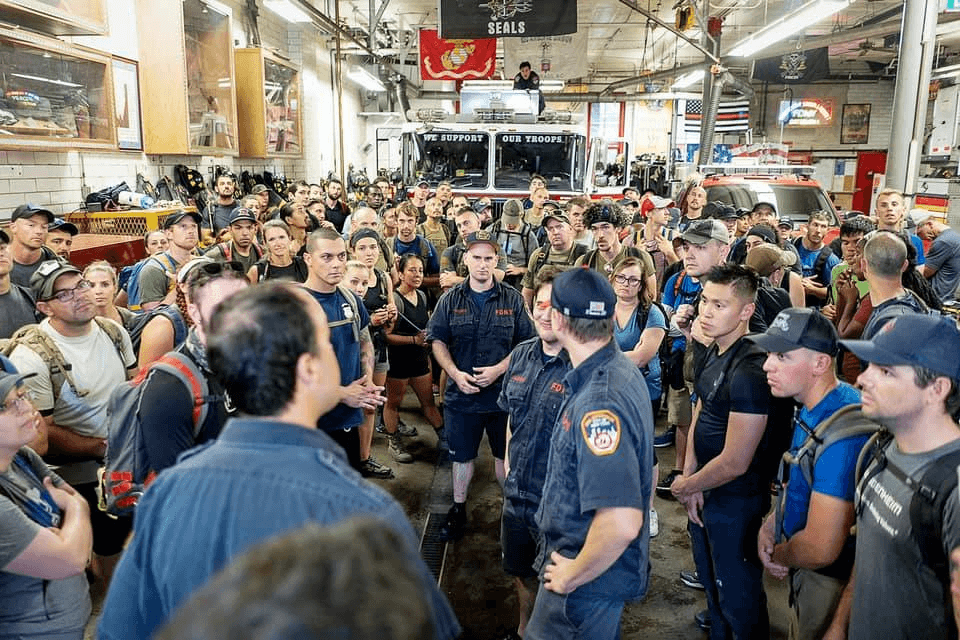 Eventually, we made it to the WTC site across from Engine 10/Ladder 10 and had a brief endex/patching ceremony at about 1045. I hoofed it out of there because I had to get back to my hotel to repack and check out before the Light start at 1300, although I missed a flag ceremony and some other pomp and circumstance. Two down, one to go. Somehow, through this entire event, we avoided water PT other than a light sprinkling with a hose during one rest stop. I was surprised to end with dry shoes. After the event, it was revealed that the reason we had escaped water PT at the Intrepid pier was due to the prominent security cameras overlooking our potential entry site. We covered about 22 miles in 13 hours.
7. T-L Intermission
I got back to my hotel shortly after 1100. I wolfed down the rest of my Reuben and fries, had another cup of coffee and another Diet Pepsi from the lounge, showered, re-dressed my feet, packed up, and checked out, leaving my GR1 and my travel Bullet at the concierge. I walked to the start point for the Light, which was about a half a mile from my hotel.
8. Light
The Light start point was Rockefeller Park at 1300 sharp, with sunny skies and temps in the 70s. Morale for the 50 or so of us HTLers was pretty good. We went right into admin, which was fairly brief, did some relays, and started a "secret mission" which involved launching three of the Cadre into mobile crowdsurfing platoons while the onlookers in Rockefeller Park tried to figure out what they were witnessing. We divided into four groups, picked up sandbags from the hotel, and our group took off with DS and went around the city with about five sandbags, a flag, and a water bladder. We traveled to Engine 4/Ladder 15 on FDR Drive, arriving a good half hour before most of the other groups. We rested for a bit before the firefighters shared their stories with us. We also rucked to Engine 6 on Beekman Street and Engine 7/Ladder 1 on Duane Street, spending some time at each station and viewing their 9/11 memorials and listening to the firemen talk.
One notable difference between this and every other Light I've ever done was that people were photographing freely with their cell phones, and I didn't hear any Cadre telling them to put their phones away or assigning PT for infractions. I assume this was due to the huge emotional ties most of the people had to 9/11 and the pretty private things that were shared with us at the fire stations. Each station had their own sort of shrine to the brethren they lost with the 9/11 attacks, and there were many eyes bright with tears all afternoon. It was one of the most humbling and heartfelt experiences I have ever had, certainly not what I expected from a typically tough-as-nails GORUCK event. Eventually, we made our way back to the Cadre hotel and unloaded the sandbags. We then crossed the street to the WTC Memorial and had a crowded endex ceremony circled under the Survivors' Tree. We covered about 3.5 miles in five hours. There were 50-ish HTL finishers, allegedly the largest HTL class in GORUCK history.
After endex, we visited the WTC Museum, as we had free tickets donated from the museum, and they were kind enough to extend their admission time to half an hour later to accommodate us. We had to check our rucks for security, and it was kind of entertaining to see the reactions of the staff to all of our heavy bags as they went through the scanner and into the coat check cubbies. The museum itself was somber, and combined with all of the emotional stress of the weekend and the dramatic atmosphere inside the museum, I found myself tearing up many times. I ambled through the exhibits as the post-event brain fog set in, and as my adrenaline subsided, I could feel my feet and quads starting to ache. I found "my" victims' biographies in the memorial hall and read their stories. Then, I reclaimed my bag, went outside, met up with my Beantown Ruck Club compatriots, and we said our goodbyes and parted ways, to meet again back in Boston.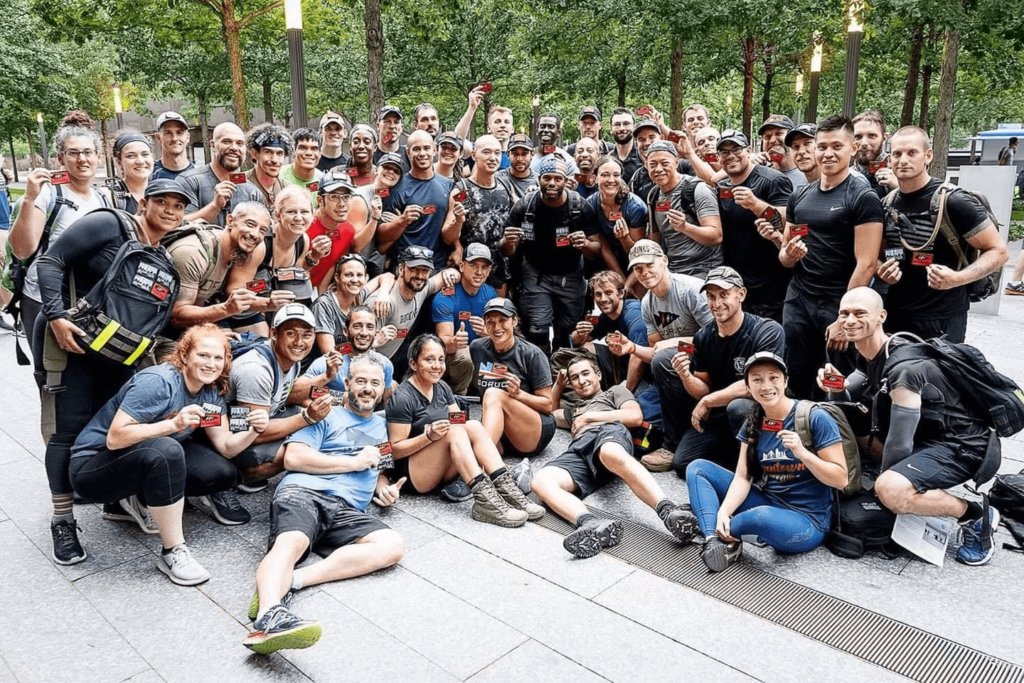 9. Recovery
Immediately after the Light, I took the metro back to my hotel and gathered all of my bags from the concierge. I went to the Tick Tock Diner across from Penn Station, which is pretty much my go-to post-event spot for NYC because it's open 24 hours, it has booze – although I didn't partake during this weekend, and it's close to the train, albeit a bit expensive. However, the food is decent, and it's convenient. I had baked macaroni and cheese, waffle fries, and water and Diet Coke with apple pie à la mode, although I could only finish about half of each of the plates. I entered Penn Station at about 2130 and camped out in the Amtrak waiting area, intermittently dozing off on my pile of rucks and checking social media until my train boarded at 0230. The train rides home were uneventful, and I finally ended up back at home in Salem at about 0900 Monday morning.
Monday was a little rough. I went for a brief half-mile walk without weight after returning home; my Garmin said I covered about 4500 steps for the day. My left trap was still a little pinchy, and my left lumbar paraspinals were sore. I taped a Hot Hands warmer to each of these areas and wrapped myself in an electric blanket for the day, taking 800 mg ibuprofen every 8 hours and hydrating aggressively as I typed this report. Usually, I would go to the 5:45 pm yoga class at the YMCA, but with the trap pain, I was a little reluctant to dive right into downward dog that soon. I had leftover macaroni and cheese and a protein shake for lunch and some veggies for dinner. I started a new job Tuesday morning and was feeling about 75% recovered, with my only real issue being the persistent, but improving, pain in my left trap. Beantown Ruck Club planned a team debriefing/war stories dinner +/- light ruck for Wednesday, September 11, and I expect to be in rucking shape again by then, which will be after the time of publication of this AAR.
10. Summary and Afterword
I wrote this because my first AAR had such a positive response, and I wanted to document another HTL because 1) each experience can vary greatly from others, and 2) our days of the "old" format HTL, with fresh meat for the T/L, are numbered, as GORUCK is about to change the format for 2020. If I'm still in shape, I'll probably attempt one of the 2020 ones, maybe Philly, and if the 20th anniversary 9/11 happens in NYC, I'm definitely going to attend. This weekend was amazing, both physically and emotionally, and I'm grateful to GORUCK, the firefighters who shared their stories with us, the victims we remembered, the Cadre, and my fellow GRTs who contributed to an experience I will remember forever.
Shout outs to my fellow Beantown Ruck Club HTL finishers – Tina, Ben, Zach, Dennis, Spencer, and Nick.
Also, a huge credit to Lyell Petersen and the PATHFINDER crew for keeping my training on track for eighteen months running. PATHFINDER was huge in preparing me for both HTLs and for Star Course 50 back in June. If you want to dramatically increase your GORUCK event capabilities, they are the best bang for your buck, hands down. #CTHT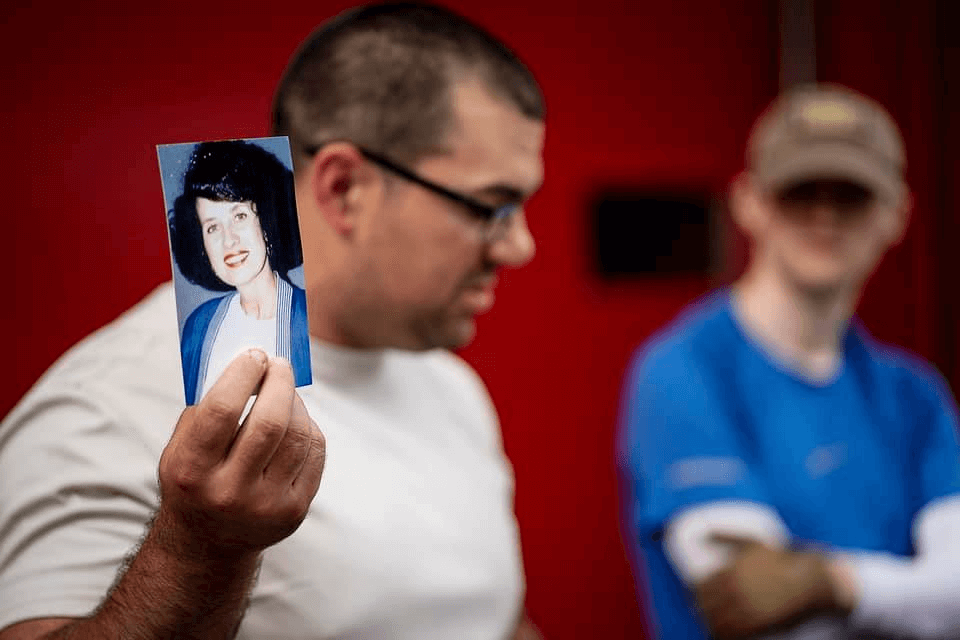 I will never forget the victims I remembered for the event. They are the parents of a woman who is part of my biweekly Thursday night knitting circle. Their names are James and Mary Trentini of Everett, Massachusetts. He was a football coach at Burlington High School who loved Thanksgiving. She was an administrative assistant at Triton High School in Byfield and an accomplished seamstress who undoubtedly passed her love of fiber arts down to her daughter, my knitting friend. They were supposed to fly to California to visit their other daughter on September 10, 2001, but James was assigned to jury duty, so they moved the flight to September 11. They checked an extra bag because they had brought so many gifts for their grandchildren. They were kind people who will always be loved and missed. As an Ohio native, I remember being in high school and hearing about the attacks on September 11 during second-period history class, but I didn't really have any personal ties to the victims. Now that I live in Boston, though, it seems like everyone I know was affected somehow. You see, two of the planes flew from Logan Airport, so those were our people, too. Boston stands with New York in remembrance of the victims of that terrible day – never forget.
11-175-77-93-2977-343-23-37