While I'm a big advocate for putting in miles and suffering through PT sessions as a great way to train for a GORUCK Heavy, Tough, or Light, there is no substitute for just getting stronger.
For the past year, that has been my main training goal: get stronger.
For me, this is been primarily through my gym's barbell programming. However, due to scheduling, I often can't make it to the barbell class. So, for my 40th birthday (which is in December), my wife gave me permission to convert the shed into a gym and buy a whole bunch of stuff from Rogue.
Below I'll share how the project went down.
Assess the situation.

Ok, I have a lot of crap in here. I haven't played golf in like 15 years. Why do I still have these golf clubs?!?!
The shed is 10'x12′ and this picture doesn't even begin to show what all was in there. If I was going to build a lifting platform (8'x8′) almost all of it would have to go.
Remove everything.

Ah that better. Wait, where did everything go?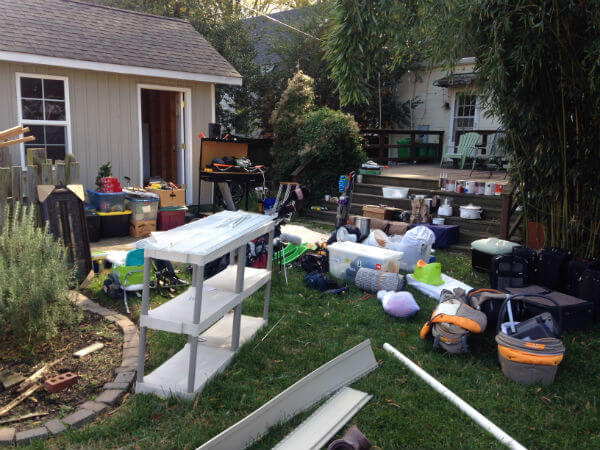 Oh, there it is.
In the end, this resulted in a truckload of items taken to Salvation Army and another truckload taken to the dump. A few items were sold. I think I made $100.
Now, build a platform.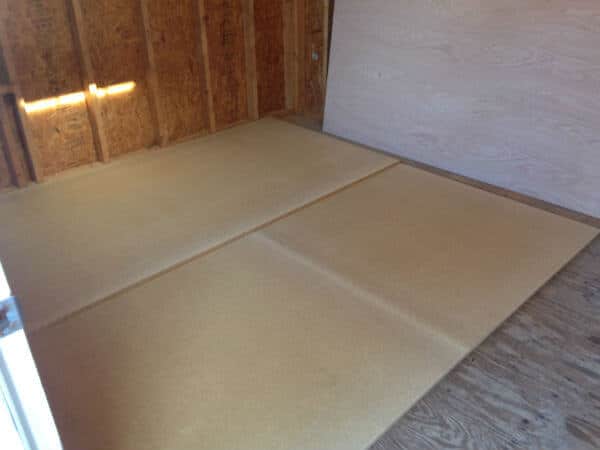 Building a lifting platform is really easy.
You'll need:
4 – 4′ x 8′ pieces of 5/8" thick OSB/particle board
1 piece of 3/4" thick maple or oak plywood (I went with oak)
Box of 1 1/4" construction screws
2 – 4′ x 6′ 3/4″ thick horse stall mats (I got mine at Southern States)
Total cost of these supplies will be around $200 +/-.
Step one, you'll lay down two sheets of the particle board. Then, lay down the other two on top in the opposite direction.
Step two, screw the boards together.
Step three, cut the horse stall mats in half. (Note, this is the most annoying part of the build. Use a razor blade to score the mat over and over until you cut all the way through.)
Step four, lay the plywood in the middle of the platform and then flank it with the stall mats. Once you're happy with the placement, screw it all into place.
Buy a crap-ton of Rogue equipment and set it up.
With limited space and limited funds, I couldn't get a whole CrossFit gym setup. I settled on getting everything I needed to be able to oly lift as well as bench, squat, dip, and do pull-ups. I ended up getting: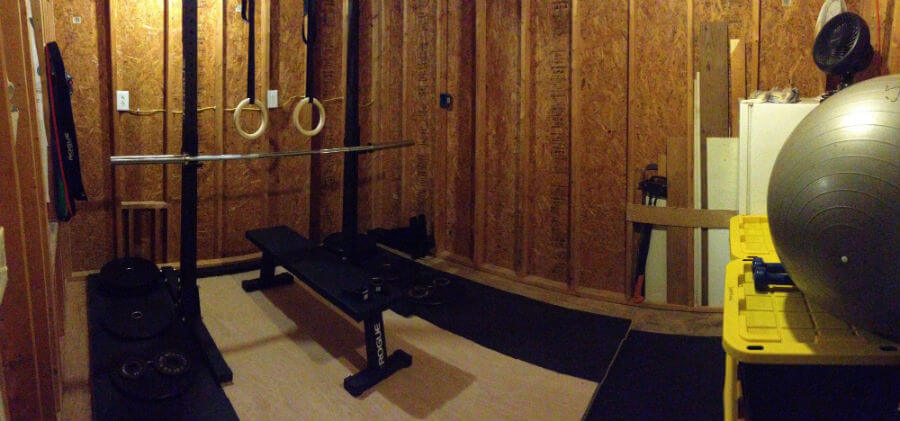 Setup of all this was really easy. Just put it together and tighten the bolts.
I'll note here that buying from Rogue was a tremendous experience. Their order tracking system is probably the best one I've ever encountered. Not only that but considering the volume and weight of the order, it is amazing how quickly I got everything. It took less than 1 week for everything to arrive, and this was during Thanksgiving and Black Friday.

Conclusion
I've been using the space for two weeks now. While it is a tight fit, I get my work done. It is really nice to be able to go straight from the house to the gym and back to the house with just a quick little walk. While I wish I had more room for some other pieces of gear, I think my bank account is happy that this little shed is all had to work with.
Got questions, comments, or ideas for my space? Drop them in the comment section below.