This post will serve as an ongoing review of the GORUCK I/O Cross Trainers and will be updated with significant events and experiences during my ownership of these shoes.
UPDATE: The I/O Cross Trainers are now live for sale on GORUCK.com.
Initial Impression
Before we go too far, let me say that this is a good looking shoe.
Amongst my friends and family, I get very mixed reviews of my GORUCK MACV-1 Rucking Boots. However, even those who dislike my boots have said that they think the GORUCK I/O Cross Trainers look good.
Second, out of the box, they feel stiff. Specifically, they feel very stiff around the ankles.
Third, I wear Brooks Ghost running shoes almost all the time. So, I'm used to a very cushioned ride. The I/O Cross Trainers are not like that. However, that's not what they're supposed to feel like. They feel like a very sturdy rucking shoe.
Forth, and I'll talk more about it later, the shoelaces, specifically at the holes, are pretty uncomfortable.
Sizing
A number of people that pre-ordered the I/O Cross Trainers have noted issues with sizing. Here's my context to help you decide what to order.
I wear anything from a men's 9.5 to a 10.5 depending on the brand. GORUCK has stated that the I/O Cross Trainers run a little big.
On their site, GORUCK states, "I/O Cross Trainers run slightly large with a wide toe box, which allows your toes to spread out over time and distance. We recommend going a half size down from what you wear in MACV-1's or other true to size shoes to account for increased flexibility in the upper (and you might not be wearing thick wool socks like you would with MACV-1's)."
I own a pair of MACV-1 Rucking Boots and I wear a 9.5 in those. They are basically a perfect fit.
For the I/O Cross Trainer, I decided to order 9.5 because I could actually stand to have just a little more room in my MACV-1 Rucking Boots.
For reference, here are some of my other sizes:
Vans: 9.5
Nike Metcon 3: 10
Brooks Glycerin: 10
Wolverine Boots: 9.5
Pumas: 9.5
As for fit, for me 9.5 was perfect. But, for the record, they ARE bigger than the 9.5 in my MACV-1 Rucking Boots. So, if you have MACV-1 Rucking Boots, you can base your size knowing that the I/O Cross Trainers will run a little bit bigger.
Some Quick Details
DISCLAIMER: Like a dummy, I didn't take the pictures before spending 3 days in the shoes. I tried to clean them up for the photoshoot, but as you'll see there is some dirt/dust on them. Sorry.
The tread on these is VERY nice.
Tread holds very well on wet terrain.
Branding on the tongue. Laces and eyelets.
Interior shot. Nice leather on the interior around the ankle and heel.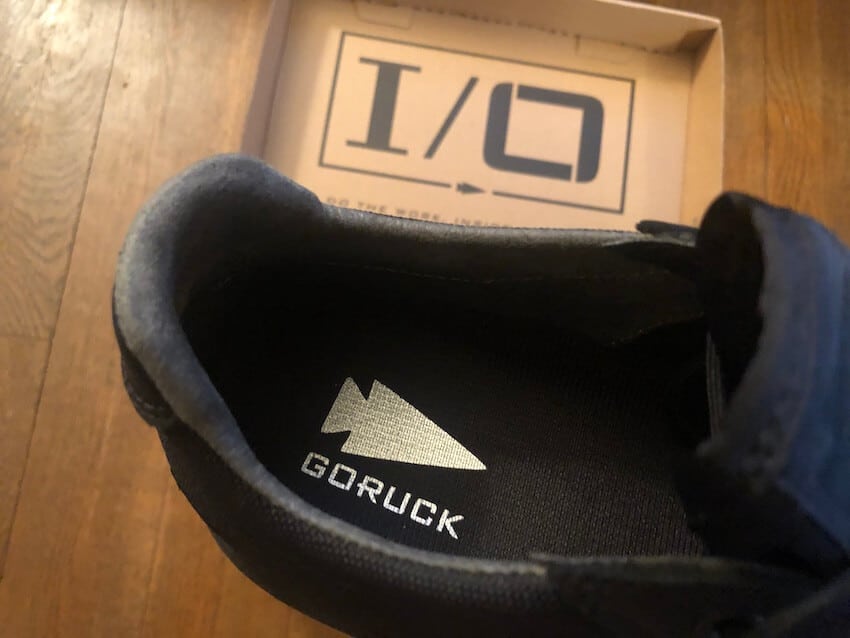 I opted for the embossed flag on the heal. It is a nice touch. The spearhead is also on the outside of the heel, but not noticeable at distance.
Leather on the toebox.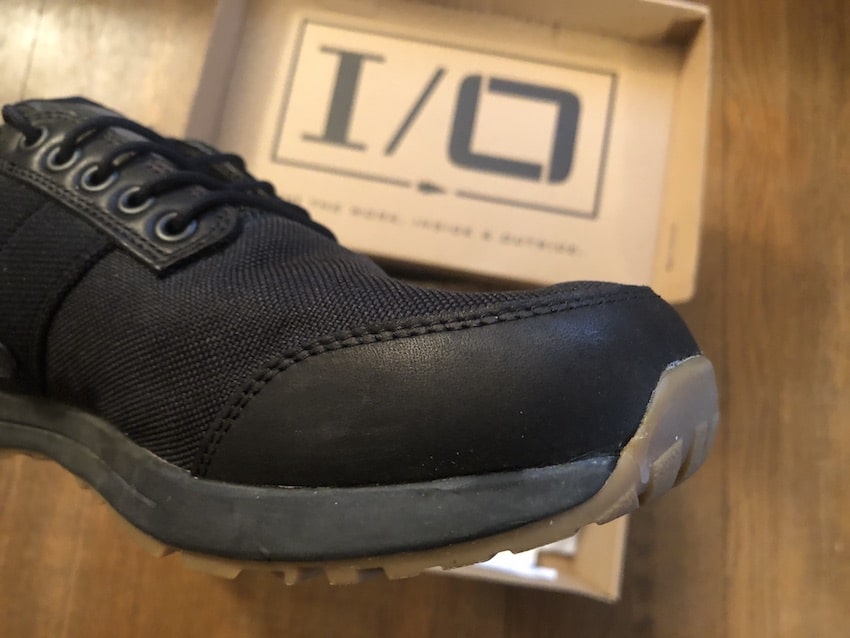 Single drain hole.
Now, this is pretty cool. Running the length of the tongue, under the laces, is a padded neoprene strip. I guess it is to lessen the impact of the laces across the top of the foot. It seems to work and is an unexpected feature.
This is what is on the bottom of the insert.
Day 1 – At the Office
On the first day, I simply wore the I/O Cross Trainers to work.
They are a very simple shoe, so they blend in great with just about anything.
I work at a stand-up desk, so I was on my feet all day long. The shoes felt just fine. I had no issues. I totally plan on making these my go-to daily shoes.
Day 1 – First Ruck
My son had soccer practice, so I strapped on my Rucker with 30# and went out to put in a couple of miles.

I mixed the ruck on the pavement and off-road.
This is where I will share my two biggest gripes.
First, as I mentioned in my initial review, there is a fair amount of discomfort on the top of my foot where the laces enter the eyelets. The fact that the laces are rounded causes them to really dig into my feet, especially at the top holes.
For day-to-day wear, I have found that loosening the laces resolves a lot of this pressure, but I like a more snug tie when I'm out rucking. My "plan" is to get some flat laces to replace the current ones. I think this will resolve the issue.
My second problem, also mentioned in the initial thoughts, is that the shoe is extremely stiff around the ankle.
When walking on flat ground, this is not a problem. However, there were several times when I was walking across an incline. The roll of the ankle towards the uphill was very painful both on the right and left foot.
If the shoes loosen up, then I think this will be ok. It is certainly something that I will keep a close eye on.
Now, something I LOVED was the tread. While it felt perfectly fine for hard ground and concrete, it felt VERY good on the wet/muddy ground. I could really feel the tread dig in and grip the ground. I'm excited about this.
Current Conclusion
I'm optimistic.
As I said, the GORUCK I/O Cross Trainers will be a great go-to daily shoe for me. They look good and generally feel good. I'll easily wear these every day.
While, for me, they are good for level-ground rucking, I think I will need to break them in a little bit more (and change the laces) before I take them offroad for more uneven terrain.
As one who rucks almost exclusively in running shoes, these are a much more firm alternative for someone who doesn't want to go for boots.
I look forward to testing them further, specifically with Ruck PT.
8 Month Update
These shoes have broken in nicely. Most of the issues I had early on are gone now.
While I don't ruck with them very often (sorry, I just can't give up my Brooks) I do wear these shoes often and really like them. They've got a great look and are my "nice" shoes. I really like them a lot.
I will note that GORUCK has released a new version of the I/O trainers. While I'm not looking to drop the coin to simply test them out, I've heard reports that the new version addresses pretty much every complaint or issue that V1 had.
If you have any questions or thoughts, drop them in the comments below. I'm happy to help.