GORUCK Rucking Boots Review – MACV-1 (Ongoing and Updated)
This post will serve as an ongoing review of the GORUCK MACV-1 Rucking Boots and will be updated with significant events and experiences during my ownership of these boots.
Updates
Use the links below to jump to the ongoing updates:
Update #1 – First full day + Rucking in the rain
Update #2 – Week 1 – Breakin period and weight & cushion
Quick Overview
In September 2018 GORUCK officially shipped the MACV-1 Rucking Boot. Four years in development, the goal was to create a boot that allows you to travel, train, and ruck in any environment in the world.
As GORUCK seeks to grow and expand the sport of rucking to include Rucking divisions in major races and the increased growth of ruck clubs, it is clear that GORUCK is seeking to be the go-to footwear of ruckers everywhere.
A few notes about me
I got into rucking through GORUCK events. To date, I have completed several GORUCK Heavies, Toughs, Lights, and one HTL. In training for events, I have put in hundreds of rucking miles.
I have only owned two pairs of boots in my life. One was a pair of Doc Martens and one was a pair of steel toe Wolverines.
When rucking, I have only used my Brooks Glycerin and my La Sportiva Wildcats. I have been very happy with the performance of both and, honestly, did not plan to ever deviate from these two shoes when rucking. I tried a couple pairs of popular boots in the store, like the Merrell Moab Ventilator, but never really liked the fit.
For GORUCK to convert me from #TeamShoes to #TeamBoot is going to take something special.
Sizing
I wear anything from a men's 9.5 to a 10.5 depending on the brand. GORUCK has stated that the MACV-1 sizing is comparable to a standard pair of Chuck Taylors. Not owning a pair of Chucks, I went to the local shoe store and tried a pair on. For whatever reason, the store only had whole sizes. That said, the 9's were too small and the 10's were too big. I inferred that I was a 9.5 in Chucks and that is what I ordered.
For reference, here are some of my other sizes:
Vans: 9.5
Nike Metcon 3: 10
Brooks Glycerin: 10
Wolverine Boots: 9.5
Pumas: 9.5
Unboxing
Man, these things look sharp!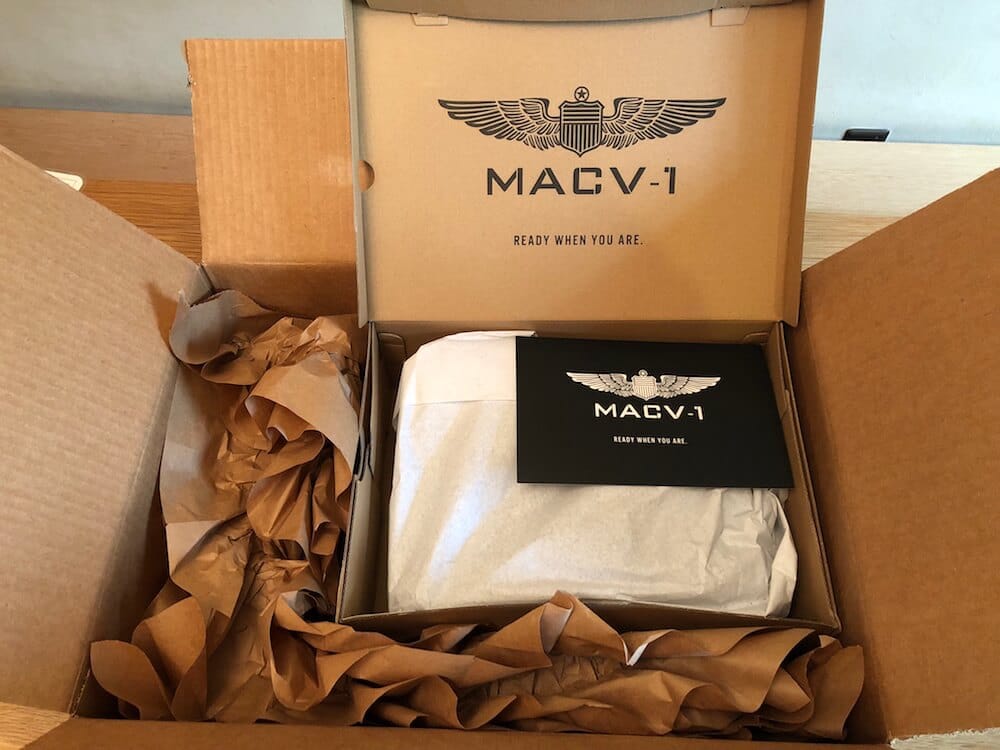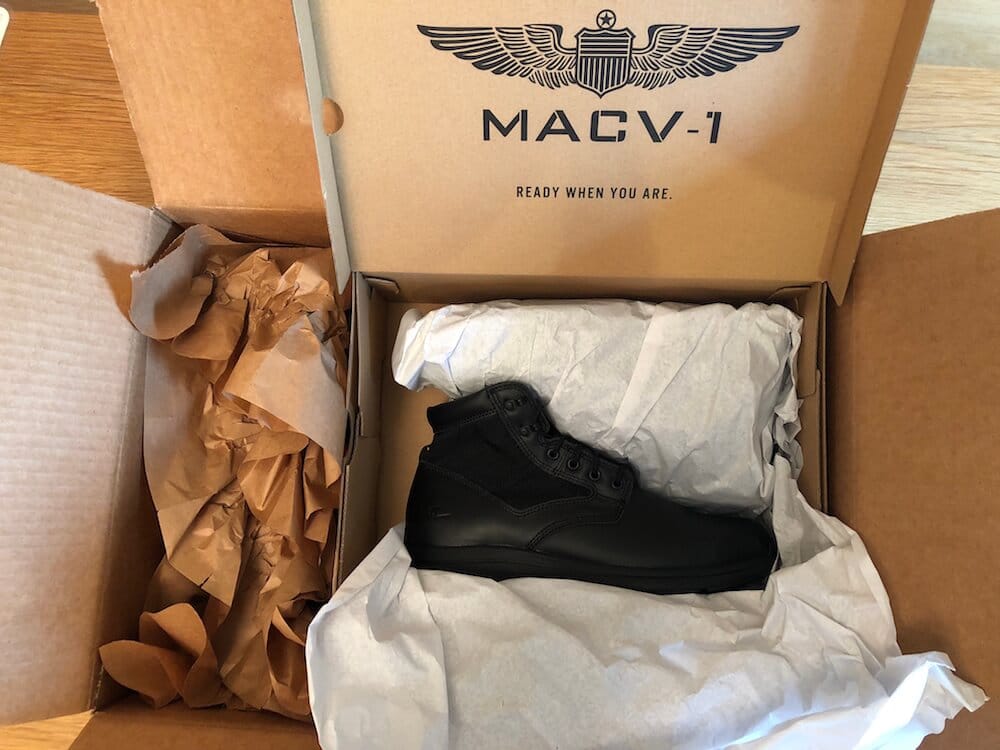 A Quick Detailed Look
After opening the box, I quickly gave them a look-over.
First stop: The drain holes. Pretty cool looking. From the interior, they sit just below the insert.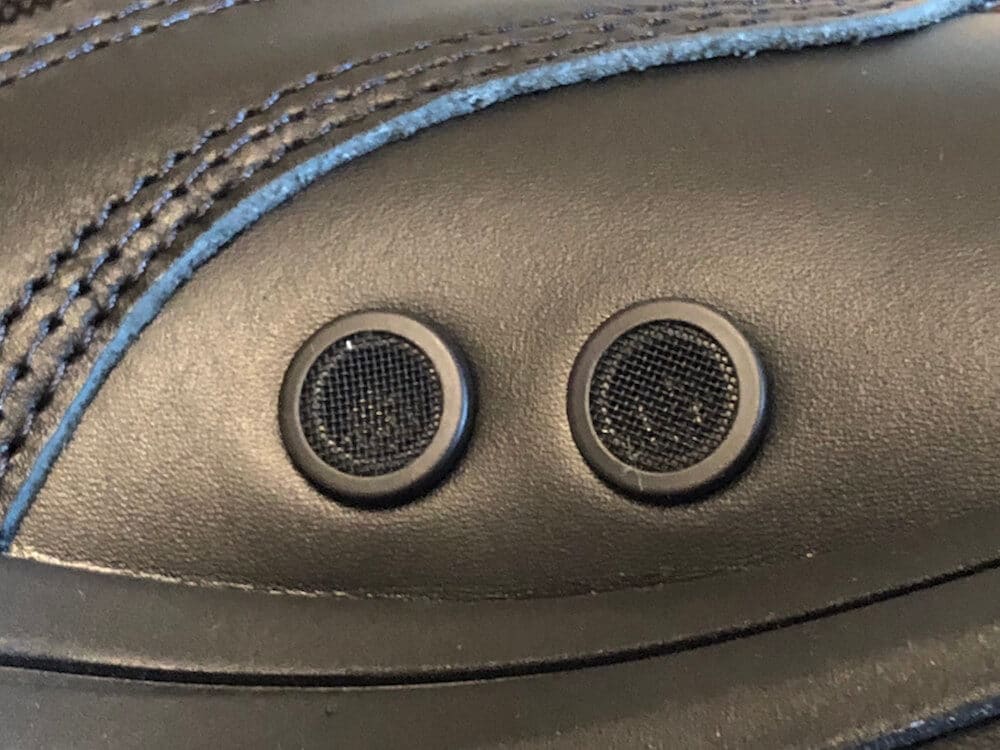 Interior tag. Made in Vietnam.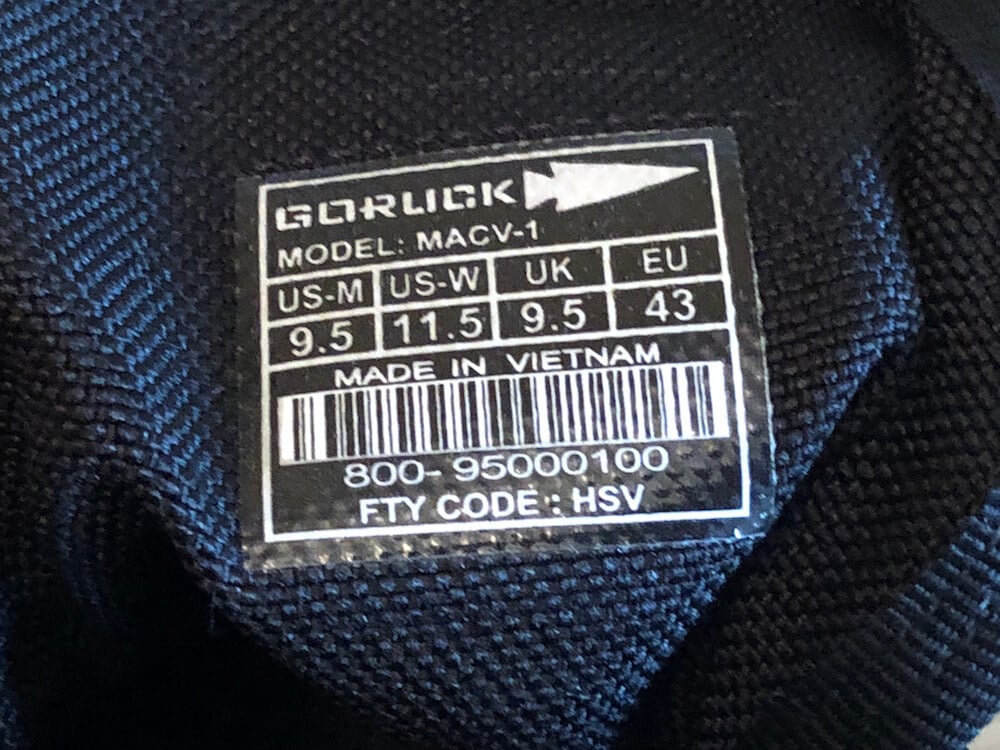 Exterior tag: GORUCK.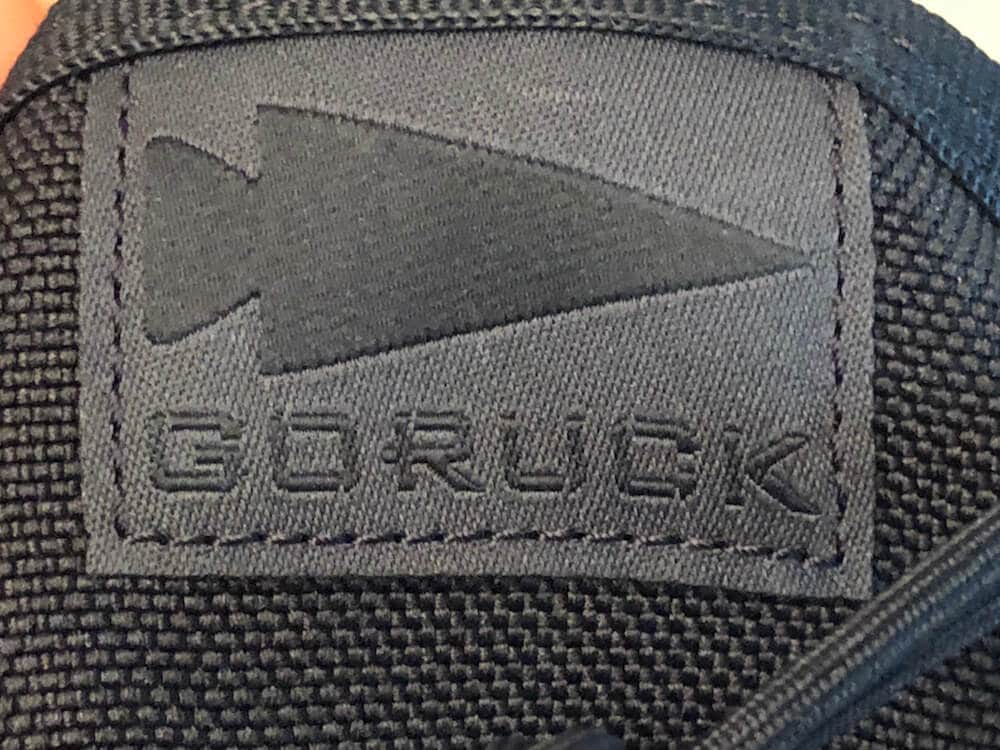 Spearhead on bottom tread.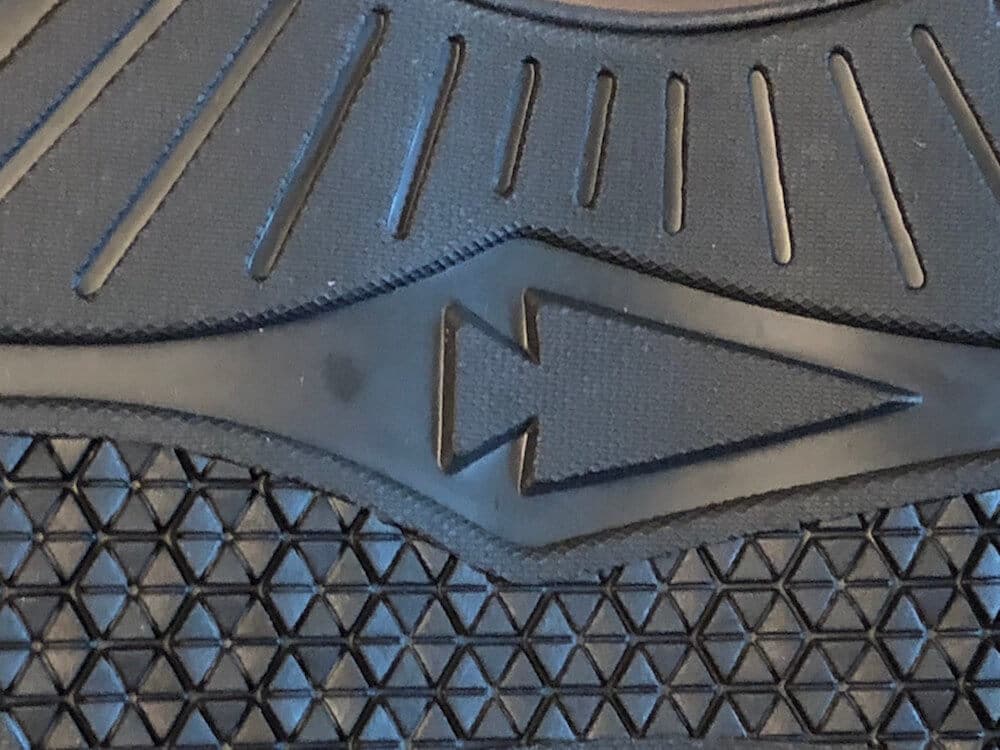 Nubs on shoelaces. (called aglets)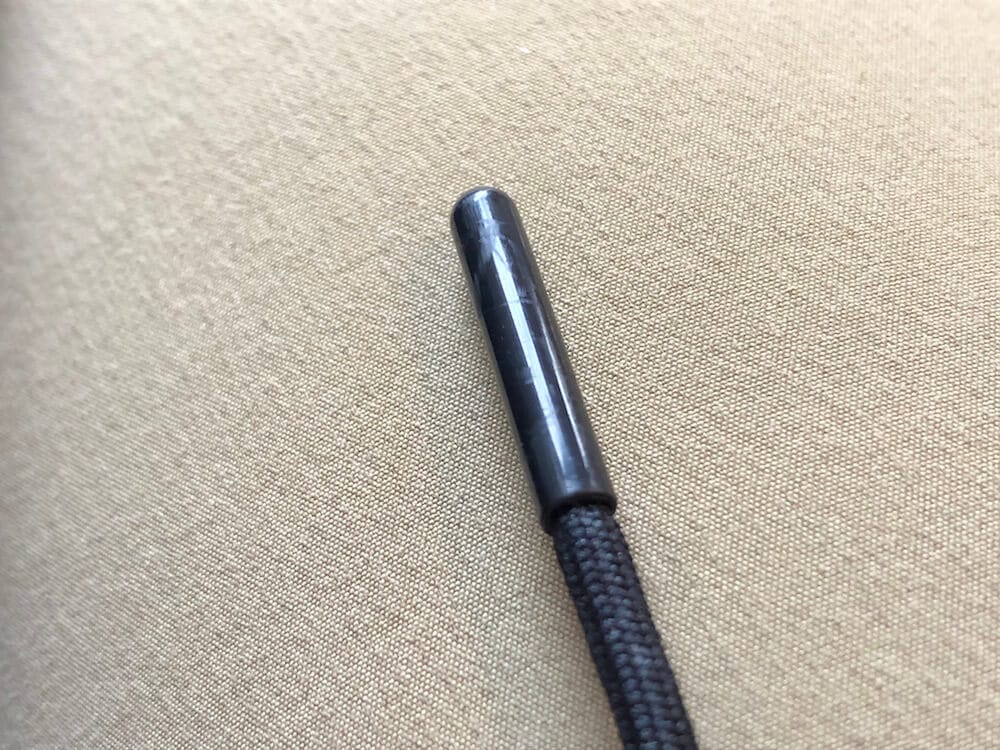 Pretty good looking boot.
Ok, put on the darn boot already
So, let's get'em on and see how they feel.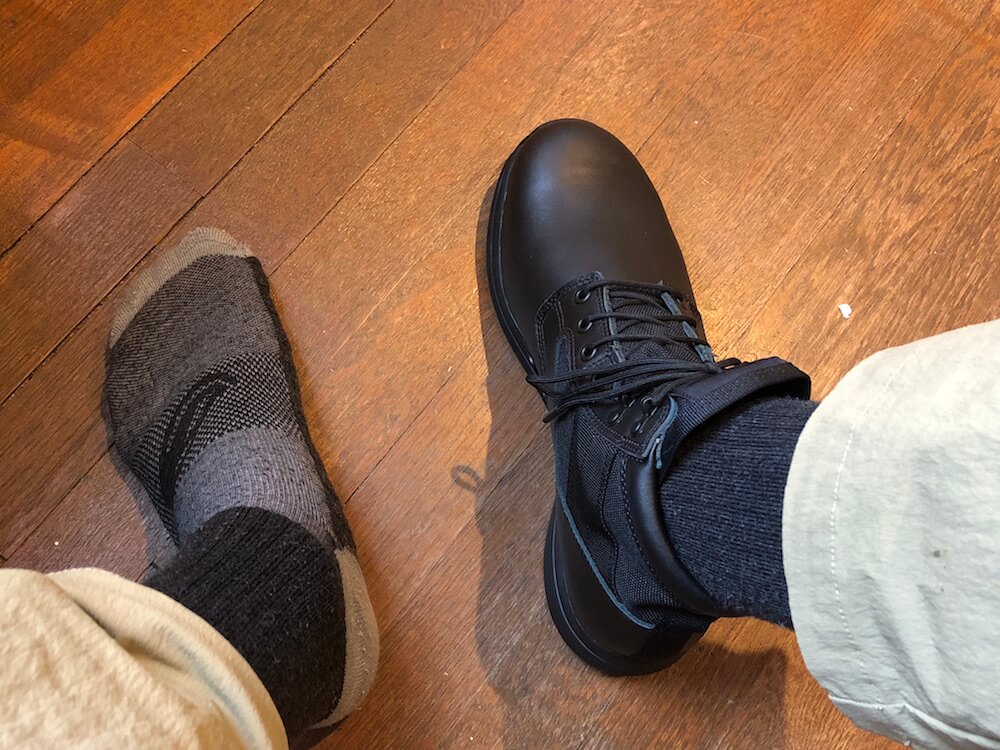 My very first thought was how tight they were at the spot where the leather meets the Cordura. Like, super uncomfortable tight.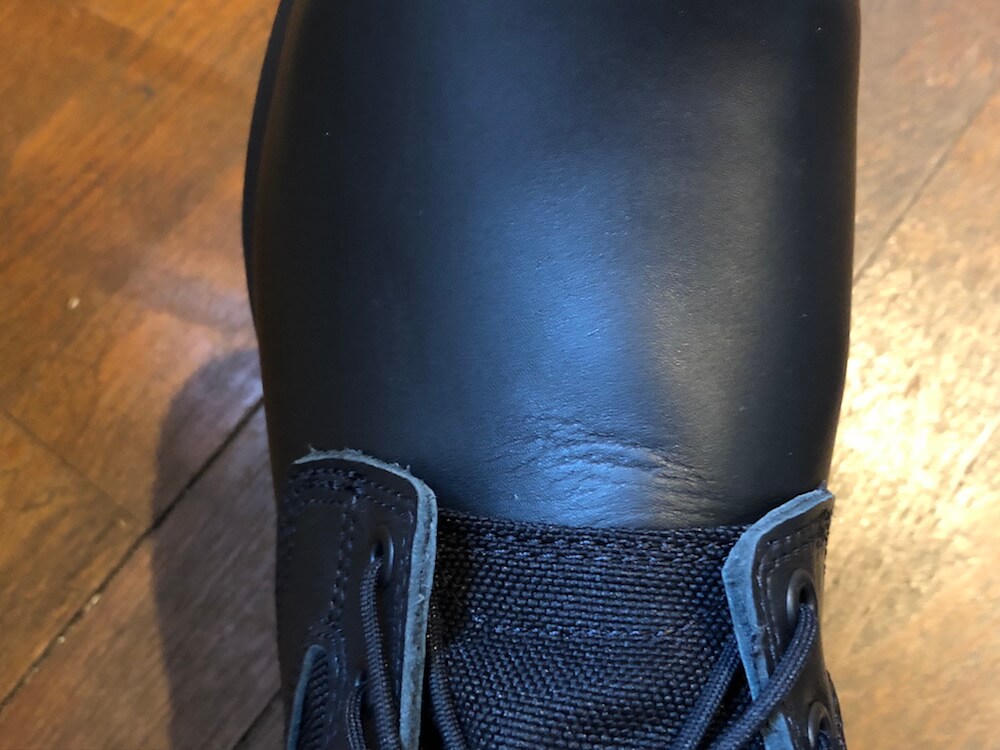 I'll go ahead and say that this has loosened up after about a mile of rucking, but it was very concerning to start.
After getting the other boot on I walked around the house for a little bit. This is when I realized that I have no idea how to lace boots. I had cinched them down way too tight and, well, that was uncomfortable.
After having them on for 5 minutes, I grabbed my ruck and headed out the door (I was taking my son to soccer practice).
First Ruck
Arriving at the park, I dropped off the boy and set out on a ruck. I had my American GR1 with 30# ruck plate and, of course, I was wearing my favorite rucking pants.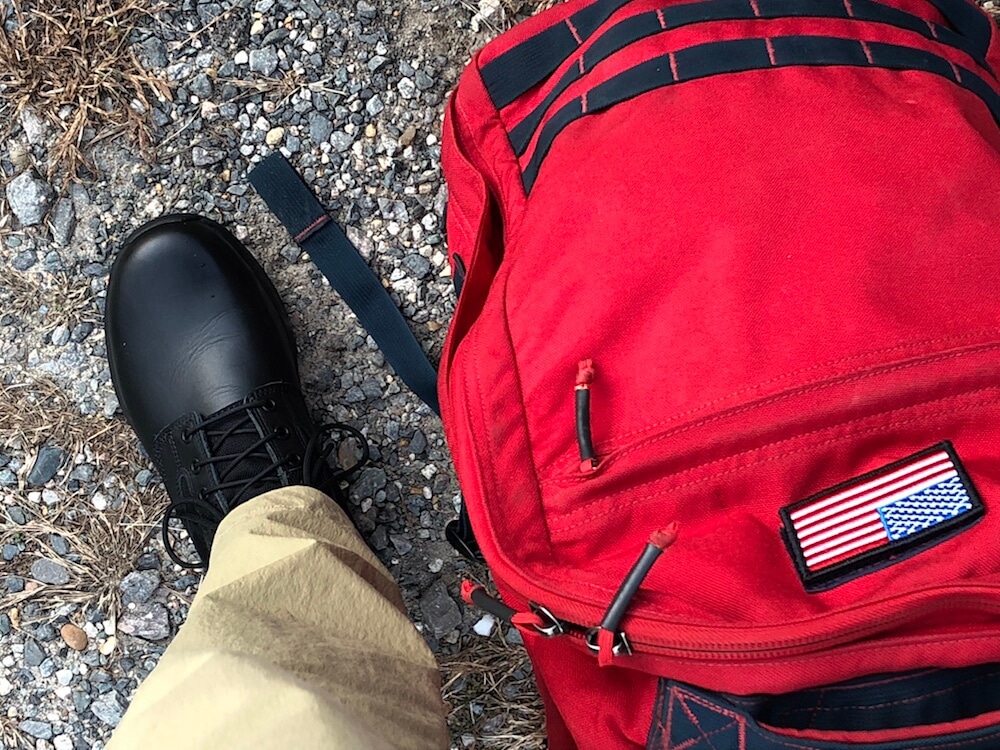 I still hadn't figured out the right lacing and the tight spot was still pretty tight. I had a little heel slippage as well.
All of this was growing a great deal of concern that the boots were not going to work for me.
After about 1/2 mile, I stopped and adjusted my laces and the pressure on the top of my foot felt better. I resumed rucking.
During my ruck, I was on different terrain including some uphill, downhill, sand, gravel, tall-grass, short grass, pavement and, yes, I even found a little water.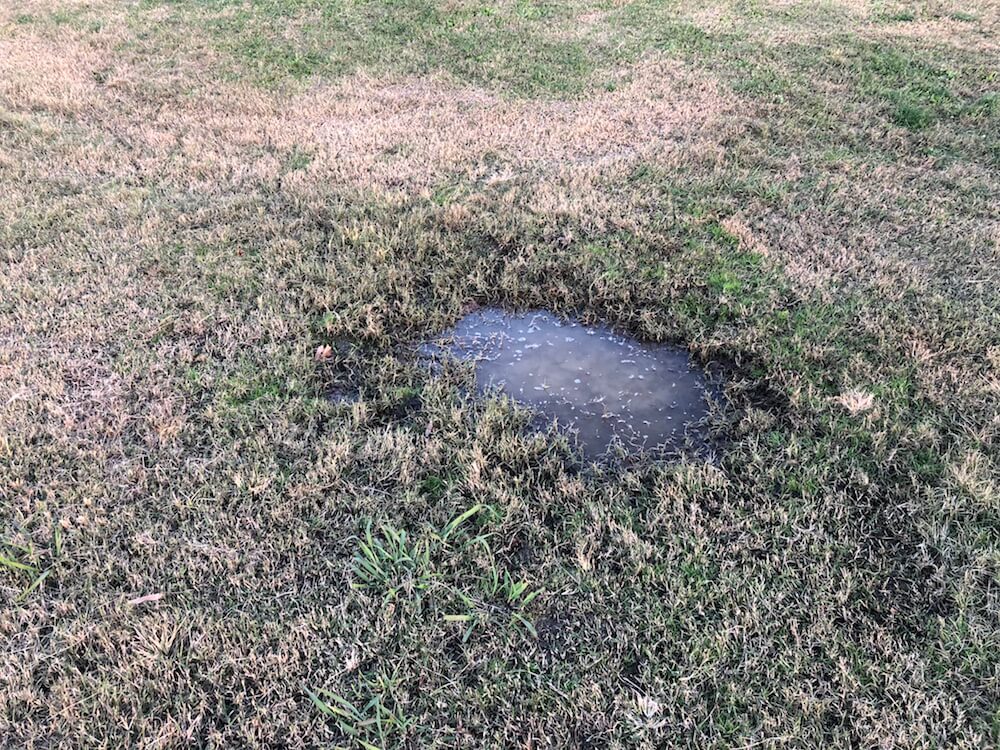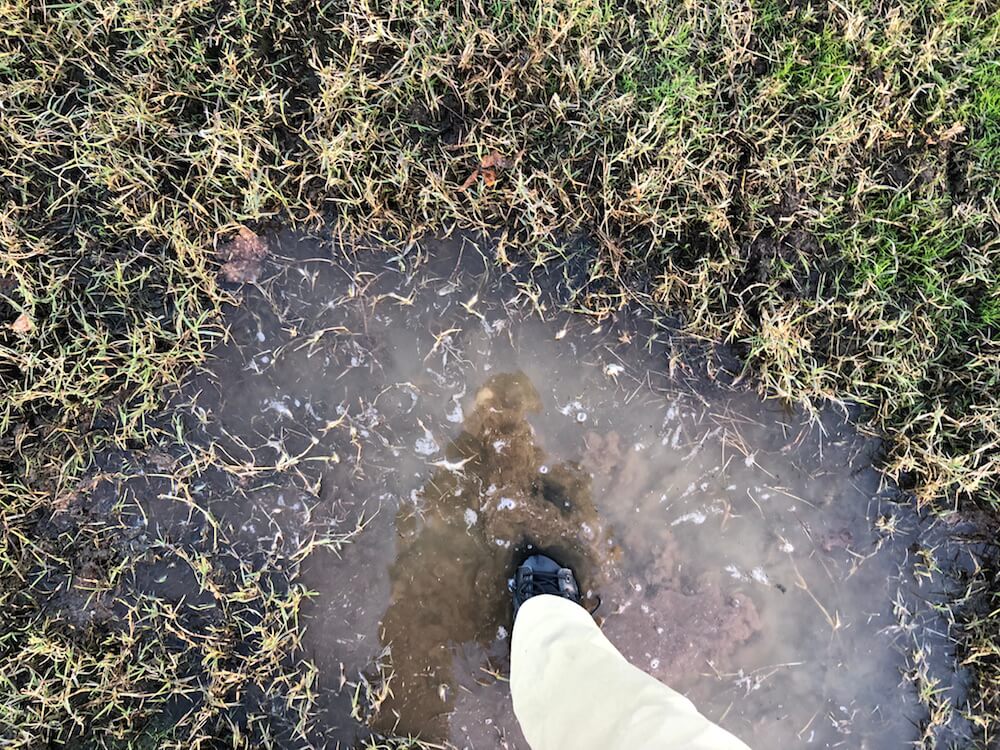 In all, I rucked a little of 1.5 miles (before I had to go watch my son play his scrimmage).
Honesty, much of my time was analyzing every single little twinge and twinkle I felt in the boots. I was hyper-aware of every little detail. By the end, I think I was starting to get used to them.
The truth is, I've never rucked in ANY boots, so a lot of this was me trying to figure out if it is "these boots" or just "boots" that felt so different.
A quick note on the water. I held my foot in it for like 5 seconds. I could tell that a small amount of water came in through the drain hole, but didn't notice for more than a second.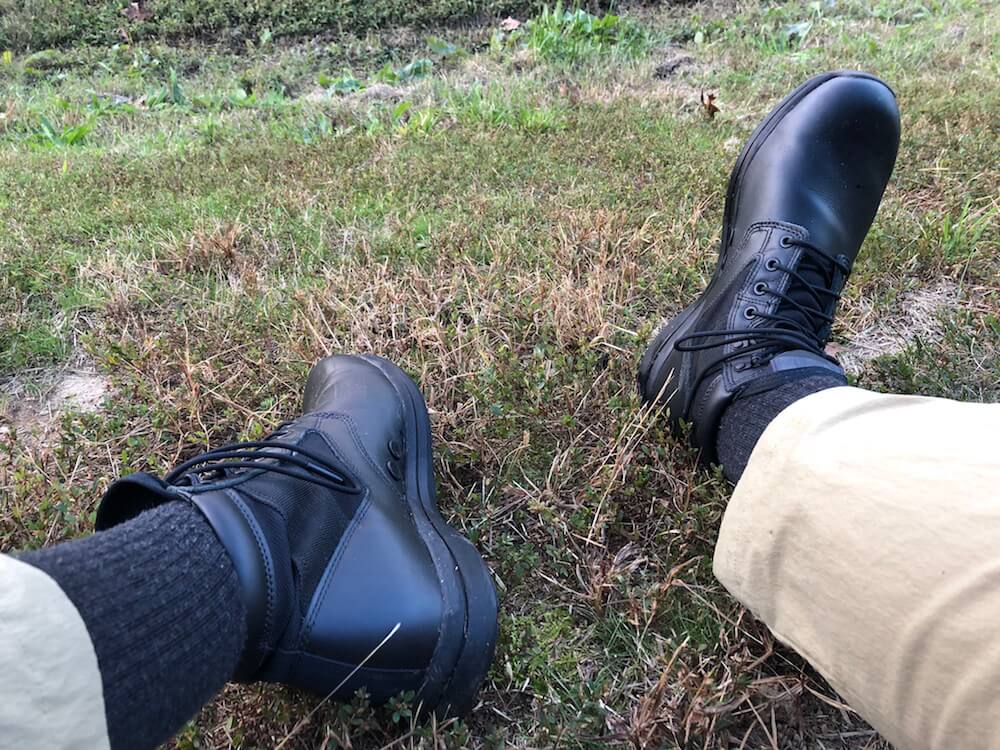 After rucking around, I sat down and enjoyed watching my son play soccer.
By the end of the 1.5 miles, the boots were starting to feel more comfortable. But, to be honest, I'm going to need to put more miles on these to declare them my go-to rucking shoes. My hope is to put in some miles this Saturday.
In addition to this, I intend to wear the boots all-day for the next few days.
I'm on my feet a lot, so it should be a good test.
First Full Day
I wore the MACV-1 Rucking Boots all day today. I work in an office and have a standing desk, so I was on my feet for most of the day.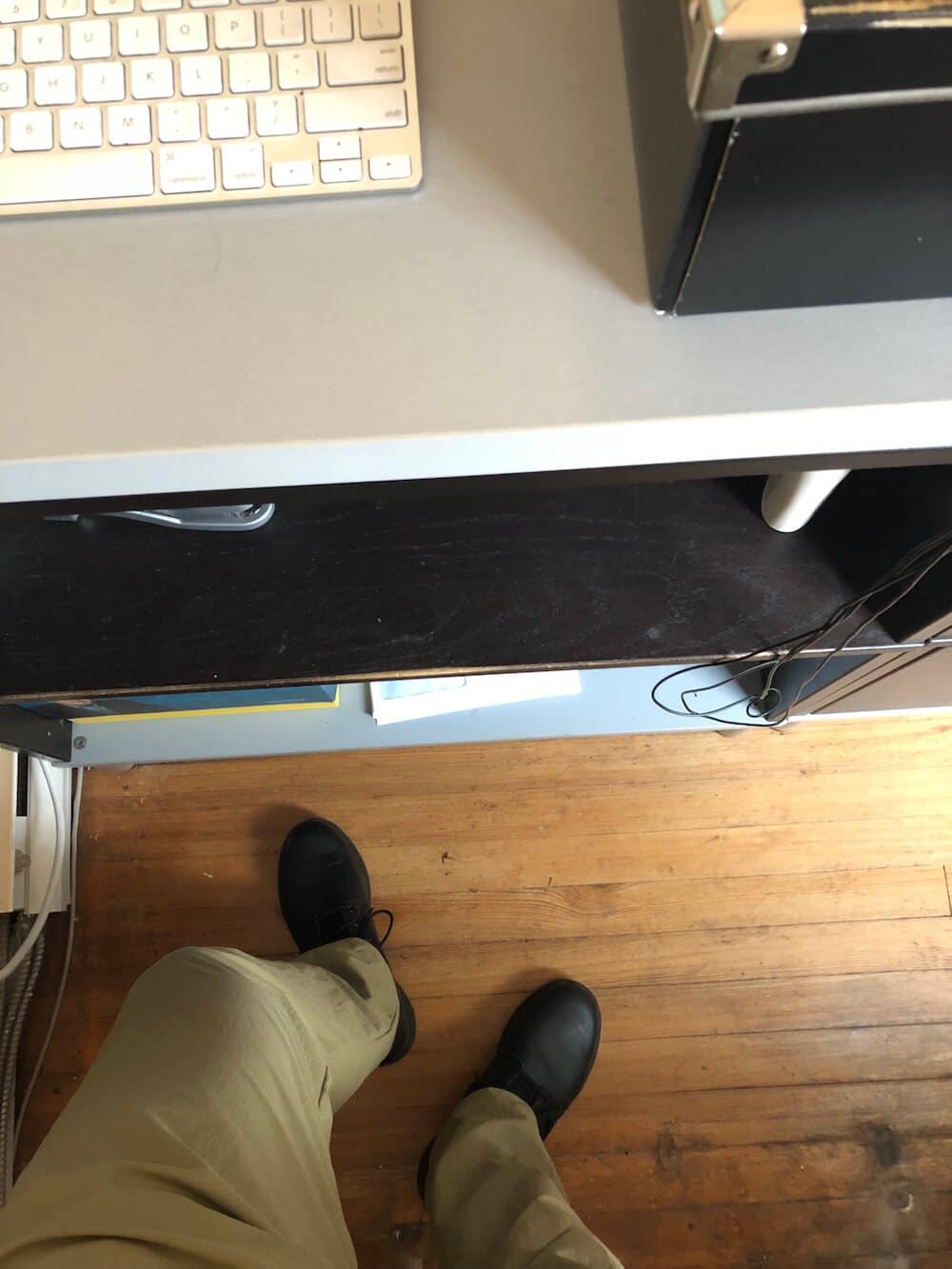 The verdict are they are perfectly fine for standing.
I normally wear a pair of Van's and these felt comfortable enough for all day standing.
I'll note here that a lot of the discomfort I felt in my first few hours and while rucking have dissipated. The place where the leather meets the Cordura feels much better. I also wore a thinner sock (standard dress sock) so it could be that there was just more room in the boot today.
I still feel like I need to find the perfect amount of tightness on the laces that providess support and reduces heal slippage, yet doesn't crush my foot. I still haven't found it.
Near lunch time I went out for a little ruck in the rain.
Rucking in the rain
I have some great trails right by my office, so I hit them right as a bit of rain was moving into the area.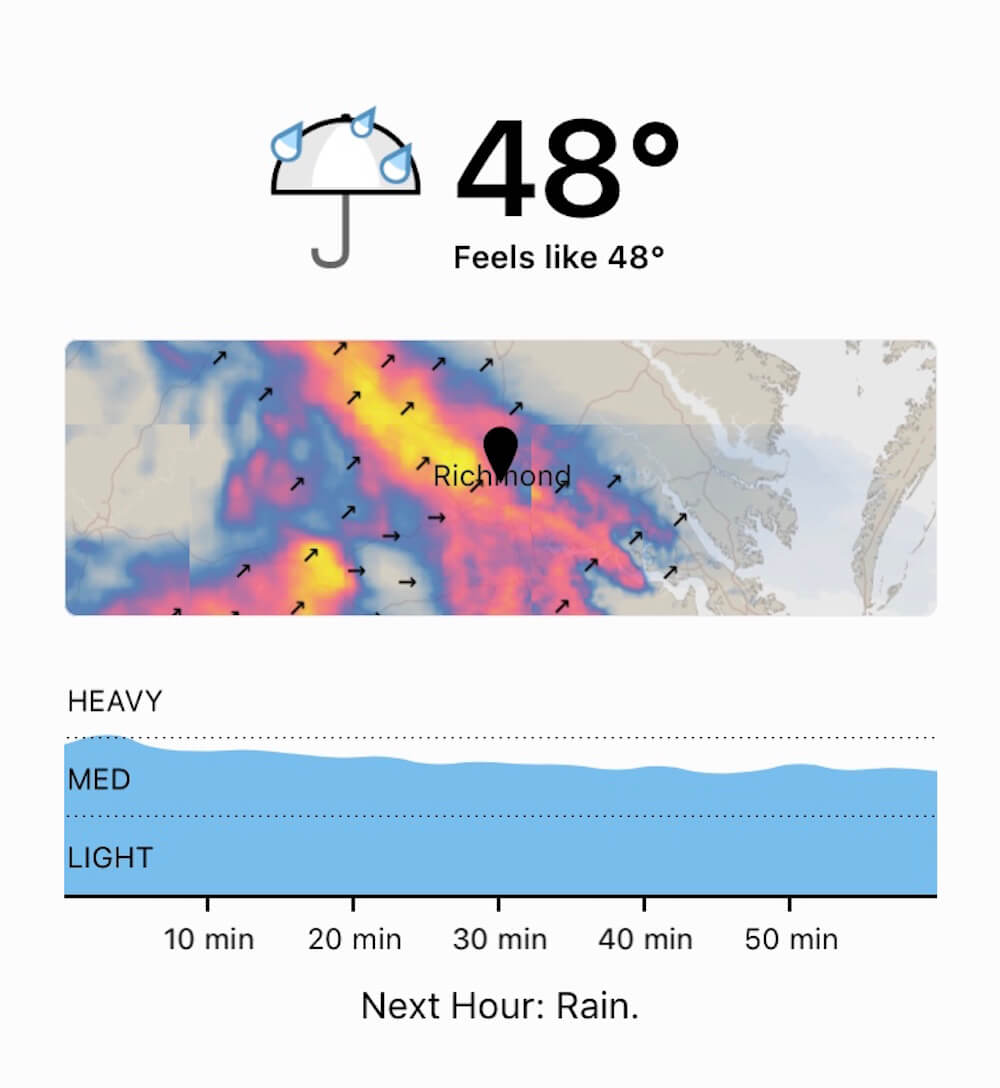 I rucked two miles with  GR1, 30# ruck plate and, of course, I was wearing my favorite rucking pants.
As you can see from the images below, the trails have a good variety of surfaces.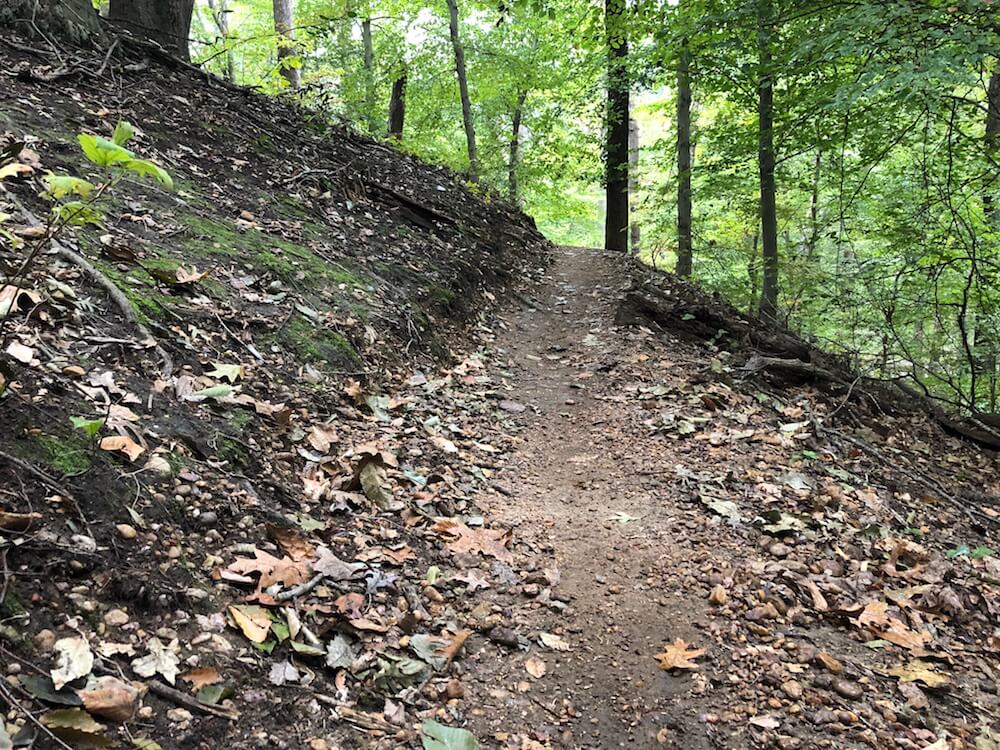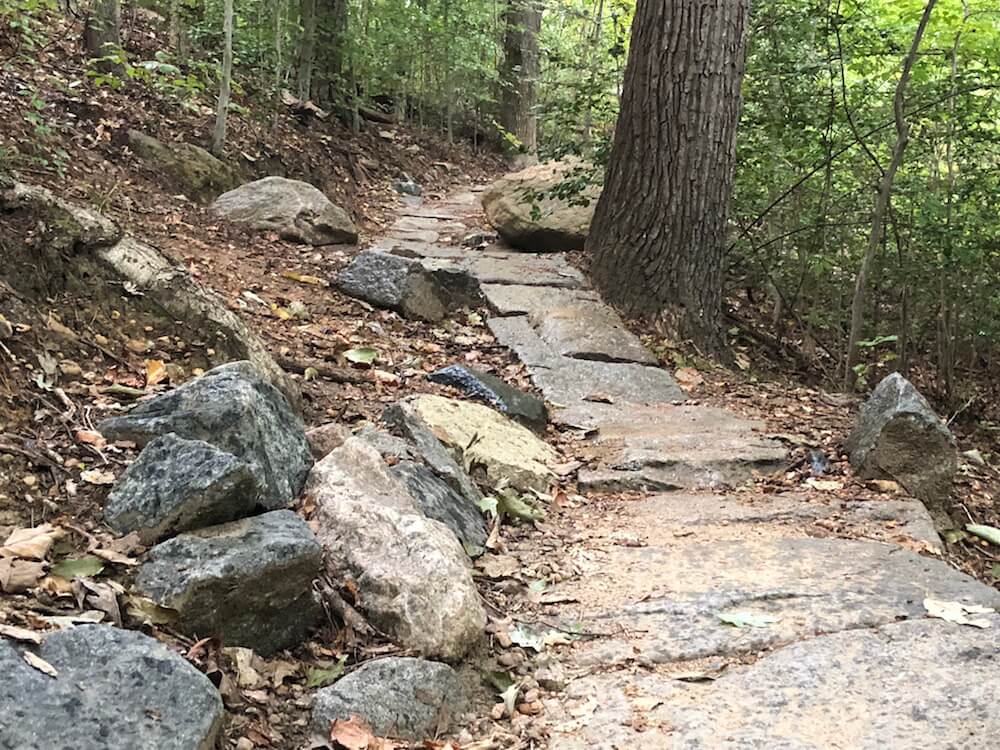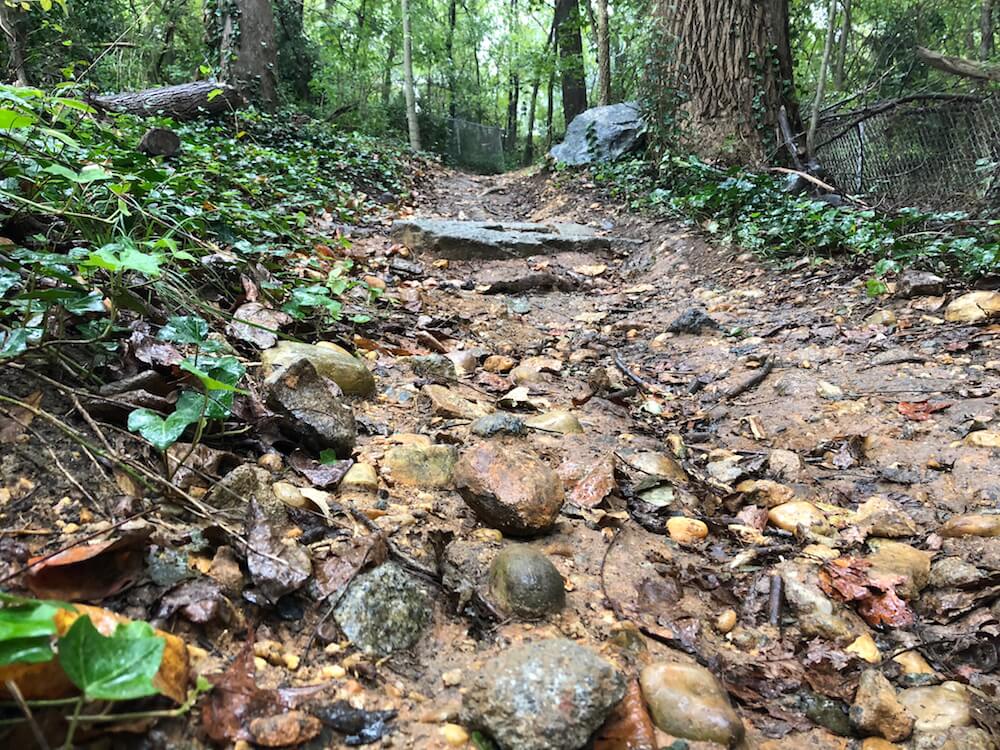 The MACV-1 Rucking Boots felt great on pretty much all the surfaces. As previously noted, I still can't quite get the laces as I want them, so I do have a little heel slippage that is creating a hot spot. But, no blister yet.
As for performance on the wet ground, there were no issues. Traction felt great and I tried to find the worst routes on the trail to really see if I could get some slippage. I never slipped at all.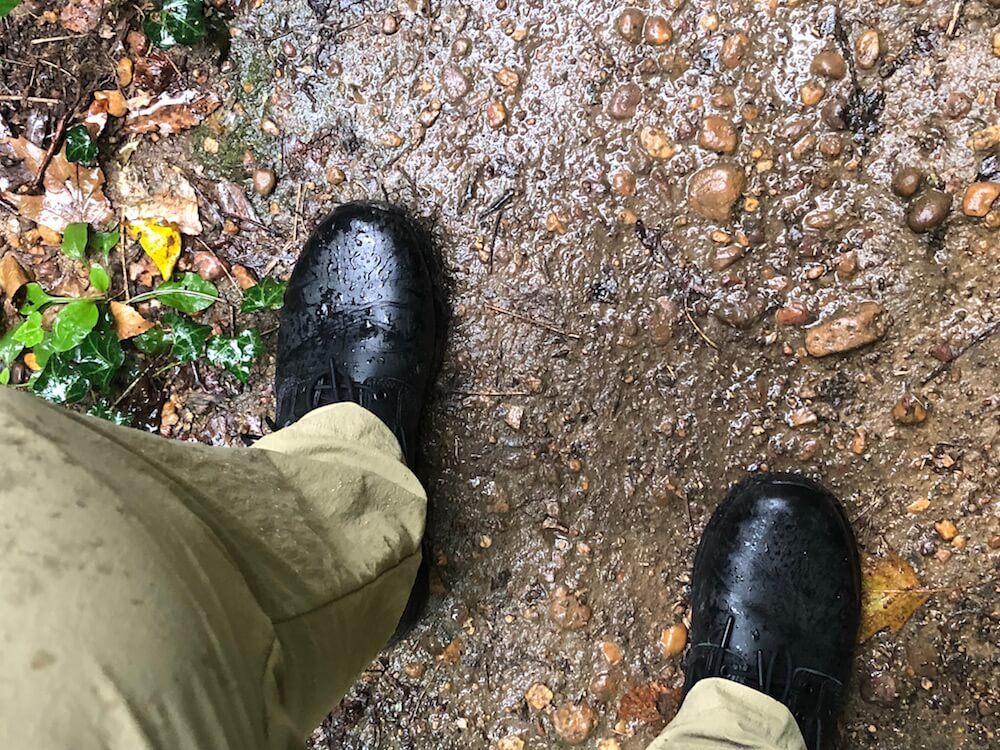 I'll note that there was about a mile of the ruck that I stopped thinking about every little aspect of the boot and I just enjoyed the ruck. I was just out doing what I like to do. And, during that mile, the boots felt great.
Clean up
Once back at the office, my boots were pretty dirty.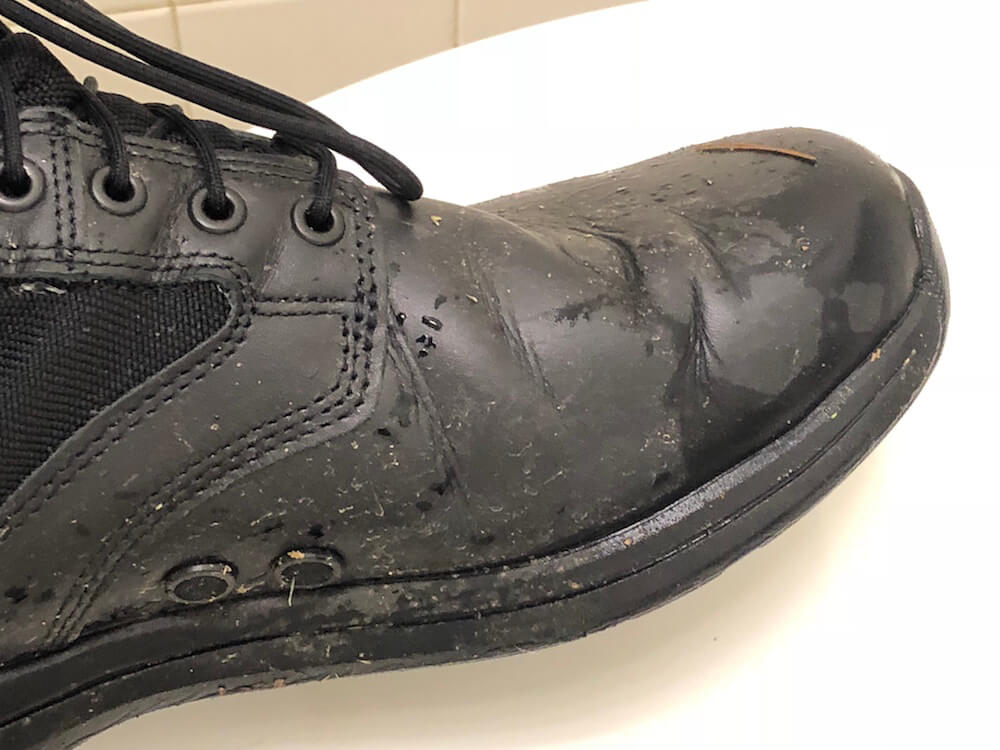 A wet paper towel and BOOM, good as new.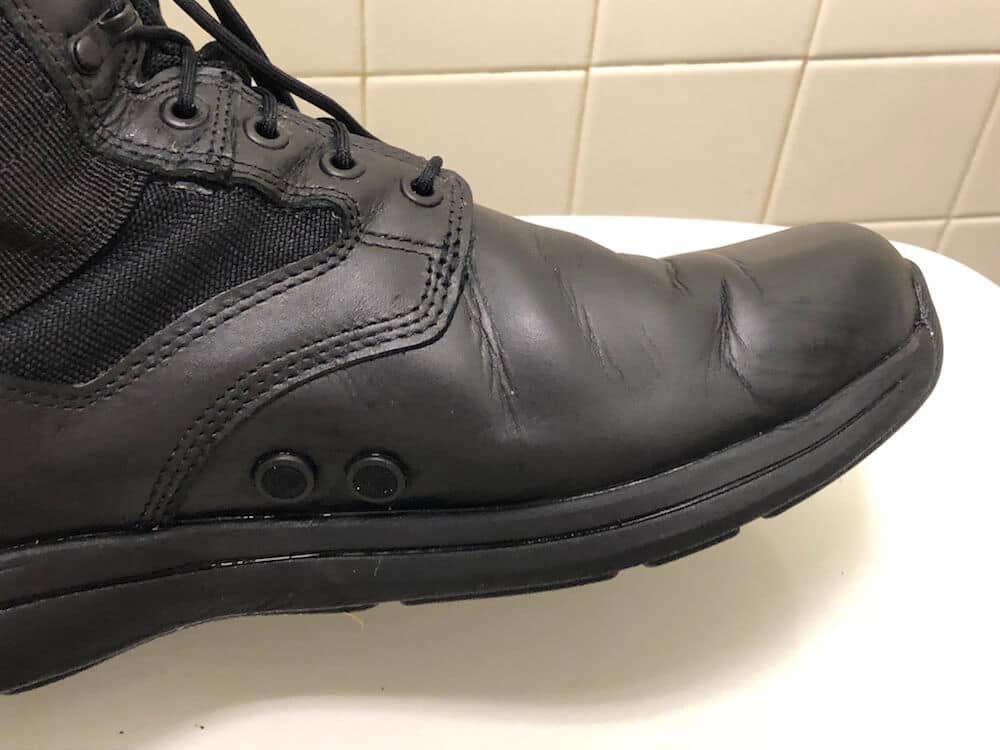 Week 1 – Breakin Period
Despite GORUCK's claim that they are 100% ready to ruck straight out of the box, I've found that it has taken about a week for the boots to really break in. I've worn them for a couple rucks and most days to work.
While the first couple of days they were a little tight and uncomfortable, they have now really relaxed and fit my foot very nicely. Any tightness or heal slippage I dealt with on the first few days is basically gone.
Weight & Cushion
Two things have really stood out this week. First, these things are light. Like, really light.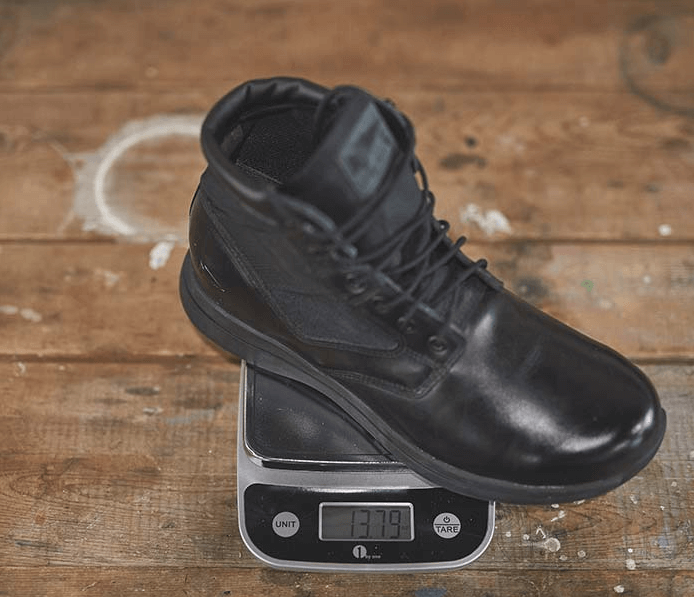 GORUCK has them weighing in at 13.79 oz and I believe it. Even my wife noted that when she picked up the box the first time she thought it would be super heavy and was surprised by how light they were.
And, when it comes to putting in lots of miles, light is nice.
Along with that, the soles on these things are plush (but not so plush that they lack stability). As I run up and down the stairs in my office, walk around town, and hit the trials, I just can't get over how good they feel hitting the ground.
Current Conclusion
I like the boots. I'm not sure if they'll be my everyday shoe at this point, but they are growing on me as my go-to rucking shoe. The biggest challenge is that I'm a shoe guy. I've always worn and rucked in shoes. So, it is taking some time to get used to boots. That said, if you're a boot person, then you'll probably love the MACV-1 Rucking Boots. If you're a shoe person, then they might not be magical when you first put them on. It'll take some time to adjust.
Initial Conclusion: I've had these boots for like 3 hours and walked like 2 miles in them. It is WAY too early for a reasonable conclusion.
I intend to update the post over the next few days and months. Be sure to follow on Twitter or the Facebook to get alerts when I update the post.
So, what do you think? Do you own a pair of MACV-1 Rucking Boots? Love 'em? Hate 'em? Sound off with comments and questions below!
Disclaimer: These boots were provided by GORUCK for review purposes. The review is my honest assessment and experience.