Below is my review of the GORUCK Simple Pants. The review will be "ongoing" and will be updated to give the most comprehensive review of these pants.
The Quick Review
If Ranger Panties were pants, they would be GORUCK Simple Pants. They kick ass in every imaginable way. Go buy them now.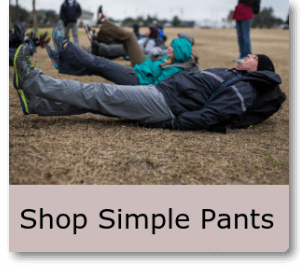 Ordering
For quick context, I'm 6'1″ and weigh 175. My perfect pant size is 31″ x 34″ which doesn't exist. I decided to go with the 32″ x 34″ option and hope for the best. In many pants, the 32″ waist requires a belt for me. I'd rather not have to wear a belt with the simple pants, but will make due if necessary. I chose grey (also available in black and coyote).
As a side note, I opted for the upgraded 2-day shipping. The experience was exponentially better than my experience with "ground" shipping and worth the extra coin.
Quick Note
In late 2017 GORUCK released version 2.0 of the Simple Pants. The bulk of this review is about Version 1.0 I have since purchased Version 2.o. I can say that almost every aspect of this review is true about Version 2.0. The biggest difference I've noticed in the two versions is that 2.0 fits slightly looser. While I'll note below that the sizing didn't feel 100% true, it does now.
First 5 Seconds
As soon as they arrived, I took them out of the bag and put them on. The very first impression was how "soft" they felt. I had an internal, "ohhhh, that's nice" moment.
First 15 minutes
As I mentioned, 32″ waists can run big on me. These are almost perfect. They feel like a 31.5″ waist if that makes sense. I think I can almost get away with no belt. If you're ordering a pair, I think you can stick with your true waist size… unless you lie about your waist size and your pants are too tight.
As for length, they were good not great. 34″ inseams usually hit the base of my heal. These are about 1/4″ from there so they are a slight bit shorter than I'd like.
(update after a few days and 1 wash: The length now seems shorter than when fresh out of the bag. Not sure if they shrunk in the wash, or not. I wanted to see if this was just in my head, so I laid the Simple Pants over a pair of jeans that are also 34″ length. They were exactly the same length. This is strange, because of the way the "sit" when standing and sitting they "act" like they are shorter than my jeans. I can only assume that this somehow relates to the stretchy material.)
I'm a skinny guy, so I had no issues with the thighs or fit in the legs. Though, I could see some of the bigger folks having issues. The cut was nice for my body type.
As soon as I was happy with the fit, I did some squats. Man, these pants can move. Feels great. As I exercise in these pants, I can't help but think about how nice they feel when moving. The pants just go with the flow.
I went to the kitchen for the "wife test." She grabbed my butt and pretty sure tried to check out my package, so I'd say they passed that test. Your significant other will probably like these pants as much as you do.
I stuck my hands in my pockets. That was a horrible experience. If you're a "hands in your pockets" kind of person, I don't think you'll be happy with the feel. The angle and tightness make it very awkward to have your hands in there. Of course, if I understand the design correctly, the main goal of the pockets is to keep stuff from falling out or being picked (see image below). So, perhaps it wasn't meant for hands… just phones and wallet. But, if I'm honest, having a phone or wallet in the front pocket is equally annoying as hands. The main reason is that because the pants fit and material, the silhouette of your phone and/or wallet are very noticeable.  (Update: I now find myself carrying my wallet and phone in my bag or jacket pocket when wearing my Simple Pants.)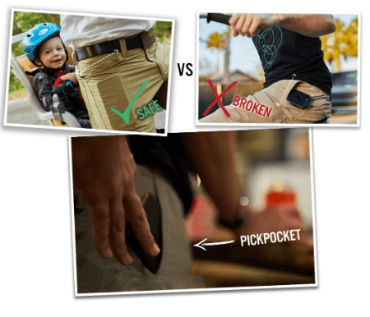 There is some talk in other reviews I've read about the "noise" of the pants. I get it. They do have a bit of a swooshy sound due to the material. Initially, it doesn't bother me but probably shouldn't wear them on any stealth ops.
I sat down at the dinner table and was pleased with the stretch and feel. Again, they are super comfortable. For some odd reason I thought, "These would be great to wear when flying." This is mostly an odd thought because I only fly like 2x a year. But, I guess it speaks to my initial impression of their overall comfort. (Update: As I mentioned, I feel like the pants have gotten shorter after the first wash and now, when I sit, the pants come high on my shins. Not super happy about that. Again, I think this has something to do with the stretchy material.)
I had to take a leak and got to test out the zipper. It works. Not only that, but the handle is rubber. So… there's that. Guess that makes it easier to use during a Tough?
Day 1 – At the office
I plan to use my new GORUCK Simple Pants in a GORUCK Tough tomorrow, so I decided to wear the pants to work in order to get a better feel for them. I guess wearing them to work is better than just showing up for the event with a new piece of untested gear.
All I can say is that these are some of the most comfortable pants I've worn in a long time. As I'm walking around the office, I keep thinking, "Damn, these things are comfortable."
I wore them all day, and they felt great the whole time. And, I looked pretty damn good too.
Day 2 – GORUCK Tough (in 20 degree weather)
When rucking, I wear shorts. I get hot easily, so I usually wear shorts even when temps dip into the upper 30's. However, I was scheduled to do a GORUCK Tough on December 9th and the temperature was forecast in the lower 20's. It was time to experience rucking in pants.
My main concern leading up to the event was if the Simple Pants would be warm enough. They are very thin, and I went back and forth on if I needed to wear a base layer under them. I eventually decided to skip the under layer and just pack it "in case."
I arrived at the start point, and it was in the mid 30's and dry.
After all the admin, we got to work. Flutter kicks, squats, push-ups, and then some hill sprints. The pants were amazing. They felt so comfortable and handled everything thrown at them. During the hill sprints we had to butt slide down the hill a few times. The pants were unphased.
The night wore on. Grass, dirt, trails, concrete. The temps dropped to the low 20's.
From a "warmth" perspective, they did a good job. When we were on the move, they were perfect. When we stopped, I got a little chilly, but it was 24 degrees… so a little chill seems acceptable. I was actually surprised at how well they stood up to the cold.
Thankfully, for this event, we stayed out of the water so I can't speak to their supposedly miraculous ability to quick-dry.
Through the entire night, I continued to have "Man these pants feel good" moments. For those who know the joy of a GORUCK event, you know how any mental sunshine is worth its weight in gold. The Simple Pants delivered some sunshine.
Day 3 – Grass Stains & First Wash
As I mentioned, our Tough involved sliding down a grassy hill a few times. My butt had a pretty good grass and dirt stain. I wondered how the Simple Pants would handle their first washing.
After their first wash, the pants came up in almost like-new condition. I was concerned that the material was going to come out a wrinkled mess, but they appeared to not wrinkle any more than the natural look of the material.
The stain was not fully removed from the pants but wasn't super noticeable. I feel like if I had the coyote pants, the stain would be more noticeable.  That said, I didn't try any type of stain remover or elbow grease. Right now, I don't really care since it isn't that noticeable, but it makes me think that if I really wanted to wear these pants for non-rucking stuff I might want to invest in a second pair.
Cold Rainy Day Ruck (added January 2017)
On Christmas Eve I went on a 7-mile ruck with some friends, followed by a nice PT session using the 12 Days of Christmas as a template. This was my first time wearing the pants in wet conditions. There was a light rain the entire 3 hours.
A lot of hype surrounds the Simple Pants and their magical water resistance. Well, it is all true. In 3 hours, which included lots of PT on the ground, the pants never took on water. I'm pretty sure that legs were still dry at the end of the morning. Simply amazing.
Update – Non-rucking wear
My only pair of Jeans blew a big hole the other day and I've been too lazy to buy a new pair. So, the Simple Pants have been my go-to in all occasions where long pants are needed. For me, that basically means church on Sunday. I've been happy with their performance. In particular, last week I spilled a little coffee on my pants getting out of the truck. It simply beaded up and rolled right off. That was pretty nice.
11 Month Update
Recently my only pair of jeans ripped. I was forced to make my Simple Pants my daily go-to pants and I have fully converted. These things look great. They can dress up or down. They are great at work. Super comfy all day. I love them. Now, GORUCK just needs to restock them so I can get a tan pair!
1 Year and my 2nd Pair
I now wear my Simple Pants every day. I love them. Thankfully my family bought me a pair of Coyote ones for my 40th B-day. The new pair are Version 2.0 and fit a little looser than Version 1.0. In reality, the new version is more true to actual sizing as Version 1.0 seemed ever so slightly less than true.
Current Conclusion
Prior to buying the Simple Pants, I read all the hype. I never thought a pair of pants could live up to everything I read. Surely it was just a bunch of GORUCK fanboys drinking the cool aid.
But, here's the deal. They are insanely comfortable. The fabric allows you completely unrestricted movement. You can wear them to work. You can wear them to a GORUCK Tough.
The truth is these pants are great and (this is hard to say) probably worth the $95 price tag. So… buy them. (Oh yeah, they now cost $110. It is a steep price, but they are worth it. If you can wait for a sale, that's the time to jump on them for sure!)
Another Year – First "Issue"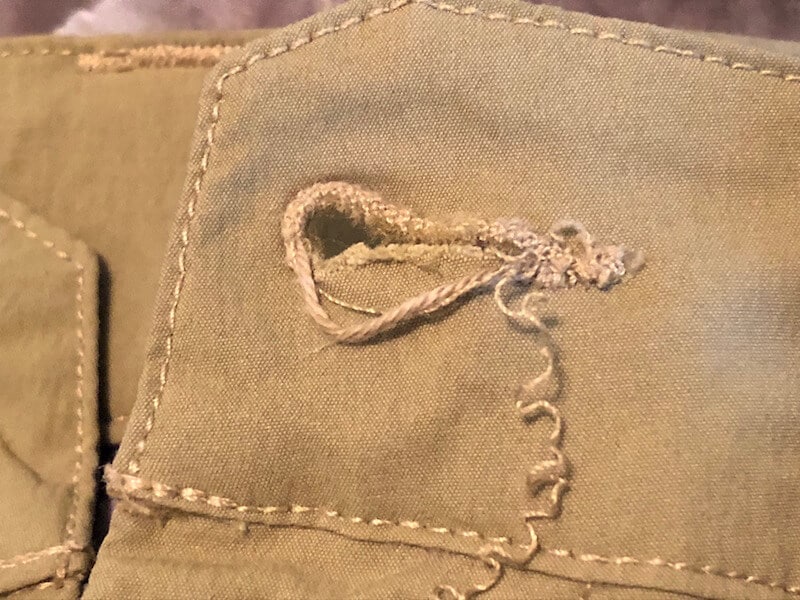 After wearing my 2.0's for about a year, I've encountered my first issue. The buttonhole stitching has come undone. If this would have happened within the first 6 months, SCARS would have covered it. But, I think I'm just out of luck on any fix. So, I'll keep an eye on it and let you know how it plays out.
2-Year Update
Hard to believe I've been sporting my Simple Pants for 2 years now. As I looked over my last update I realized I neglected to note that I contacted SCARS and they replaced my pants at no charge.
Which brings me to one of the bigger updates to this review. Since my last writing, GORUCK has raised the prices on all their products. Here is our full recap of the changes.
While the retail price of Simple Pants is now $165, GORUCK will now cover them under their SCARS Warranty FOR LIFE. That's right, you're purchase is covered for life. That alone is worth the price increase because if they begin to wear out, just contact SCARS and BOOM, free replacement should be on the way.
Outside of the price increase and lifetime SCARS, I still love these pants. I have a Coyote and Grey pair and wear them pretty much every day no matter what.
1338 day update
I've worn my original V1 Simple Pants pretty much every day since I got them. I wear them to work, to church, and on any day that isn't warm.
Over time I've grown to not like my V2s as much. They feel "frumpy" in the crotch and just don't fit as nice as V1 on me. I still wear them from time to time, but odds are if you see me, I'm in my grey v1 Simple Pants.
Since my last update, I believe I've done at least two GORUCK events in them. One was a Heavy and one was a Tough.
I've found that I like to wash my pants (and most GORUCK gear) as a separate wash. I'll do a "small load" wash and then after the spin cycle, I'll just hang dry them in the bathroom.
That's all for now… I'll try and update again in another year or two 🙂