UPDATE: The MACV-1 GORUCK Boots are live for sale here. You can read a ton of articles about them here.
UPDATE 2: We have a pair of MACV-1 Rucking Boots and our ongoing review is here.
Note: this post was written the day that we learned about the MACV-1.
"What is the best type of shoe for rucking?" is a question that rages in the mind of every person when they are introduced to GORUCK. The debate over shoes vs boots has gone on for years.
GORUCK is hoping to definitively close the case on the question and debate with their first footwear offering, the GORUCK Rucking Boot MACV-1 (assuming that is its official name).
The boot is set to officially launch for pre-order on Monday, June 18, and over the last few weeks GORUCK and GORUCK President, Jason McCarthy, have been dropping a lot of hints and information about the release on Facebook, Twitter, and Reddit.
Here is everything we've been able to glean about the new boots.
Price
First, the price will be $195 when they start pre-orders. There is no indication at this point whether the boots will go up in price after the pre-order window.
Fit, Sizing, and Weight
The sizing of the boot is supposed to be in line with Converse Chuck Taylors. The biggest difference is that the GORUCK boots will have a larger toe box. Sizing is unisex. The largest size in the first run will be 14. Jason says the weight is "very light" and "on par with a running shoe."
Who is behind the shoe?
This is all GORUCK. Jason says that they tried for several years to "partner" with a footwear brand, but they all sucked. Thankfully there was a GRT that had a little shoe experience. Paul Litchfield was the man who invented the Reebok Pump and has 20 + years of shoe industry know-how. He helped GORUCK spearhead the project and then went with Jason to test the boots rucking through Vietnam.
American Made?
Jason said there is much more to write about this, so I expect we'll see it when the product launches. But he essentially says that to make this boot in the US would require GORUCK to built their own factory, buy their own machines, hire their own workers, and charge $500/pair. So, probably not.
Delivery Date
Preorders are expected to arrive in the August/September timeframe.
Return Policy for Sizing
Wear them in your house. If no wear or tear, you can return them.
SCARS?
Unknown at this time.
Product Testing
A few lucky souls have been seen wearing them. Jason and Blayne did the DC (monsoon) Star Course in them (Read Jason's AAR and see the pics). Jason and a few guys took them through their paces in Vietnam. If you look at Jason's Grand Canyon Weekend post, you'll see that the boots were getting used there (you'll also notice he and Blayne's feet aren't shown in a lot of pics). So, it looks like they've been but in some good situations to really test them out.
Sneak Peak
In order to comply with some US Patent and Trademark requirements, GORUCK launched a temporary page on their website that featured the boots. It was a Reddit user, Blackout_PT, found the page and Jason graciously offered him a free entry to Selection for finding it. (Note: Jason said this page will disappear soon. It was live at the time this post was published.)
Pictures
For the above page, we were able to grab some screenshots of what the boots look like. I can not verify if this is the final boot we'll see on Monday, but it is very likely.
Here's how they look with some mud on them. Nice little spearhead on the heal.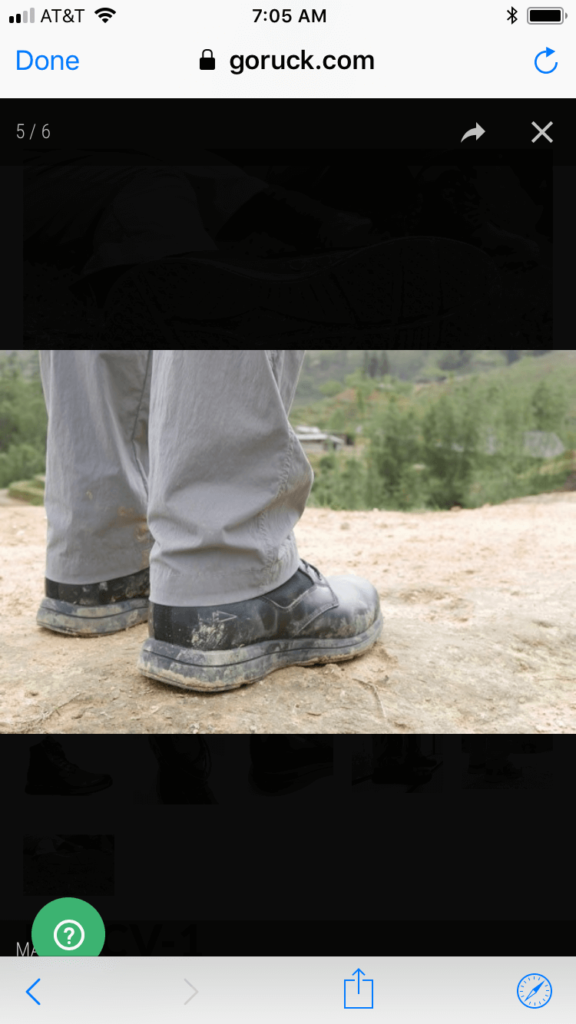 Look really close on the left foot instep and you'll see two drain holes.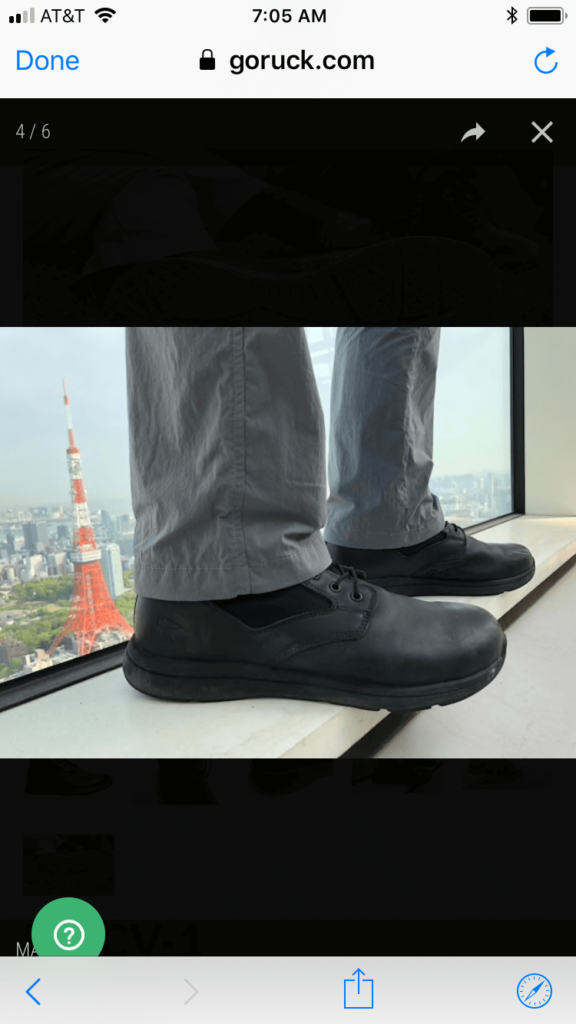 Side profile. Looks sleek.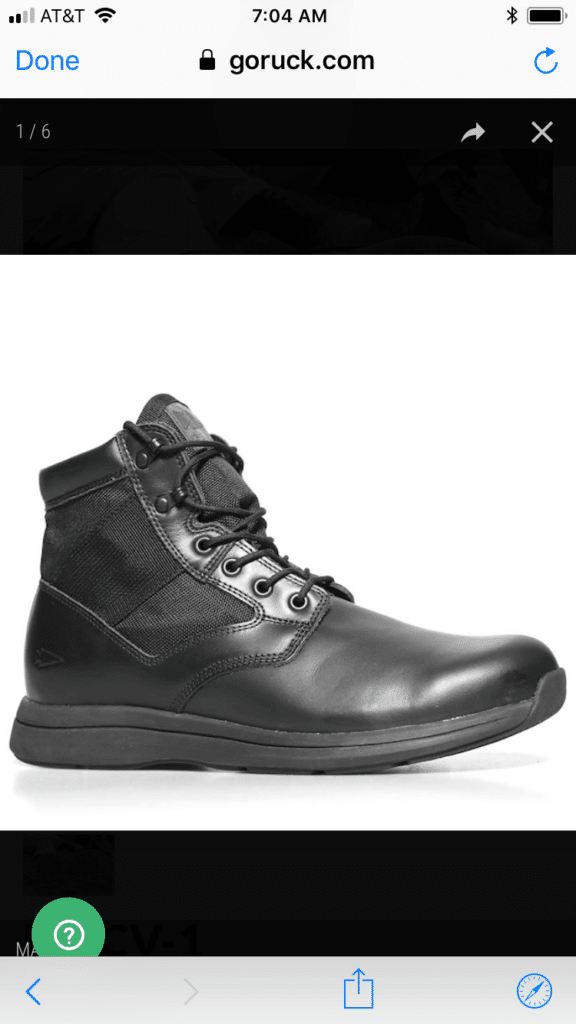 Tongue branding.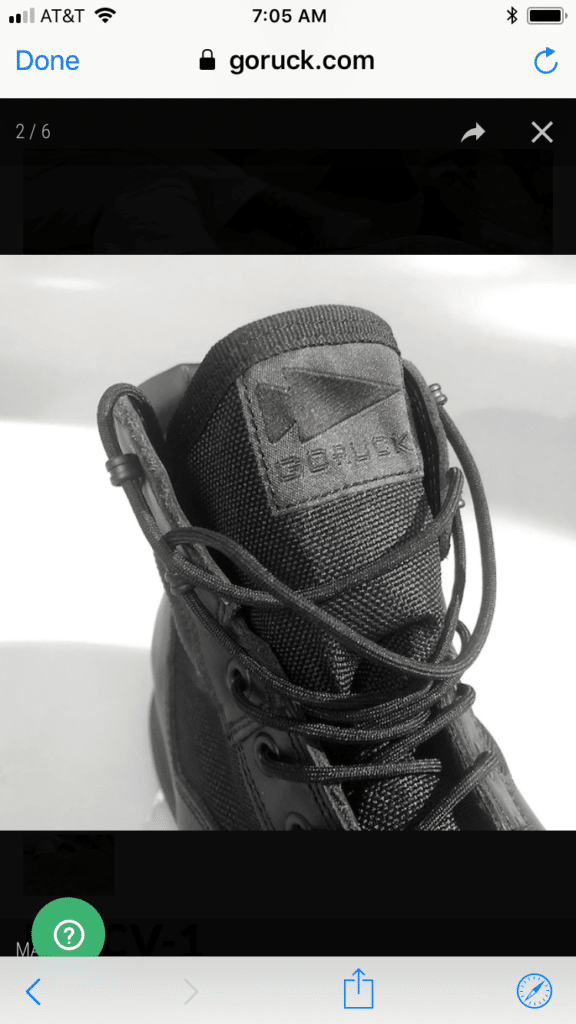 Spearhead on the sole and another look at the drain holes.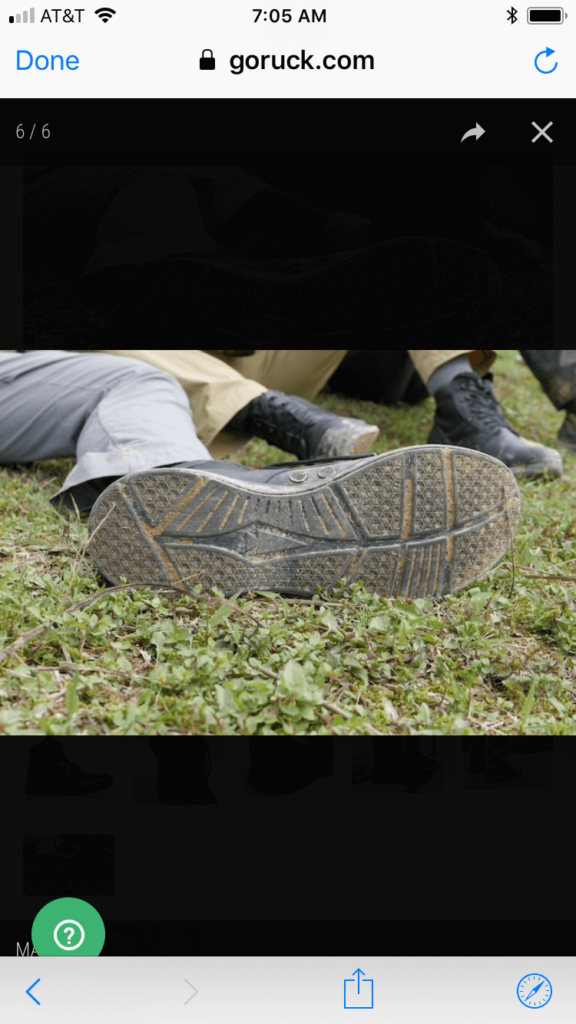 Spearhead closeup.
Conclusion
That's all I've been able to dig up at this point. So… what say you? Will you preorder? Excited or meh? Sound off in the comments below.