When GORUCK XiJ launched, Jason was active online answering questions. I took the opportunity to ask him if any new products were coming soon and he indicated that some new shoes were in the pipeline and that there may be some "leaked" photos out there on GORUCK Social Media.
Well, this was confirmed yesterday when GORUCK launched the new Women's Tough Leggings. As you can see, in several pics, there are some nice white training shoes on display.
When asked about them on Social Media, GORUCK responded with an affirmative that these were the new kicks.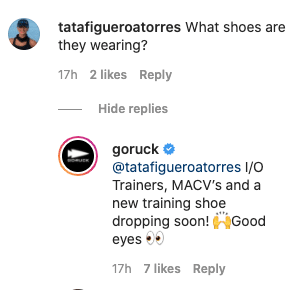 My sources say that these will probably be announced "soon" but will likely ship later. I'm guessing that they will follow the pattern of previous shoes that were released for pre-order and then shipped after first batch of manufacturing is done.
With no real info than what we see in the picture, I think these shoes may be reaching a little bit more into the cross-training world (more so than that I/O Trainers). These (guessing here) seem to be more targeted to those doing sandbag workouts in their garage and the CrossFit types among us.
Ithink it is also safe to assume that the shoes will be for guys and gals. I just don't think GORUCK is at the size and scale to offer shoes specifically for women… but, I could be wrong I guess.
I'm also assuming they'll come in options other than white. A few months ago Jason did mention something about shoes in different colors… so, we'll see.
For now, we're just hitting refresh on the Footwear page waiting for these to drop.
What do you think? Sound off in the comments below.