By: Caitlin Eiben
The sun is finally coming out for good. The weather is getting warmer, and the last thing on your mind is "how many layers do I have to wear during my GORUCK event, especially if I get wet".
Springtime is the perfect time to be thinking about your cold weather gear. Why? Because everything is on sale.
I've been through countless GORUCK events where you get in a river, pond, creek, puddle, etc. I've done this during all seasons and in various temperatures. Never assume the Cadre won't make you get wet and never assume you know when you will get wet. There's a big difference in mental and physical endurance if you get wet at the very beginning of an event vs the end. It's always good to be prepared.
I participated in the GORUCK Bragg Heavy this past January. I was med dropped about 12 hours in, due to my chronically dislocating knee giving out. At the time of my drop, it had been raining continuously for hours, we trudged through trenches of water, and did tunnel of love almost fully submerged about 4 hours into the event. I was still just wearing my short sleeve compression top and a midweight Columbia rain jacket. I was fine while moving, but once I got on the litter to be taken away post-knee dislocation, the cold hit me. I had 3 more layers in my ruck, but I didn't need them. I had an open oven and whiskey to warm me up now.
I stayed at the compound to watch the rest of the event and people started dropping like flies. Hypothermia started hitting multiple people. People disoriented, not knowing their names, etc. The next day the 2nd Heavy started and they immediately got back into the water. More people dropped due to hypothermia.
After dropping, I had no intention of returning to Bragg. That unstable terrain was not meant for a knee like mine. But obviously after about 2 hours into the ride home, Cullen, the friend who I traveled with, and I decided we needed to come back for our revenge. (He was a hypothermia case for the 2nd Heavy).
I started reflecting on what I could do differently. There's not much I can change about my knee at this point, but I went through in my head the layers I brought, trying to figure out if they would have been enough. The answer: likely, no. I had a wool long sleeved top, the 3/4 zip GORUCK women's pullover, and an Underarmour baselayer, along with my compression tee and my midweight Columbia rain jacket. I had an SA faceshield for my ears and SealSkinz gloves. I had Simple Pants with no baselayer (my legs rarely get cold), and my normal sock duo of Injini liners and Darn Tough (with one set of backups).
Cullen drove the 8 hours home, so on the way I started researching cold/wet winter gear. There's not a huge article selection on people who voluntarily submerge themselves in water wearing normal clothes. Most articles are geared towards rain or triathlete/swim apparel.
The key is also durability. You don't want to be doing low crawls with an insulated puffy jacket that cost $200.
The only way to figure out what worked was to torture myself while it was still cold out so I could have a solid game plan for next year.
Testing Cold Weather Gear
I did 3 major tests. I followed some guidelines in regards to how wet I would get based on the temp.
If it was 25°-32° F I wasn't going to get my head wet or anything other than my first base layer. After getting wet, I'd immediately put on my other layers.
If the temps are 32°-40° F, I'll soak all layers except my jacket and hat. I will get my head wet.
Cold/Wet Gear Test 1
Date: February 6, 2021
Weather: 25°, snow on the ground, sunny
Water Source: 5 gallon container of hose water
Activity: Deck of cards in snow followed by 5 mile ruck
Gear: 5 gallons of water was poured on a Terramar Sports silk top and Merino wool leggings.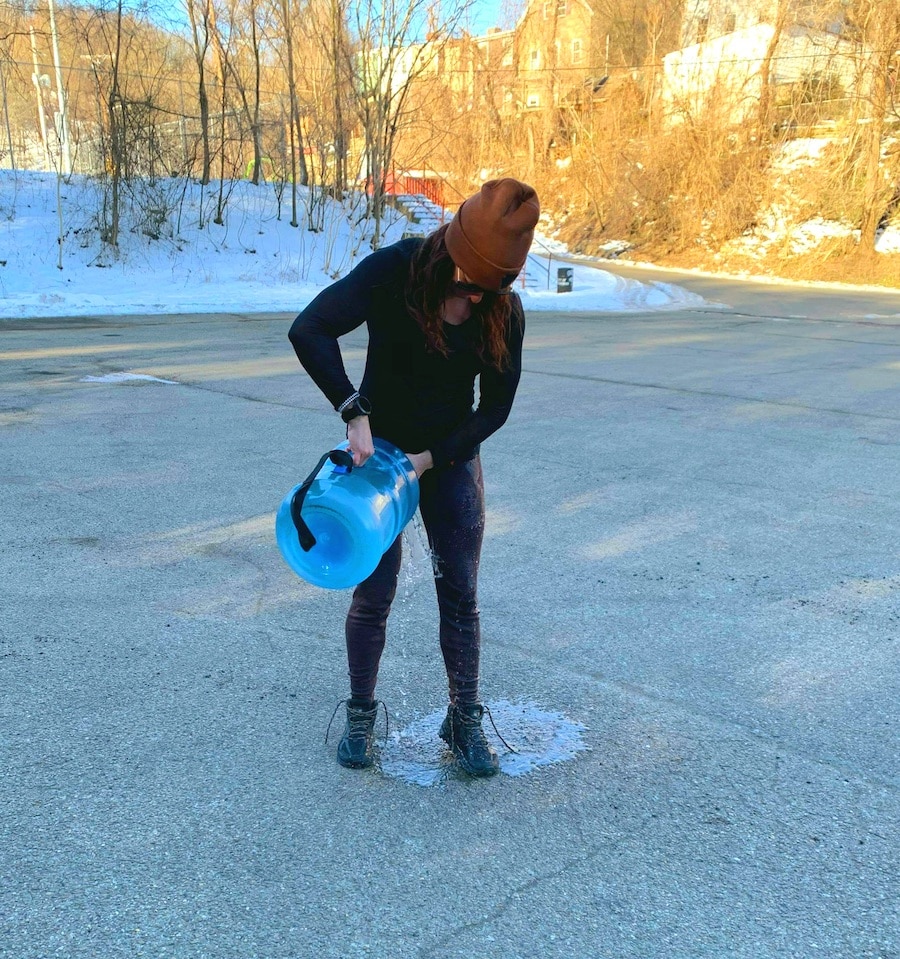 Once the water was dumped, I immediately put on my other layers, which included an Under Armour cold gear top, a sierra designs fleece zip-up, and a The North Face insulated hoodie for my top and GORUCK Simple Pants for my legs. My socks were my normal Darn Tough and Injini liners with mesh Altra Running Lone Peaks.
Verdict: After a 40 minute workout in the snow, my toes were the only thing cold. They became painfully numb and then once we rucked back to the cars to start the 5 mile ruck, they were in excruciating pain. My shoes were legit frozen and it took awhile to untie the laces.
I switched socks to my new seal skinz insta waterproof socks and had immediate relief. (I'd never recommend waterproof socks or shoes for an actual GORUCK event).
The jacket kept me very toasty, but I'd never want this jacket to be my outer layer at a GORUCK event. I'm fairly certain it would rip with any abrasive activities. My solution would be to bring my lightweight or midweight GORUCK windbreaker and put it on top. Both jackets are thin, so they wouldn't take up too much space in the rucking backpack compared to some other winter gear.
Cold/Wet Gear Test 2
Date: March 7
Weather: 30° down to 27°, overnight
Water Source: Monongahela River, water temp 36°
Activity: 2 minute water submersion (up to shoulders), 9 mile ruck with 2-20 minute seated rest breaks on concrete.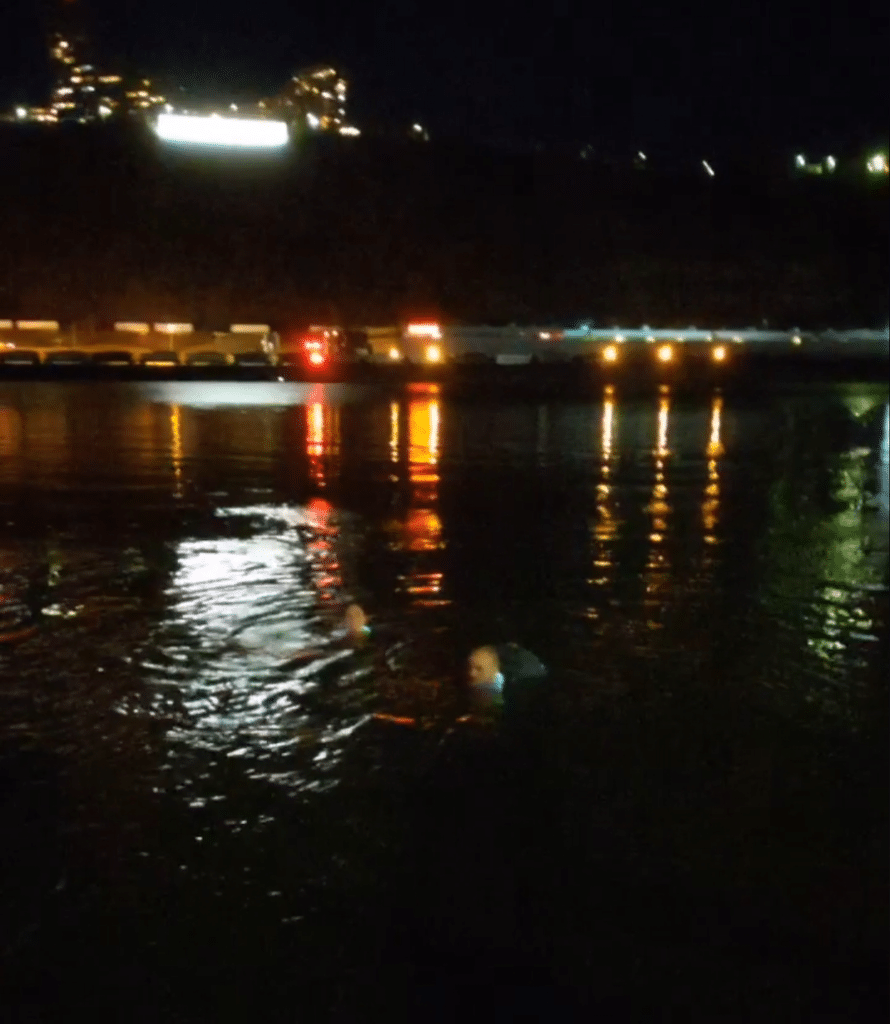 Gear: I wore my Terramar Sports silk top baselayer, Merino wool leggings, Simple Pants, and shoes and socks for the submersion. Once out of the water, I immediately put on my wool baselayer, North Face jacket and my midweight GORUCK windbreaker. I added a Combat Flipflops shemagh for style and my SealSkinz gloves. I left my head uncovered for experimental torture purposes.
Verdict: Once again, it was under 30° so I did not get my head wet. I did get both layers of bottoms wet simply because I remember my hands not functioning during my last test, and I didn't want to deal with putting my shoes back on.
My feet were surprisingly fine, even with the seated rest breaks. I think the immediate rucking post submersion helped maintain the circulation a lot more than doing Deck of Cards in the snow like I did in the previous test.
The wool/Simple Pants combo is awesome. We made it maybe 200 yards down the path and my friend said "are those drying already?!"
My core also stayed warm while rucking, but I did get shivers while at my seated "rest breaks". I worked on my deep breathing and finding my 3rd eye like Cadre Edge taught me long ago.
The worst part was my face and hands. My mouth was numb and I could barely talk. My hands went completely numb when in the water, so recovering from that was challenging. I shoved my fingers together in the base of my gloves and kept pumping my fists until circulation was regained.
Oh, and my butt went numb after sitting on the concrete. That didn't recover until I was sitting on the heated seat of my Jeep.
Cold/Wet Gear Test 3
Date: March 27
Weather: 44°, water temp 50°
Water Source: Monongahela River via 3 overhead bucket dumps and flutter kicks
Activity: Hell Beach (you don't want to know)
Gear: Under Armour cold gear top, and Simple Pants for bottoms. I had my normal shoes and sock combo. Shemagh. This was truly beach weather compared to other tests.
Verdict: Hell Beach is 2500 reps of PT with intermittent heavy rucking, developed by the one and only Cullen. Similar to a regular GORUCK event, we didn't know what was in store for us until we were in the moment. Given the name Hell Beach, you had to assume you were getting wet. I was incredibly warm as we made our way to the beach, wishing I had brought a short-sleeved shirt.
We got to the North Shore of Pittsburgh and Cullen tells us to drop the sandbags and grab two 5 gallon buckets. Fill them up. Ok, now lift the bucket above your head like this. Now hold it out. Now grab the bottom. Now pour it on your head. It all happened so fast! But rules are rules, so we obliged. We then had had fill the bucket back up and do Farmer carries. Once the grip was gone, the only way to get rid of your buckets was, you guessed it….dump them over your head.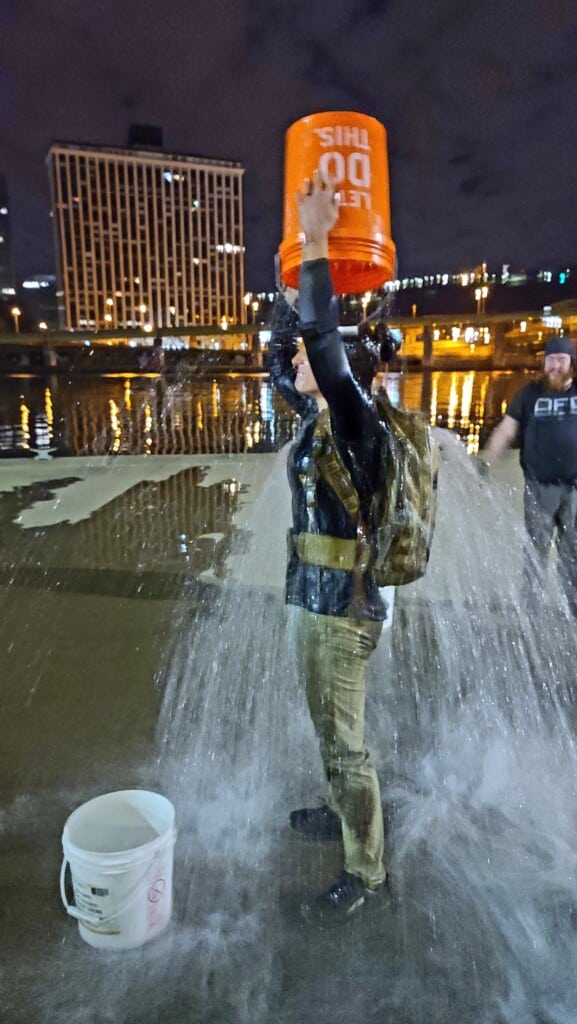 We also did some flutter kicks along the shoreline to make sure the feet got nice and saturated. We sang the National Anthem at the Law Enforcement Memorial at about 0430 and then got a 5 minute break (our only break).
I decided to change my socks because after standing still for the Star Spangled Banner, I could feel my feet going numb. I'm very glad I did, because it took awhile to get the feeling back.
I also put on my midweight GORUCK windbreaker and my shemagh. My body was surprisingly warm during PT and rucking, cold only during the few moments I waited on others to finish their PT. Once the sun came up, I was all good.
Lessons Learned from Cold & Wet Gear Testing
So did I do enough experimentation to nail down my cold/wet weather gear? I guess I'll have to wait quite awhile to find out. Here's what I did learn and what I think may help others:
1. Underwear. If you've been to a GORUCK event where they make you submerge, they occasionally let you strip down to your baselayer……DO IT. Sure, you're tired and it's annoying to put things back on. Maybe you don't want to be in your underwear in front of strangers. Maybe you didn't wear underwear at all…
(wear underwear just in case this situation arises). Whatever reason you are giving yourself to not strip down, throw it out the window and take those clothes off! The drier your clothes are, the better you will feel down the road.
2. Baselayers. Think thin and warm. When you have an event that starts at 68 and sunny but drops to the 30s, you don't want to show up with all your layers on, but a rucking backpack can only hold so much. Silk is expensive, but a great warmth to thickness ratio. It's quick-drying and breathable. It's also very easy to get on and off when wet compared to sticky synthetics, which also makes it easier to slide the other layers over top the silk base. Merino wool is also fairly expensive, but when I combined the silk (1st layer) and then wool (2nd layer) my core was never cold. There are different thicknesses of wool, so choose accordingly.
3. Insulating jacket. This is the main piece of gear I was missing for winter/wet rucks. I have layers galore, but I never purchased a thicker, insulated jacket. Like I previously stated, I wouldn't recommend this be your most outer piece of clothing, as it's more delicate than a windbreaker. The North Face one I purchased is relatively thin and easy to pack down. I truly believe it will be a life-saver during break times (as it proved to be during our St Paddy's Day Tough)
4. Gloves and hat. You lose most of your warmth from your digits and your head. I purchased a fleece Trailheads baseball hat with sexy ear flaps and a ponytail hole. I always have my hair in a high bun, so skullcaps and beanies don't really work for me. This was a way for me to get more of my head warm than just using a faceshield as an ear warmer. I used it during some winter rucks, but never tested when wet. As far as gloves go, I've been using SealSkinz gloves for years now. I try to stick with my 5.11 tactical gloves for the heavy work, but if my hands get cold, I switch to the SealSkinz gloves, which are fairly durable for gloves that aren't made for carrying logs.
5. Move. This one is obvious, but if you're cold, don't stand still during breaks, unless you're in the middle of a penguin huddle. Do jumping jacks, walk around, stretch, etc. The less your blood circulates, the colder you will get, and longer it will take you to recover.
6. Rucker. Get a 25L Rucker (GORUCK needs to make a 25L at the height of a 20L for the short people). I'm 5'6″, and sure, it's not the best fit, but I'll take a slightly long 25L with extra space for needed gear, rather than forego the gear because it doesn't fit in my 20L.
7. Get Wet. Get used to being wet. The more you train doing it, the more tolerable it becomes. I'll never be a cold shower person, but I'll jump in a cold river any day. I was the only disappointed person at our GORUCK St. Paddy's Day Tough when Cadre Norwich said it was too cold to go in the pond. I used to HATE winter and being cold. After doing it so many times, it's not as mentally or physically challenging.
8. Extra socks! It's a game changer when your feet are warm and wet, but even more so if your feet are cold, numb, and wet.
9. Layers. Put layers on when you get cold. Seems obvious right? But when you're mid-event, especially long Heavies, you're always thinking "I'm going to save that for later". Well, later will come and sometimes later is too late. It's hard to predict the perfect time, but I know many of the hypothermia drops at Bragg said this exact thing.
10. Make it rain. The advice no one wants to hear: spend the money. Look for sales, but invest in quality gear with good reviews. I'd highly recommend all of the above mentioned items, but there's plenty of other options out there. REI has a great return policy. See what works for you and let people know!
That's all I got. I enjoyed my torturous testing events, but I'd be lying if I said I wasn't looking forward to warmer weather. I'm thankful that Steel City Ruck Club came out to join me. Find crazy people to jump in cold rivers with you and it won't be as bad.
Happy rucking and stay warm next winter!