The January Tribe and Training email let the cat out of the bag that there is a new PT Test coming to GORUCK Selection and The GORUCK Games in 2023.
The 2023 PT Test, affectionately named the BFF (Baseline Functional Fitness Test), ditches the 12-mile timed ruck, push-ups, and sit-ups, and 5-miler and replaces (I'm assuming) them with 4 new movements.
From the Tribe email: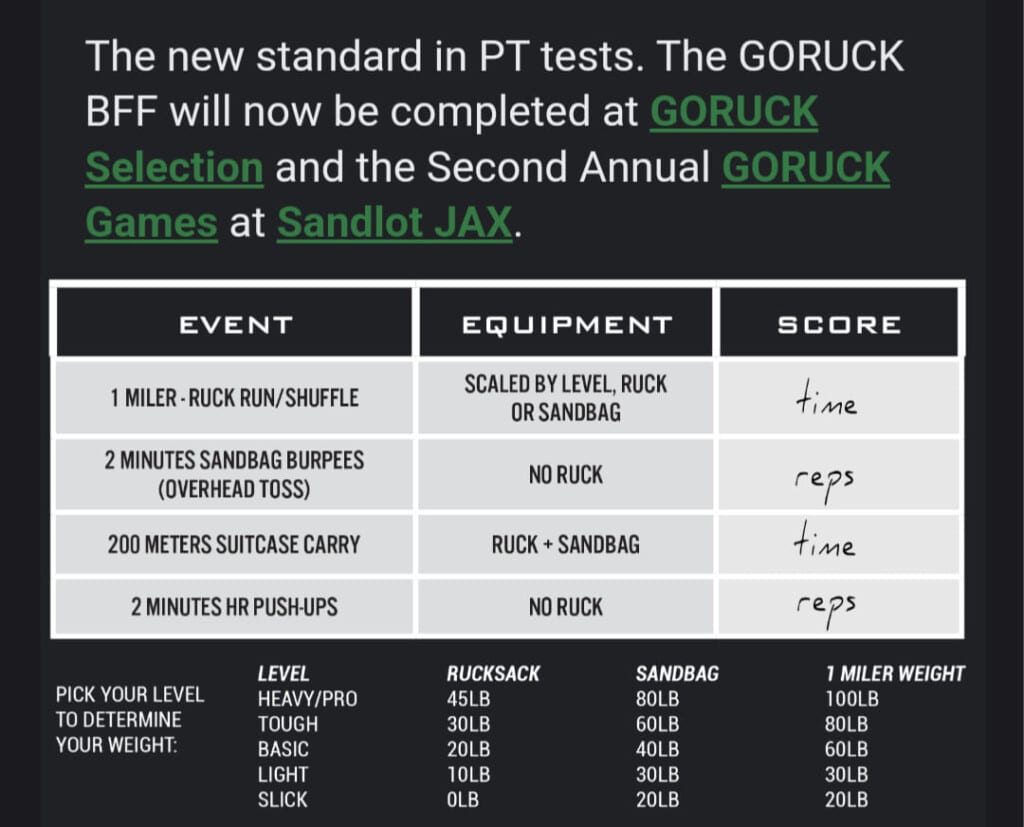 While the scoring domain is shared in the email, along with the weight requirements (assuming "Heavy/Pro" will be for Selection), it does not give the standard required for passing.
It is hard to believe that the 12-miler will be ditched entirely, so I'm operating on the the assumption that these 4 challenges will replace the sit-ups, push-ups, and 5-mile run. But, I have zero info outside of what you see above.
Currently, the GORUCK Selection page has not updated to reflect the new PT standards and still lists the old version. So, while you probably should start training these movements, you should still train the standard PT as well. As they say, luck favors the prepared.
My thoughts on the new GORUCK Selection PT Movements
1 Mile with 100 pounds will be interesting. While those participating in top-tier events will be able to manage the weight, 100 pounds for a mile is no joke, especially when pushing the pace.
The sandbag burpees have become a more common movement and the 60 in 60, 80 in 80, and 120 in 120 challenge have all made rounds in events, including Selection, and on social media. I like this addition to the mix. The 2 minute time-domain ensures that everyone will have to dig deep and endure.
The Suitcase Carry is a bit of a wildcard. 200m sounds really short. I wonder if the idea is an 80#er in each hand? That seems more reasonable for the test. A single 80# sandbag seems like it would be too easy for top tier athletes.
Finally, the hand release push up. I like this change because push-up depth seemed to be very subjective in PT tests. This removes subjectivity and you either release the hands or you don't.
---
So, what do you think about the new PT Standards? Better, worse, or about the same? Sound off in the comments below.
---