We posted recently about the naming convention change of the GORUCK Sandbags to now include "1.0" which lead us to infer that a "2.0" would be dropping soon (full post here).
Our suspicions have been confirmed as a leak of the GORUCK Sandbag 2.0 on to the GORUCK website.
As part of their new "Own The Darkness" collection, one item featured is the Sweatshirt with Reflective Spearhead. As we looked at this sandbag being use, we could help but notice it is different that the "regular" sandbags.
Here's the look:
The first thing I noticed is that it is two-tone which makes me think that there are probably two different materials at play here.
If I were to take a wild guess, I'm thinking the black section where the handles are located is the 210D Cordura that GORUCK put on the Rucker 3.0 and the latest versions of the Bullet 15L.
This would make sense to anyone that has done high volume sandbag cleans with no gloves on (aka, shredded their knuckles on that 1000D sandpaper).
This would make for a super smooth surface and improve the feel, for sure. Of course, durability is the question. I know the 210D has performed well on my Rucker, but sandbags get a whole different kind of love.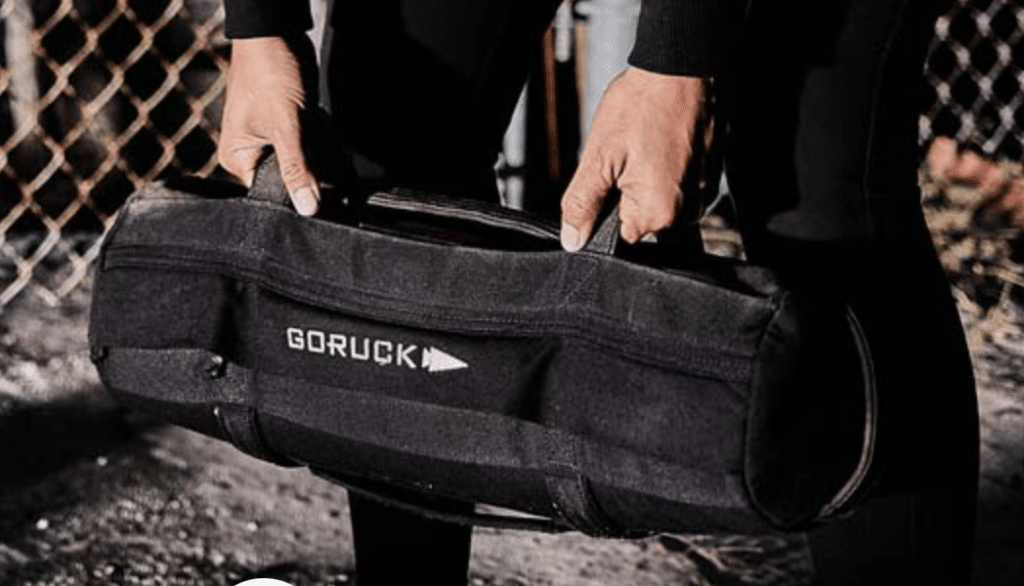 Also, while it is hard to tell from this picture, but I'm not seeing handles to the right and left of the vertical handles. So, it may be that all you get horizontally is the centered "suitcase" handle. This would be a loss, for sure. Those extra handles are big for me when carrying the sandbag on my back.
It should be noted that if you want some of the Sandbag 1.0 before they're all gone, you should grab them now. Inventory looks really low (sold out) on most sizes/colors.
---
So, what do you think? Interested? Seeing anything I'm missing? Sound off in the comments below.
---