In September 2018 GORUCK increased the prices of almost all their rucks and apparel. In his long and detailed explanation of the price increase, Jason indicated that a better shipping experience was coming that included free shipping, free returns, a more streamlined process, and better communication.
Since the changes took effect I have had three order experiences and it seems like thing are greatly improving over the early days with their shipping partner, Newgistics, when it took me 8 days to get a t-shirt.
Orders
Note: All orders were shipped using the free ground shipping option.
GORUCK Stickers
Ordered: Thursday, October 4, 3:27 PM
Origin Scan: Friday, October 5, 7:38 PM
Departure Scan: Friday, October 5, 10:02 PM
Spent the weekend sitting in New Stanton, PA.
Arrival at doorstep: Tuesday, October 9, 1:14 PM
Order to door: 6 days
Note: This is the downside of free shipping, namely it is "ground." That means your package doesn't do anything on the weekends. So, if you order late in the week as I did, it won't move until Monday. But, it moved really fast once it was in motion.
5 American Flag Patches
Selected the FREE Ground Shipping
Ordered: Thursday, October 11, 9:45 AM
Origin Scan: Friday, October 12, 1:47 PM
Departure Scan: Monday, October 15, 3:48 AM
Arrival at doorstep: Tuesday, October 16, 10:32 AM
Order to door: 6 days
Note: See note above.
GORUCK MACV-1
Ordered: Monday, October 22, 10:35 AM
Origin Scan: Tuesday, October 23, 1:53 PM
Departure Scan: Wednesday, October 24, 3:39 AM
Arrival at Doorstep: Thursday, October 25, 10:34
Order to door: 4 days
Note: Notice how much quicker a Monday order arrived as opposed to a Thursday order due to not sitting around over the weekend.
Communication
While I didn't talk much about it when I originally reviewed the new shipping with Newgistics, the communication process of GORUCK's shipping is greatly improved.
While I received my normal "order received," "order preparing to ship," and "order shipped" emails, the final one had an estimated delivery date and a "track my package" link.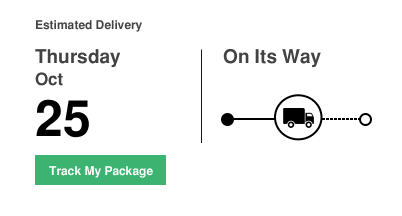 Clicking the "track my package" button takes me to a page running through a tracking and communication interface powered by
Narvar
. I really like this!
Several features of the Narvar tracking stand out to me.
I get detailed tracking for each scan that happens to my order.
I can sign up for alerts via text message or Facebook messages.
I can rate my experience so GORUCK knows if I'm happy or not.
I did actually click the advertisement to see what's new. Cause I like new things.
(not shown in screenshot) There is a link to my UPS tracking code so I can stalk the order on UPS site if I wanted to.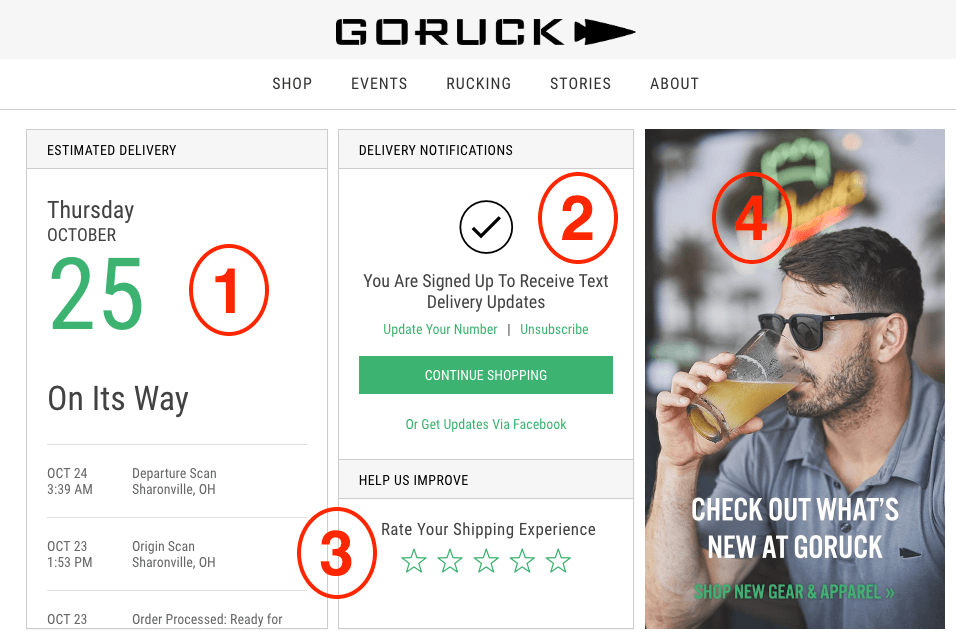 I opted for the text message updates because I can't wait to get my MACV-1 boots. After signing up I got an alert that they had shipped and were on their way. It was fun to know my new kicks were in route!
Free Shipping
Previously, to qualify for free shipping you had to order a minimum of $200 in product. To be honest, this stopped me from buying smaller items quite regularly. Having free shipping has made small orders much more accessible and I am much more likely to drop some impulse coin on things like patches and shirts that I would have otherwise skipped out on due to the extra cost of shipping.
As evidenced by my orders above, I am much more inclined to small (under $200) orders now that there isn't an extra cost tacked on.
The only downside is that the free shipping is Ground, but as noted in the orders above, if you early in the week the transit time is actually pretty quick.
Free Returns
To date, I've never had to return anything to GORUCK. However, I've heard a few bad stories from back in the day. It seems that the free returns option should smooth out any of the previous issues.
Every order now comes with a return shipping label and instructions. This means that GORUCK is much more connected to the return process and can more easily track and verify returns which means refunds get back to the customer sooner (I've heard of previous experiences that it took up to a month to get a refund).
Again, I haven't returned anything, so I can't speak definitively to the process.
Conclusion
First, I feel like the entire shipping process is better. I think a lot of the kinks with Newgistics have been ironed out and GORUCK is refining all aspects of the delivery experience.
Second, GORUCK is going to get more order from me. Not having to wait for a "free shipping" offer or waiting till I order multiple things in order to buy means I'm much quicker to pick up impulse items (like stickers and patches), but I'm also more likely to pick up $100+/- items that I might have skipped out on because the shipping cost pushed an expensive item just a little too far out of my price point comfort level.
Third, GORUCK continues to seek to improve and do right by its customers, which is always encouraging.
Hey look, my MACV-1 Rucking Boots just arrived!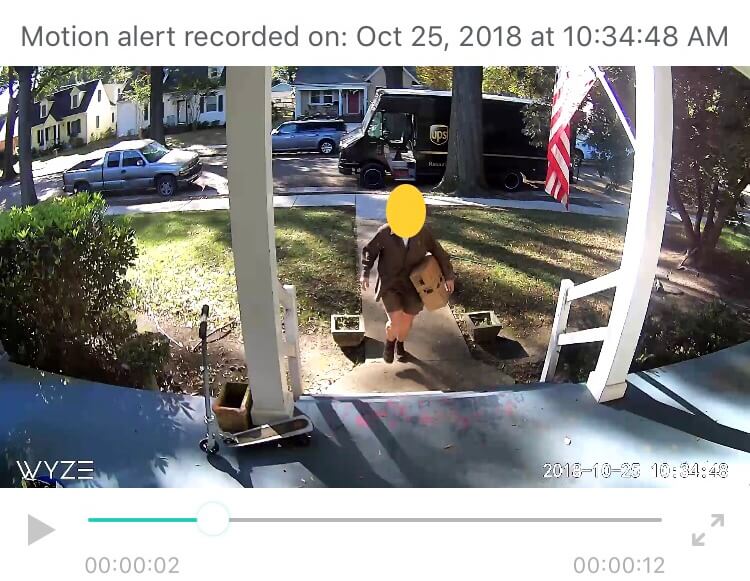 What about you? Have you ordered something since all the new shipping went into place? What was your experience? Drop a comment below and let us know.