If you're rucking or doing a GORUCK event, you're going to want to add weight to your ruck. While all weight weighs the same (10 pounds of feathers weighs the same as 10 pounds of bricks), not all weights are efficient for rucking and GORUCK.
When it comes to rucking or doing a GORUCK event, the best way to add weight to your ruck is going to be with a weight that is designed specifically to fit in your ruck in such a way that space use is minimized and securing it is maximized.
Many of our readers will be familiar with GORUCK's Ruck Plates, which are a great choice for adding weight to your ruck. However, there's no denying that the GORUCK Ruck Plates are spendy.
Enter, Titan Ruck Weights.
Similar in size and dimension to the longer GORUCK Ruck Plates (formerly branded as "expert" but now branded as "for the GR1"), these weights come in at HALF the price. When you're talking about $100 for the 30# GORUCK Ruck Plate, the $50 Titan Ruck Weight is a tempting proposition.
Initial Thoughts
Weight is weight.
I don't really care what it looks like because I'm just throwing it in my ruck and it is going to live there forever.
That said, you'll notice from the pics that the weights are not some gloriously perfect piece of equipment. They are a cast iron weight that has been powder coated.
On one of my weights, the powder coat was a little chipped upon arrival.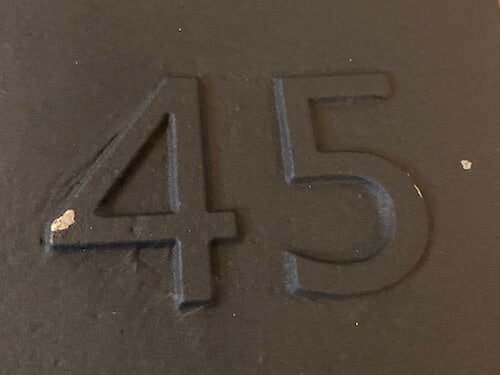 And the "10" on the light weight is weirdly deformed.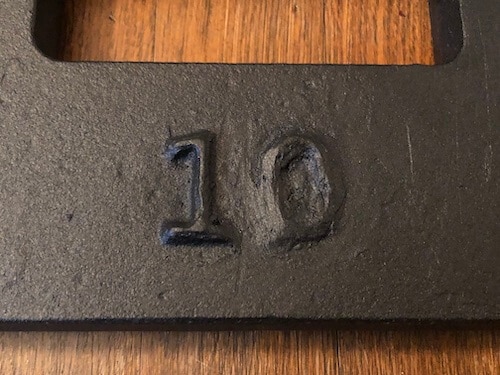 But, who cares?
Could it look nicer? Sure.
Do I want to pay 2x the price for it to look nice? Not really. Because, again, it is going in the ruck and I'm not seeing it again unless I need to switch out the weight.
Does it fit?
This is perhaps the most important question. Let's look at a few different bags.
GORUCK Rucker 2.0
The quick and dirty is that only the 10# weight will fit in the "plate pouch" of the Rucker 2.0.
That said, the 20#, 30#, and 45# will all fit in the pocket in front of the "plate pouch" just fine.
The only time I might be concerned about this placement would be at a GORUCK event where I might do bear crawls. There is the possibility that the weight might slide forward which could get dicey. But, for general rucking, it is no problem at all.
GORUCK GR1
For GR1 folks, all 4 sizes fit perfectly in the laptop compartment.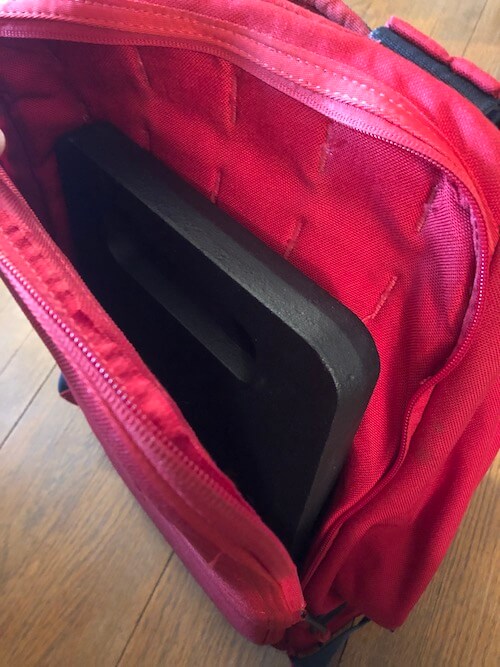 However, just like with the GORUCK Ruck Plates, there will be a little spare room as seen in the picture above.
I solve this problem by chopping up a yoga block to help fill out the space, get the weight a little higher, and add some padding to the top to protect my head if I was to ever get inverted.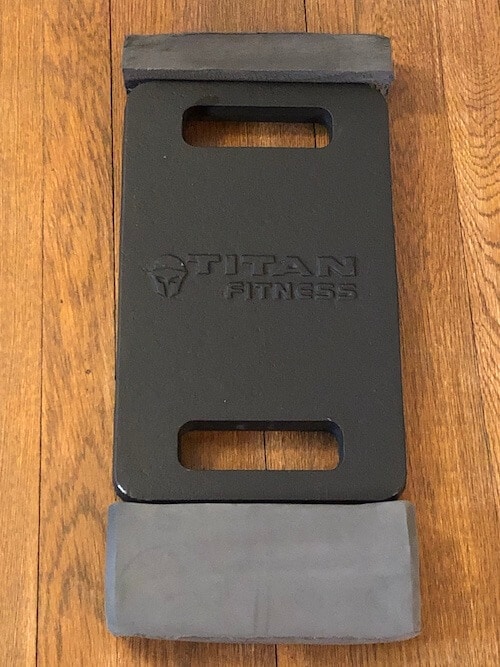 5.11 Rush 12
This is a great little ruck that I hope to post a review on in the near future.
As for the Titan Ruck Weights, the 10#, 20#, and 30# all fit in the laptop compartment. The 45# Ruck Weight is a no-go in the laptop compartment and I'm not super happy with the fit of this (or any ruck weight) in the main compartment.
Recycled Firefighter Battalion 24 HR
I got one of these for the February Rucking Challenge and really like it (review forthcoming).
For the Titan Ruck Weights, the 10#, 20#, and 30# all fit just fine in the laptop compartment. The 45# was a no-go.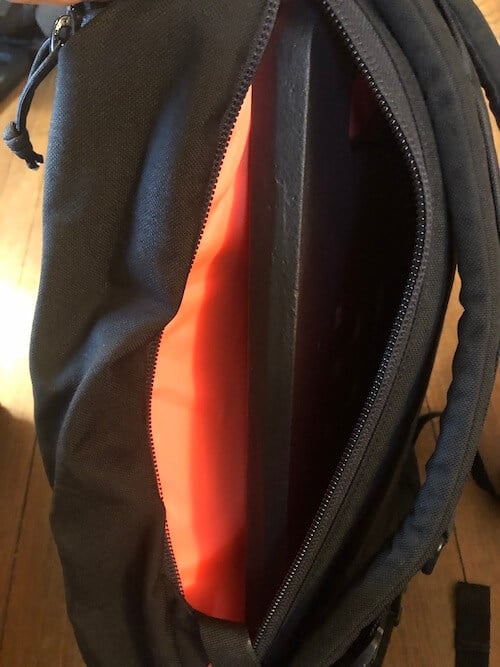 Since the Battalion 24 HR doesn't have any way to secure the weight in the main compartment, it isn't gonna work there.
Recycled Firefighter Battalion 12 HR
Here's my review of this slick little ruck.
As for the weights, you're good up to the 30# weight.
(Sorry, no pics because my wife has the ruck in her van.)
To buy or not to buy?
For the price, it is hard to make the jump up to GORUCK Ruck Plates when the Titan Ruck Weights are an option. At the lower price point it is much easier to pick up the entire set, which gives you lots of options.
In addition to that, at this price point you can pick up a second set of weights to share with friends that are wanting to give rucking a try.
Now, if you're sporting a GORUCK Rucker 2.0, the question is a little tougher. Yes, GORUCK makes a Ruck Plate specifically for the Rucker. And, having it safe, secure, and high on your back in the ruck plate pouch is pretty nice. So, in that case, the 2x price might be worth the investment.
But, it still stands that 30# is 30# and the Titan Ruck Weights are at a price that is easier on the wallet.
Final Thoughts
Like I said before, I just need some weight to throw in my ruck. I don't care what it looks like. So, for the price, these weights are a nice addition to my collection and eaiser to recommend to some of my newbie friends just looking to join in some rucking fun like the Monthly Rucking Challenges.
I'm particularly excited about the 45# weight as I plan to use it for the upcoming 1,000 Pound Ruck Challenge.
So, what do you think? Interested in picking up some Titan Ruck Weights? Got any questions? Sound off in the comments below.
Note: Titan Fitness is the Sponsor for the 1,000 Pound Ruck Challenge and provided these plates to me for review.