On August 14th, GORUCK founder and CEO, Jason McCarthy, announced that effective September 1, 2018, GORUCK rucksacks and apparel would see a price increase of 20%-30%.
Below I simply want to "think out loud" about this dramatic announcement. You're welcome to share any thoughts you have in the comment section at the end of the article.
The (Potential) New Price Points
Before anything, here is what a 20%-30% increase looks like for rucks:
[table id=2 /]
And, here is what a 20%-30% increase looks like for apparel:
[table id=3 /]
Thoughts on Potential Price Points – Rucks
I think my biggest concern with the potential new price points is that the cost of entry may now be too high.
We've all had the experience of telling a friend or family member how much these bags cost and getting that, "You're insane" look. With these new prices, the insanity level just went up 20%-30%.
If the GR1 is the one ruck to rule them all, the entry point is leaning upward of $350. That's a pretty big psychological jump. At least at $295 you could rationalize, "but it isn't $300."
The Rucker now sits to be the new entry point for people, even though it is creeping in the very high $200's. This "may" be reasonable. Considering the success of the GR1, the $260-$280 range for a Rucker might not be that bad for the entry-level person getting into GORUCK and rucking.
But, every other ruck seems to be pushing into crazy territory.
I love my GR2. It is an amazing bag and great for travel, like when I took it on a 9-day trip. But, there is no way I could drop $500 for it. In fact, it took me over a year of waiting to find it on eBay at a price I could afford (and in a color I wanted).
For current GORUCK fans, the new price points are painful. There's no way around it. Based on what I've seen in online discussions, that isn't necessarily going to scare them off entirely.
The question for me, however, is how will this impact the potential new customer? What is the envelope GORUCK can push and still bring in new buyers? With the new price jump, is GORUCK flying too close to the sun?
Thoughts on Potential Price Points – Apparel
I already had a difficult time with GORUCK apparel prices. I did finally settle on being ok with Simple Pants being $110. As I say in my review, they are amazing.
I landed in a different court when it came to Simple Shorts. At $90, they are just too expensive for a pair of shorts. As I state in my review, when they are in the $60's range, I think they are a good buy. To now jump them into the $110+ range… I just don't know if the value is there on a pair of shorts.
Outside of the shorts, it is only the "challenge" line that looks concerning. Nearly $200 for the pants and $150 for shorts is rough.
But, since other apparel items all float in a sub $100 range, the 20%-30% increase seems less shocking.
For me, the price increase in apparel just means I'm going to be even slower to pull the trigger.
Earned Service Discount
I have LONG had a hunch that GORUCK based their pricing strategy on the fact that a large percentage of their customer base took advantage of the Earned Service Discount. For me, that helped make sense of the high prices. They were building in 25% on every product. (Note: this has just been a theory… no idea if it is true.)
With the new price increase, it simply means that those customers with Earned Service Discount are now simply paying the "retail" price. Could this actually be what GORUCK is after? Did they realize that their retail price is right, but they just have too many people utilizing Earned Service Discount?
If that's the case, then a 20%-30% increase makes a lot of sense.
In order to get an idea of how many people are using the discount (note: I don't qualify for it.) I posted a poll on my twitter and facebook feeds. I'll note before the results that, while very interesting, I am not sure the results can be extrapolated to all GORUCK customer base. Alas, here's what the results look like.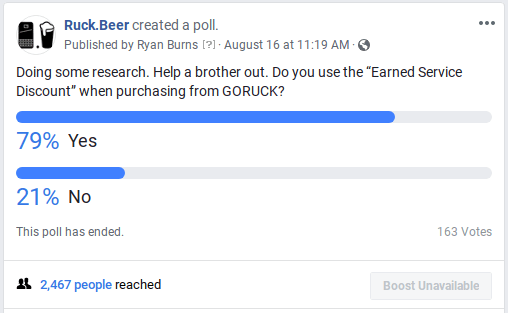 Doing some research. Help a brother out. Do you use the "Earned Service Discount" when purchasing from GORUCK?

— Ruck.Beer (@RuckDotBeer) August 16, 2018
The numbers were both surprising and, at the same time, what I thought they'd be. Could it be possible that 60% or more of GORUCK's overall customers are utilizing the 25% discount? If so, this is a huge amount of revenue "lost." The price increase would "solve" that problem.
Psychologically, I think this portion of the customer base will be the one that is least likely to jump ship because of the price increase. As I said earlier, this just means that they are now paying "retail" when using their discount. If you can get 2/3 of your customer base to get back up to retail, and you potentially lose half of 1/3 that are now priced out of the gear because they don't have the 25% discount, then that is still a pretty significant win for the bottom line.
Both Christmas Sales
The traditional holiday sale and the Christmas in July have become a mainstay in the GORUCK calendar. A large number of customers, myself included, plan all their GORUCK purchases around these sale dates.
Obviously, like the Earned Service Discount, these sale prices will not just drop the gear to numbers close to "pre-price increase" days. I'm not sure how that will impact the customer base, specifically those who have been around for a long time. New customers are probably just going to be excited about a good deal… but the old-timers will bitterly mumble about the good-ole-days.
While on the topic, I would not be surprised to find out that Christmas in July will go away, or at least be scaled down next year.
Brand Loyalty and America
Reading through the mountain on online discussion, there are no doubt people disappointed and likely to leave the brand (you can read some of it in the comment section here). Others will likely just decrease their spending (buying 1 ruck instead of 3). But, what stands out the most is the large amount of support that people have expressed. In particular, Jason and GORUCK have been commended for 1) their transparency and 2) keeping their manufacturing (except the MVAC-1) in the US.
These two facts, for many, are reason enough for GORUCK to retain their support and, in turn, their dollars.
But, what about me (the guy writing this post)?
GORUCK was already outside of my price range. To be very honest, the success of this website is the only reason I am able to afford anything GORUCK makes (thanks for reading!). And, as I've confessed earlier, I bargain hunt my gear, buying it on eBay or during a sale. I think my Simple Pants purchase was one of my only full-price purchase.
So, for the price increase, under normal circumstances, it is too much for me. But, as long as you weirdos keep reading my ramblings, I'll be able to afford GORUCK. But, I will continue to time my purchase strategically and probably won't splurge too often.
I really love GORUCK. I love all my rucks. I love the Simple Pants. And, I love GORUCK events.
Like many of you, I'm not going anywhere. But, the new prices will have an impact on me and certainly cause much more of a pause when I consider purchases. I guess time will tell how true I keep to this word. Did someone say tiger stripe?
But, what about you (the weirdo who read all of this)?
What do you think? How are you feeling? Sound off in the comments below.
Oh… and you'd better hurry. If you want to get a good deal on GORUCK gear before the price hike, the clock is ticking!