AAR – After Action Report. Written by GRTs after event completion to scare, prepare and/or impress other GRTs, but mostly that last part.
AAR Directory – online directory on Ruck.Beer with links to all kinds of GORUCK AARs from around the interwebs.
ACRT – Advanced Cellular Repair Technology; aka Beer; see also Bud Heavy.
Admin – pre-event activity where Cadre take headcount/roll call, conduct gear inspection, and lull you into a false sense of comfort before your world is turned upside down. Also, your last chance to quit without anyone knowing.
Ascent – a 3-day GORUCK event featuring mountain navigation and survival skills. See also Capstone. Learn more about Ascent.
Beached – a 3-day submersion into the world of special amphibious operations led by GORUCK Cadre. See also Capstone.
Beta – a first-time test event for GORUCK to work bugs out of the system before charging GRTs a shit ton of money to get smoked and carry heavy stuff. Recent Beta events include Charming The Snake, and Constellation.
Blue Falcon – a GRT who, intentionally or unintentionally, screws over his/her fellow GRTs through action or inaction; aka BF, Bravo Foxtrot, or Buddy Fucker. Don't be a Blue Falcon, unless it's funny, then definitely be a Blue Falcon. See also Overpromise/Underdeliver.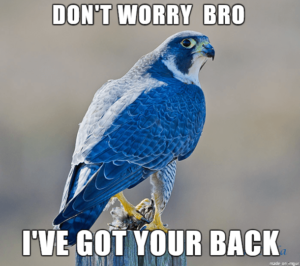 Bomber – Christopher Goad, Community Manager at GORUCK; loves to give hugs, eat crayons, and say "y'all". Hates shirts and feet. Has extremely high, nearly unattainable standards for humor and worthiness.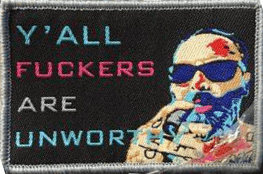 Brick – a rectangular, hardened piece of clay used to create ruck weight. GRTs carried bricks in their rucks before Plates were invented. Favored by Senior GRTs.
Bud Heavy – Budweiser, King of Beers; pre/post event GRT beer of choice (whether you like it or not); see also ACRT.
Bullet – a 15L (v1) or 10L (v2) ruck ideal for EDC or those looking for a smaller ruck profile. Learn more about Bullet Rucks.
Cadre – your GORUCK event instructor. Cadre are former US and international Special Operations Forces operators, pipe hitters, spiritual mentors, and bringers of physical and mental pain in large doses. Learn more about the cadre.
Capstone – a term to describe some of GORUCK's non-core special events such as Ascent, Beached, and Navigator. Capstone events are typically multiple days in length and offered with less frequency due to the highly specialized nature of the instruction.
Challenge – the original GORUCK team building event. When you meet someone who calls a Tough event a "Challenge", odds are they are a Senior GRT. See also Tough, Good Livin'.
Charming The Snake – the mental and leadership training aspect of the GORUCK Tough. Drawn from the heart of the Green Berets, Charming The Snake teaches lessons on rapport building and overcoming obstacles with the resources available to you.
Constellation – a team-based, scenario-driven event led by GORUCK Cadre focusing on urban survival. Learn more about Constellation.
Coupon – have you been instructed to bring one to an event, pick it up, and carry it everywhere? It's a coupon. Coupons always add, never deduct.
CTHT – Choose The Harder Thing. Something GRTs are supposed to do. Always difficult, always rewarding.
DFQ – Don't Fucking Quit; a salutation or rallying cry for GRTs to offer encouragement to themselves or each other.
Echo – a smaller, frameless version of the GR1. Learn more about the Echo.
EDC – Every Day Carry. What you do with your ruck when you're not beating the shit out of it. Most GRTs will create reasons to have at least 2 rucks – 1 for events/training, 1 for EDC. Because, let's face it, you totally need a $300 bag to carry your laptop, earphones, and turkey sandwich to work.
ENDEX – the time and location of achieving your final event objective. Occurs after False ENDEX and before Patch Ceremony. See also False ENDEX, Good Livin'.
FFIO – we're not going to tell you what this means. You're going to have to Fucking Figure It Out.
FYAF – Fly Your American Flag; a Tough page Friday activity for GRTs to post pictures of themselves or others doing badass things with or near Old Glory.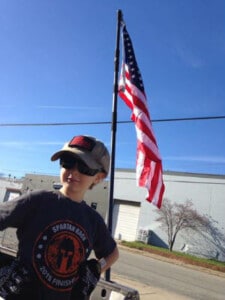 Good Livin' – a transcendent state of mind fully achieved by GRTs only after completing the prior required stages of a GORUCK event. Prior stages include, but are not limited to, Admin, Welcome Party, Movement, Beat Down, More Movement, More Beat Down, Poopy Face, More Movement, More Beat Down, False ENDEX, more Poopy Face, ENDEX, Patch Ceremony, and ACRT.
Goruck – unauthorized use of the word GORUCK.
GoRuck – unauthorized use of the word GORUCK.
GORUCK – see FFIO
GORLICK – see FFIO
GR0 – the former name of the 21L GR1.
GR1 – the only ruck you'll ever need. Baghdad meets NYC. Comes in 21L and 26L. Learn more about the GR1.
GR2 – traveling the world? You'll need a GR2. Comes in 34L and 40L. Learn more about the GR2.
GR3 – a figment of the imagination of GRTs everywhere. (Until today. Now, it is real.)
GRT – abbreviation for GORUCK Tough, a designation for someone who has completed a GORUCK event.
Gray Man – a person that likes all the glory of completing a GORUCK event but dislikes any physical exertion. Often complaining about an injury, the Gray Man looks out for self before team. Much like Keyser Söze, he just blends in with the team, but does little to no work. (Here are some other people you'll find doing GORUCK events)
HCL – event comprising a GORUCK Heavy, Challenge, and Light, done back-to-back-to-back. See also HTL.
HTL – event comprising a GORUCK Heavy, Tough, and Light, done back-to-back-to-back. See also HCL.
HTLS – event comprising a GORUCK Heavy, Tough, and Light, and Scavenger done back-to-back-to-back-to-back.
Heavy – the ultimate team event. 24 hours. 40+ miles. Average completion rate of 50%. Learn more about the GORUCK Heavy.
HHH – three Heavies done back-to-back-to-back.
HMFIC – Head Mother Fucker In Charge; aka Jason McCarthy, CEO and founder of GORUCK.
HTFU – Harden The Fuck Up; aka Hurry The Fuck Up.
In The Wild – when you spot another GRT outside of a GORUCK event; custom dictates that you must take a creepy stalker photo and post it to the Tough page for thousands of others to see instead of actually introducing yourself to this kindred spirit.
Java – original 4-legged co-founder of GORUCK; passed away in 2013, and lives on through the Java Forever non-profit charity.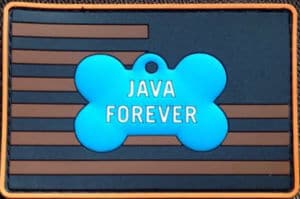 Jedburgh – a two-phase special event run by GORUCK solutions, focusing on survival skills and alternate reality environment missions based on actual OSS/Jedburgh events from WWII. Learn more about Jedburgh.
JWBH – Joe Warner Bragg Heavy; aka the mother of all Heavy events, held in honor of Green Beret Major Joseph Warner. Learn more about The King of all Rucks.
Kraken – a legendary Coupon belonging to Cadre Chris; crusher of souls.
LLL – three GORUCK Lights done back-to-back-to-back; according to some you should see also Ruining The Brand.
Light – fun not easy. GORUCK event lasting 4-5 hours and covering 7-10 miles. Average completion rate of 100%. Learn more about the GORUCK Light.
Log – preferred instrument of pain infliction, during events or training, by Cadre and GRTs alike; the heavier the better.
Mog Mile – a themed event commemorating the 1993 battle in Somalia that inspired Black Hawk Down, held in honor of the men of Task Force Ranger. Learn more about Mog Mile events.
Monster – 4-legged man's best friend and President of GORUCK; cuter and more lovable than the HMFIC.
Nasty – an obstacle course race designed by GORUCK rumored to someday return; a Unicorn in terms of events. Click to sign up for the next GORUCK Nasty.
Navigator – a multi-day wilderness-based orienteering and survival course. See also Capstone.
Overpromise/Underdeliver – the official battle cry of the Blue Falcon.
Patch – the reason we do GORUCK.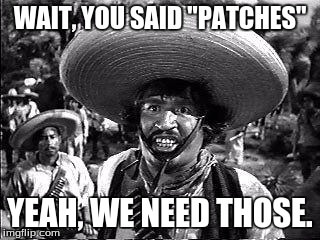 Peaches – balls; as in your balls. The most famous peaches in the GORUCK world belong to GORUCK Selection finisher, Mark Klemm. You can learn more about his peaches in this interview.
Plate – a formed steel or iron weight that you carry in your ruck; a critical element of the ongoing Brick vs. Plate? existential debate between GRTs. Click to learn more about Ruck Plates.
Poopy Face – the look on your face when everything sucks, you feel like you're dying, and Cadre says it is time to do PT. Poopy Face is not authorized and should never be seen in a picture.
Pre-Ban – period of time when GORUCK allowed anyone to put its name and logo on anything. Pre-Ban items can often be found on Ruckmall and include trailer hitches, knives, shirts, patches, and panties.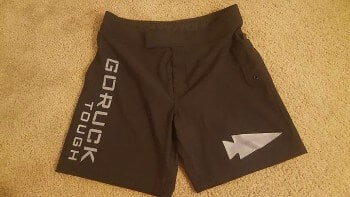 Radio Ruck – an earlier version of the GR0 without a frame sheet, but including laptop pocket and internal/external MOLLE. See also Unicorn.
Ranger Panties – Sky's Out, Thighs Out. A true GRT likes his/her Ranger Panties small, and his/her squats deep.
Ruck.Beer – your #1 news source for all things Ruck and Beer. Actually, we never talk about beer. But, we drink it. Mostly when writing this nonsense.
Ruck Club – a GORUCK authorized training partner such as a gym, Crossfit box, or local rucking group.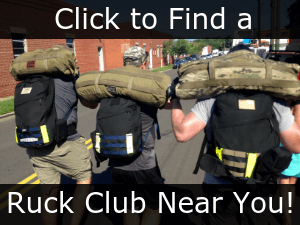 Ruckmall – a Facebook page where GRTs sell patches and other gear for profit, charity, and sometimes extortion. Click to visit Ruckmall.
Ruining the Brand – anything you think is not "cool" enough to be GORUCK. For instance, a GORUCK Glossary is probably Ruining the Brand.
Scavenger – part team-building, part city tour, and all fun. Have fun, drink some beers, and make some jokes. Click to learn more about GORUCK Scavenger.
Senior GRT – fierce defender of the way things used to be and the good ol' days of GORUCK, when men (and women) were men, and a Tough was a Challenge. See also Brick, Ruining the Brand, Unicorn.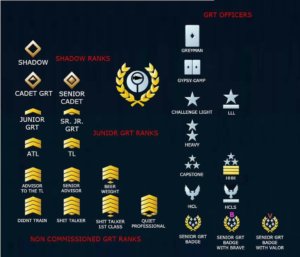 Selection – the toughest endurance event in the world. 48+ hours, 80+ miles. Average completion rate of less than 5%. Don't click here. Selection is not for you.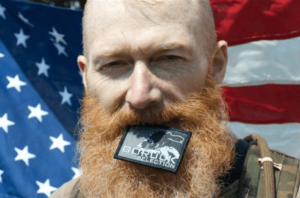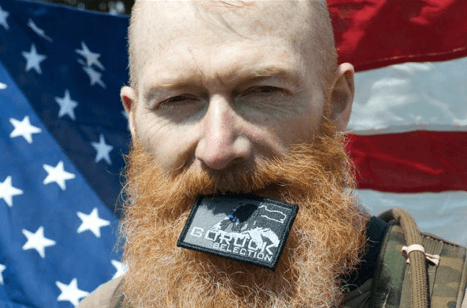 Shadow – a GRT who follows an event as a non-participant, typically to take and share photos and videos with the participants and other GRTs. A shadow does not interact with participants, should be seen and not heard, and should bring lots of goodies for participants and Cadre. Occasionally drunk.
SK26 – a no-frills, non-militarized variant (no patch mount, no external MOLLE) of the GR1; aka Slick or Slick 26; see also Unicorn.
Spartan – an OCR event for people who want to run around with their shirt off, but don't want to carry heavy shit. See also Tough Mudder.
TL – a Tough and Light done back-to-back.
Tough – the original team building challenge. 10-12 hours,15-20 miles. Average completion rate of 94%. Click to learn more about GORUCK Tough.
Tough Mudder – an OCR event for people who like to earn medals to hang in their office and show to co-workers to demonstrate their badassness. See also Spartan.
Tough Page – a private Facebook group where people who have completed a GORUCK event go to share interesting facts about the pack behavior of wolves, and pictures of logs and bricks they see around town. See also Wednesday. Click to learn more about the Tough Page.
Unicorn – an out-of-production GORUCK product (usually a ruck, but can be other items) that GRTs covet, and are willing to pay way too much money for. Most Unicorns are owned by Senior GRTs, and typically sold or traded on Ruckmall.
Wednesday – the national holiday for the GORUCK community (yes, every Wednesday). On Wednesday everyone is encouraged to ask questions on the Tough page about boots and checking your ruck plate with TSA, post informative pictures of animal pack behavior, and feast off the blood of anyone who dares to ask a reasonable question.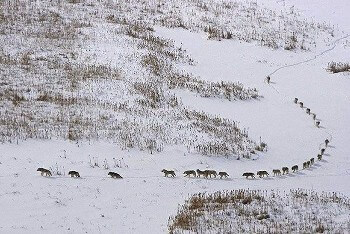 Welcome Party – the official start of a GORUCK event where Cadre give special attention to event participants to make sure they feel welcome and are in a safe space.
Weirdo – You, if you read all of this glossary. A term of endearment for people who like carrying heavy things and being forced to get into slimy water fountains in the middle of the night while being yelled at by Special Forces cadre.
Z – a letter that can replace the "T" in HTL, as in HZL. Also known as taking a nap between a Heavy and a Light.